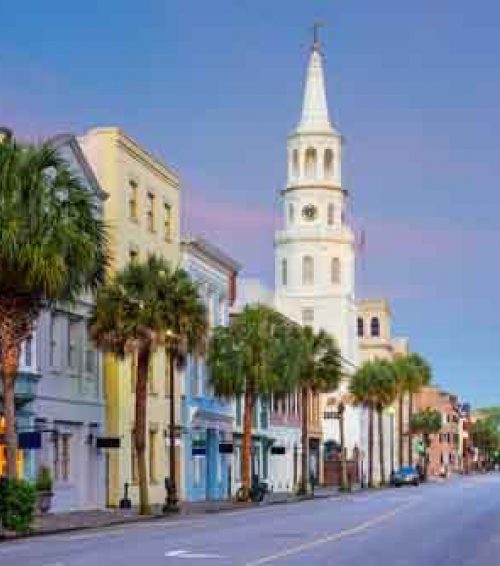 What's it like working locum tenens in South Carolina?
One of the many benefits of working locum tenens is the opportunity to work in a variety of settings—not just healthcare facilities, but different cities and states as well.
Home to one of the oldest living oak trees in the Southeast and the birthplace of barbeque, South Carolina is a state with a rich history that is sure to offer locum tenens providers with lots to do in their downtime. If you're considering taking an assignment in the Palmetto State, here are some sites and things you should know before you go.
Myrtle Beach
One of the major centers of tourism in South Carolina, and in the U.S., Myrtle Beach is a coastal city that is the second-fastest-growing metropolitan area in the country. With its beaches, resorts, attractions, and retail shops, Myrtle Beach has something for everyone. The best time to visit is from June to August if you want to enjoy the beach, but from March to May, you can expect more moderate temperatures if the heat is not your thing. If you want to see the area from above, you can take a trip on the Myrtle Beach SkyWheel for a view of the beach and boardwalk.
Historic Charleston
Named for King Charles I, Charleston is the largest city in South Carolina. The Charleston Historic District, which covers most of the heart of the city, is a National Historic Landmark District. With over 1,400 historic buildings, churches, and homes, there is much to see in the area. You can walk down Rainbow Row—a row of pastel-colored homes on East Bay Street, many of which boast a unique history of their own, with many dating back to the late 1700s. The most modern house, Number 79-81, was built around the mid-19th century.
One major fixture of the Charleston Waterfront that you'll also want to check out is the Pineapple Fountain, which overlooks the Charleston Waterfront. Though the fountain only dates back to 1990, it has become a major destination for sightseeing and weddings. Although pineapples aren't native to South Carolina, they came to Charleston from South America because of the city's prominence as a port city. And while it's not exactly clear how the pineapple came to symbolize hospitality, one theory is that sailors would spear a pineapple onto their fence post when they returned home after a long trip at sea.
The Angel Oak Tree
Located on Johns Island in Charleston County, the Angel Oak Tree is one of the oldest living oak trees in the Southeast—in fact, it's believed to be the oldest living thing east of the Mississippi River. The age of the tree varies depending on who you ask, but it's estimated to be between 300 to 500 years old. The tree receives approximately 400,000 visitors per year and is 65 feet high with a circumference of 25.5 feet.
Did You Know…
Murrells Inlet, a fishing village that was where the legendary Blackbeard stored his loot, is home to the largest collection of outdoor sculptures.

Sweet tea was born in the city of Summerville, which also contains a "Sweet Tea Trail."

God's Acre Healing Springs in Blackville is rumored to have healing powers. The property is deeded to "God Almighty."
Ready to begin your locum tenens career with Barton Associates? Take a look at our open jobs or fill out the form and one of our representatives will reach out to you!