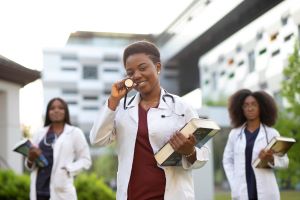 Finding the best PA programs and starting the journey to become a PA is no doubt a long and arduous process, but the rewards are well-worth the effort once you are finally able to jump into patient care. 2022 reports from US News and Intelligent reveal key insights that can help aspiring PAs find their path. 
Physician assistants are medical professionals who examine, diagnose, and treat patients in many different medical settings, working in all areas of medicine including primary care, emergency medicine, psychiatry, and more.
There are numerous reasons why many pre-med students find this career path to be attractive. Aside from the fact that the Bureau of Labor Statistics projects employment of PAs to grow by 28% between now and 2031, physician assistants also enjoy earning competitive salaries, along with the versatility of day-to-day PA work which fights burnout and builds experience quickly.
However, becoming a licensed physician assistant isn't as easy as waking up one day and deciding to apply to PA school. Since most entry-level physician assistant ARC-PA programs require applicants to have prior hands-on health care experience in addition to an undergraduate degree, even simply becoming qualified as a prospective student takes a great deal of planning.
With that being said, regardless of whether you're ready to find a PA program and start your application today, or even if you're just starting to explore your options ahead of time, you've come to the right place!
We researched the best Physician Assistant Education Association (PAEA) and Accreditation Review Commission on Education for the Physician Assistant (ARC-PA) accredited programs across the country, and combined results from the two major PA program ranking systems of 2022: Intelligent's 2022 Best PA Degree Program rankings, and the 2022 Best Physician Assistant Programs Survey by US News.
In Intelligent's rankings, over 50 schools nationwide were given an "Intelligent Score" based on the criterion of the program's course strength, cost, reputation, faculty and flexibility. Whereas the US News survey scores were sourced directly from real students' rankings of their program's academic quality on a scale of 1 (marginal) to 5 (outstanding), in addition to each school's 5-year PANCE pass rate.
We evaluated and merged the top scoring schools from both reports to present Barton's list of the best physician assistant programs you should keep your eye on!
Best Student Rankings
Of course, there are many factors that influence the strength of any physician assistant program, including how it may fit individual student needs. However, it would be mindless to leave out the opinions of real students who have attended the actual programs!
Surprisingly, there were two programs that came out on top with the highest average student ranking; let's jump into the breakdown.
Duke University and the University of Iowa came in at a tie, both earning the same average student ranking of 4.2 for their overall academic quality. However, when we take a closer look at their 5 year PANCE pass rates, The University of Iowa makes the grade for Barton's first place winner, with a rate of 100%, contrasted by Duke University's PANCE pass rate of 96%.
Best Curriculum
UT Southwestern Medical Center wins Intelligent's 2022 PA program Most Comprehensive Curriculum award, and for good reason. With a 5 year PANCE pass rate of 100% and a student survey score of 3.8 for academic quality, it's clear that UT Southwestern Medical Center has the faculty and academic lineup to lead students to success.
With a cost-per-credit at $759 for non-residents and $344 for residents, it also makes sense why Intelligent gave UT Southwestern a score of 92.78 when it comes to affordability, course strength, and overall return on investment for PA students.
Best All-Round Pick
When it comes to the best mix of affordability, respectability, and flexibility, Intelligent's top pick is Emory University of Atlanta, Georgia. With an Intelligent score of 99.36, Emory University has a comprehensive curriculum with the respectability to back it up.
Emory requires 114 credits for graduation, which is balanced out by a reasonable tuition of about $1,107.52 per credit for the reputability that comes with a degree from the #5 top ranked PA programs in the country. While the 5 year PANCE pass rate only comes in at 95%, Emory students rate the program at a solid 3.9, suggesting that, with flexibility, comes responsibility.
Best Post-Graduation Work Opportunities
We would have used our best all-round pick as our grand finale, but who are we kidding. As a locum tenens staffing agency, Barton knows the importance of job availability and stability; especially for new grads!
While Quinnipiac University only comes in at an Intelligent score of 80.65, it was still ranked as Intelligent's top pick for the PA program with the best job placement rate. Though the average Quinnipiac student gave the program a middle-ground rating of 3.5 for academic quality, the school's 5 year PANCE pass rate seems to show that students learn more at Quinnipiac than they may think they do, with 98% first-try pass rate.
With only 94 credits required for graduation at an estimated cost of $1,075 per credit, Quinnipiac University seems to give PA students the most bang for their buck when it comes to getting the best education to open the most PA job opportunities.
Once you've gotten into your chosen program, you'll have a while to focus on your studies before you have to worry about next steps. But, if there's one thing to take away, it's that being proactive in pursuing your path as a PA is best.
As you make your way through the PA program that's right for you, make sure to keep in mind that the Physician Assistant National Certifying Exam (PANCE), administered by the National Commission on Certification of Physician Assistants (NCCPA), may creep up faster than you think!
But, when you do inevitably pass the PANCE and it's time to begin the application process for your state license to become an official, practice-ready PA, Barton is always here to give you a hand.
Interested in exploring locums as a new grad? Fill out our contact form to get in touch with an experienced representative today!