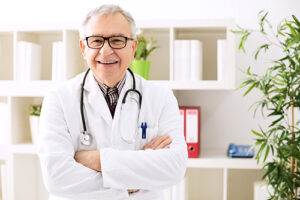 There are lots of factors that can cause boredom in your doctor retirement.
Since physicians spend such a long time in medical school, they start their careers later than the average member of the American workforce. Whereas most working Americans strive for early retirement to escape unfulfilling and exhausting jobs, for many doctors of retirement age, it can feel like they didn't "get their fill" from the job they feel so passionate about. For the average physician, practicing medicine can also make up a large part of their sense of identity and purpose, thus, saying goodbye to their white coat in exchange for unlimited free time may cause depression, loneliness, and boredom in the long-term.
However, we can't deny that there are also plenty of up-sides to retirement, and that while you may miss some parts of working in health care, that doesn't necessarily mean that you want to return to the physician workforce full-time. After all, you've worked hard to pay off your student loans, become financially independent, and build up your savings for retirement, and you deserve to enjoy it! That's where locum tenens assignments come in.
Locum tenens doctors fill gaps in coverage at facilities nationwide, and are needed now more than ever due to the ever-growing physician shortage across the U.S. If you're a doctor feeling the effects of physician retirement boredom, locums may well be the answer to getting you out of your funk, all while making a positive difference for the healthcare facilities and patients who need you most.
While transitioning into locums from retirement may feel like a no-brainer for some physicians, it's always important to think through any new career choices; retired or not! So while you mull it over, consider these potential pros and cons of adding locums into your retirement plan.
Pro: Flexibility
Whether you want to work part-time or full-time, in a hospital or clinic, in Seattle or Chicago, the best thing about locum work is that you get to work where you want, when you want to!
When you work with your personal Barton recruiting agent, they will pay close attention to your traveling and scheduling abilities and preferences. This includes taking note of your active state licenses as well as preferred locations, shift hours, and assignment lengths. Your recruiter uses this information to look out for the best matches for you out of all available openings, and to negotiate the terms of potential opportunities to best accommodate your needs.
As might be expected, it's important to keep in mind that the volume and frequency of "perfect" job matches depend on what's on the market at any given time, and your own flexibility surrounding your preferences, so you'll always have more luck if you're willing to compromise. But, if you're not in a hurry to jump into a locum assignment, then you can always sit back and relax until your recruiter calls about the locum job of your dreams. In the meantime, you can always get started on obtaining a new state license to open the door to more opportunities in your desired travel destinations!
Con: Time Away From Home
While getting paid to visit your favorite spots or explore new cities across the country is generally seen as a major perk of locum tenens work, with travel also comes time apart from family, friends, and the overall comfort zone you have established at home. For many physicians who view retirement as a much needed phase in their life to spend quality time with their spouse and loved ones, spending weeks or months away from home may be seen as quite the opposite of a perk.
However, there is a silver lining that may help to ease the anxieties that doctors may feel about travel work. Chances are that you probably have family who happened to settle down in a different part of the U.S. than you did. If this is the case, then you may not have had much time to see them while working a busy, full-time position before you retired. Working with a nationwide locum tenens agency like Barton affords you the opportunity to reconnect with your far-away loved ones, and get paid to do it!
Pro: Patients Over Politics
As a retired physician, you've likely already had your fill of attending boring meetings and dealing with facility politics among doctors, nurses, and other collaborating healthcare providers. With locum work, you can let the full-time staff hash out their squabbles while you focus on what really matters: providing quality patient care.
Workplace politics and bureaucratic tasks not only drag down morale, but are also one of the biggest professional distractions. In fact, a 2016 report by Medscape showed that an overload of bureaucratic tasks was the biggest cause of physician burnout as reported by respondents. With this fact in mind, it makes sense why retired doctors might be hesitant about returning to work, but the temporary nature of locums allows physicians to escape politics to focus on what they do best — treating patients.
Locum work doesn't have to be only a young physician's game; benefit patients and beat boredom from your physician retirement in one foul swoop!
Get a jumpstart on retirement by checking out our currently open jobs, or getting in contact with a Barton representative today!