If you're an active nurse practitioner (NP) or considering a career as one, it's helpful to have informed salary expectations. So, how much revenue does the average NP generate. The answer is surprisingly complex, because of the number of variables that impact a nurse practitioner's earnings potential.
What is the Average Salary for a Nurse Practitioner?
First, the simple answer: $111,000, according to Medscape's 2022 compensation report, which surveyed 1500 nurse practitioners about their salary in the previous year. The median NP made $111,000 in salary and $118,000 in total, including productivity bonuses, overtime, and incentive pay.
If you want more accurate indicator of potential earnings, however, you'll need to consider factors such as advanced practice certification and practice setting.
In What States Do Nurse Practitioners Make the Most Money?
NPs in the Westernmost states reported the highest earnings; NPs in the Pacific region cited earnings of $140,000 per year. They were followed by West South Central (Texas, Oklahoma, Arkansas, and Louisiana) and the Mid-Atlantic region at $123,000. East South Central NPs (Alabama, Mississippi, and Tennessee) reported the lowest earnings at $108,000 per year.
What Kind of NP Makes the Most Revenue?
Nearly all nurse practitioners hold advance practice certifications, and a full half (51%) hold the family NP certification. Family NPs, however, reported the lowest salaries of all advanced certifications at $117,000. Psychiatric mental health NPs reported the highest salaries at $132,000.
How Much Do Locum Tenens NPs Make?
Locum Tenens Nurse Practitioner starting rates can be as much as 41.7% higher than the national average hourly rate for permanent Family Nurse Practitioners depending on location and demand. On average, hourly NPs (such as Locum Tenens NPs) earned $13,000 more per year in 2021 than their salaried counterparts, according to Medscape.
Locum Tenens NPs are also seeing their earnings rise year-over-year. In comparison to what they made in 2020, Barton's Locum Nurse Practitioners made over 10% more in 2022.
Search Our Nurse Practitioner Jobs Now!
Nurse Practitioner Salary Trends
What should NPs expect in the coming years? Some signs point to positive compensation progress for nurse practitioners.
While all other APRNs reported no change year-over-year, NP compensation increased. However, this increase may reflect a response to previous salaries being insufficient. Less than half of nurse practitioners feel they are fairly compensated. This compensation dissatisfaction rate is first amongst all APRNs, including clinical nurse specialists (CNS), CRNAs, and NMs.
A Formula for Determining How Much Nurse Practitioners Make
If you're looking for a formula on how to calculate your own earnings potential as a primary care NP, Dr. Carolyn Buppert provides one in her textbook, Nurse Practitioner's Business Practice and Legal Guide, Fifth Edition: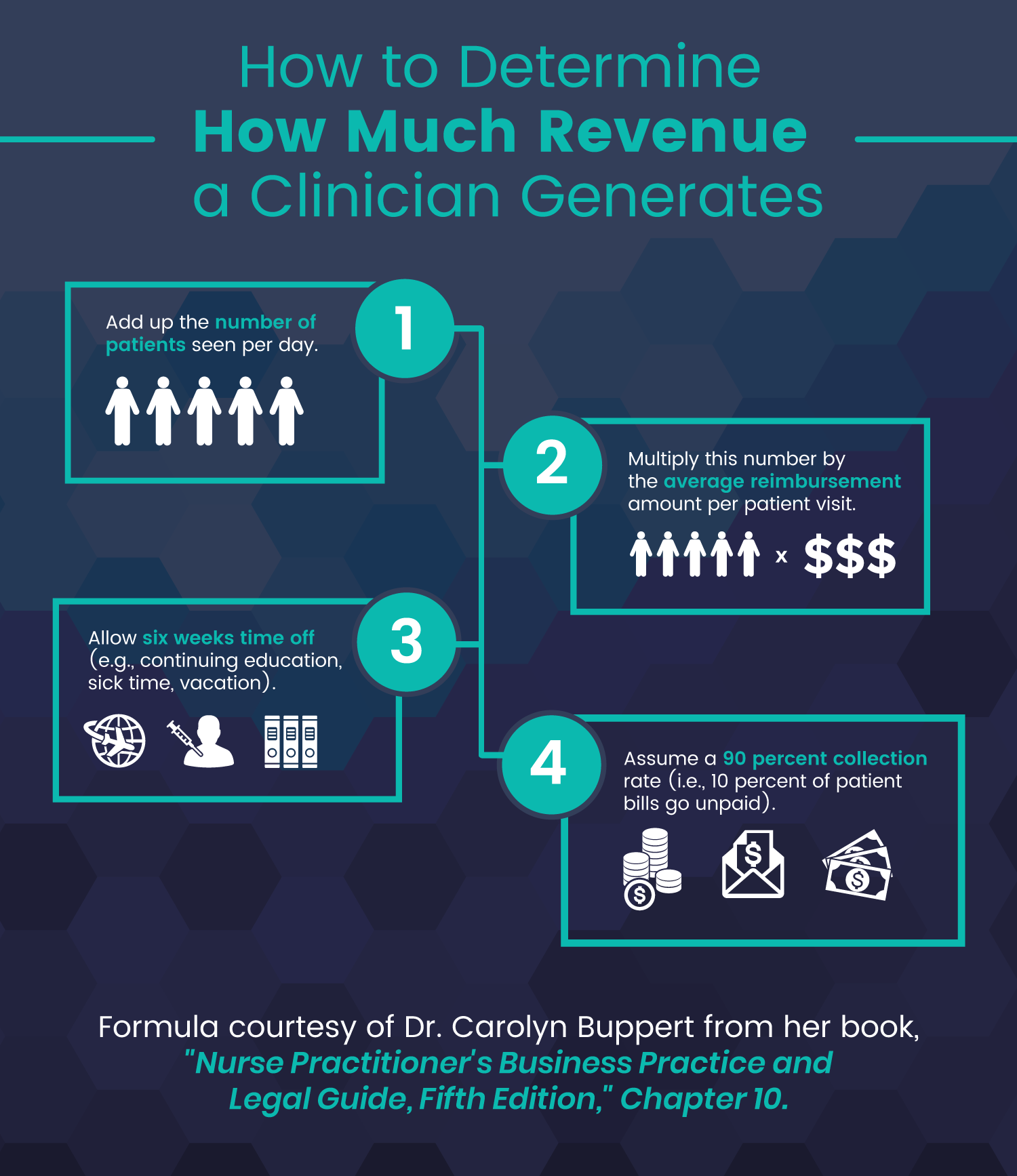 Dr. Buppert provides the following formula:
---
# of patients seen per day multiplied by the amount earned on average per patient
---
Using this formula, primary care nurse practitioners see an average of 24 patients per day and are reimbursed an average of $70 per patient. In this scenario using Dr. Buppert's formula, the nurse practitioner brings in $1,680 per day. Assuming a 90 percent collection rate and six weeks of time off, the primary care nurse practitioner brings in $347,760 per year.
To calculate the nurse practitioner's deserved salary, Dr. Buppert deducts the following amounts from nurse practitioner–generated revenue:
The cost of practice expenses or hospital overhead per nurse practitioner varies widely, from 20 percent in large practices to 50 percent in very small practices. These expenses include rent, benefits, continuing education stipend, supplies, malpractice insurance, and depreciation of medical equipment. If the nurse practitioner does not receive health insurance benefits or paid time off, which may be the case for NPs working in some part-time or locum tenens roles, this percentage would be lower.
Physician consultation costs refer to the supervisory agreements that some states require. In her book, Dr. Buppert explains that employers often displace this cost, which is usually around 15 percent of their generated revenue, onto nurse practitioners. Furthermore, practice profit is the amount the employer wishes to keep for themselves, which is usually around 10 percent.
Deducting these percentages from the primary care nurse practitioner who generates $347,760 per year leads to a salary of $159,621. In a state without mandated physician consultation requirements, this same nurse practitioner would ideally earn a 15 percent higher salary (i.e., $177,357).
Dr. Karen Van Leuven offers a similar analysis in Chapter 6 of Financial and Business Management for the Doctor of Nursing Practice. Dr. Van Leuven assumes that the primary care nurse practitioner sees 20 patients per day at an average reimbursement of $56.50 per visit. She allots only four weeks of time off, resulting in annual revenue of $216,960. In this scenario, nurse practitioners share in the company profits, and none of the revenue is given to a supervising physician. With 40 percent overhead, this leaves the primary care nurse practitioner with a salary of around $130,000.
Using these formulas, the revenue generated by a primary care nurse practitioner ranges from around $217,000 to $350,000. And, using those numbers, the nurse practitioner's annual salary should be anywhere from $130,000 to $160,000.
The Best Way to Find Out How Much You Can Make? Talk to a Recruiter.
Check out our current openings for NPs and reach out to one of our recruiters to learn how much you can make with your next opportunity!
Search Locum Tenens Nurse Practitioner Jobs Now!