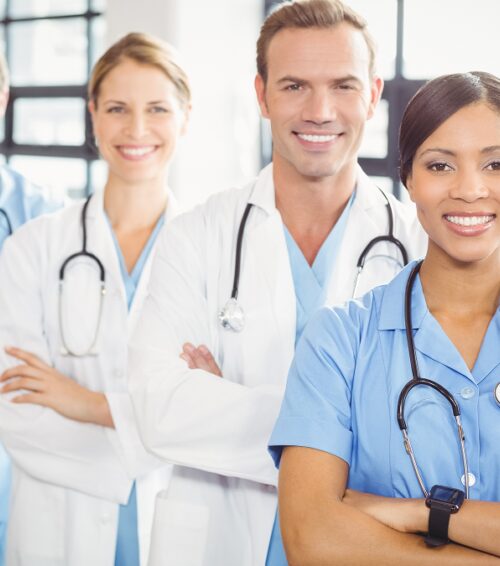 Throughout the month of September, we asked physician assistants (PAs) across our Facebook and Twitter channels to help us celebrate PA Week by finishing the lines, "I'm a PA because…"
Check out part five of our results!
A Calling You Can't Ignore
"I'm a PA because it was a calling that I could not and would not ignore. Even though it was a major sacrifice for my family — my husband, my three children, my sister, my parents, and my in-laws — I hope I have made them proud. I love my patients, my boss, and my dream job — neurosurgery. I get to do what I love every day. Big props to all of you who helped me achieve my dream! I couldn't have done it without you!" — Penn Mattox
"I graduated the Cornell PA program in 1983. Back then we used to have to explain to every single patient we met what a PA was. Today I work with America's best known plastic surgeon and give back to my profession by acting as preceptor to PA students in clinical rotations in plastic surgery." — Rob Lucas
Inspired by Family
"I am a PA because my mom went back to school in her 50s and became a PA, and I saw firsthand what a great profession it was. I then took my hubby to the doc for a toenail removal and watching was the best thing ever and I knew what I needed to do!" — Camille Ray Buchmiller
"I am a PA because I want to carry on the medical legacy established by my Aunt and Grandfather who brought me continuous inspiration throughout PA school, and I hope to make a difference in the lives of many the way they did each and every day of their medical careers." — Kelsey Lynne Welsh
"My Mom is a RN — and I believe that I owe my interest in medicine and my motivation to be a PA in large part to her example — to her dedication to patient care. She worked for years to get her BSN while working full time; she is my inspiration!" — Steve Fries
"I grew up in east Los Angeles, CA. My grandmother Rebecca had diabetes with complications. She only spoke Spanish and I found my goal in life to serve poor and the need in medicine. I thank Charles Drew Post Medical School for allowing me to be Medex 8." — Lupe T. Portugal
Encouraged by Peers
"I'm a PA because I was an RN previously and I was encouraged by other wonderful PAs to return to PA school myself which was the BEST advice I was ever given and the BEST decision I've ever made. I've been a dermatology PA since graduating in 2003 and can't imagine doing anything else! I love helping patients feel good about their skin and I never get bored with all the different minor surgical procedures that I do on a daily basis." — Kelly Hand
"Because you get to work with other awesome PAs like Betty Jo Bauer Fancher who teach you how to provide the best care to every person you come in contact with!" — Christy Harrell
"The PAs that went before me loved their profession and I wanted what they had! Six years later, I still love my profession!" — Jen and Justin Cochrane
Why did you become a PA? Tweet us your thoughts @bartonlocums!