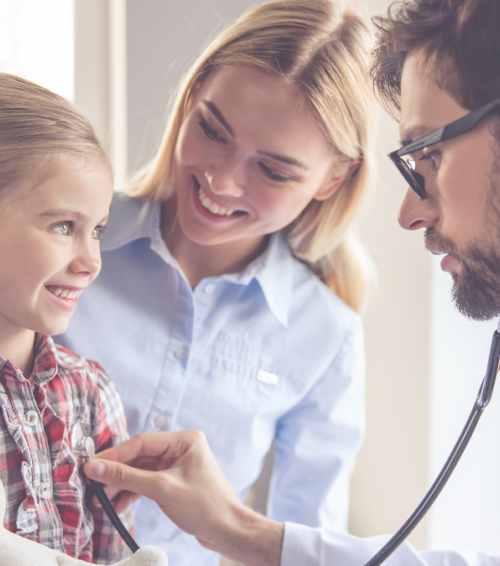 Throughout the month of September, we asked physician assistants (PAs) across our Facebook and Twitter channels to help us celebrate PA Week by finishing the line, "I'm a PA because…"
Check out the results!
"Happy PA week my fellow colleagues. I went back to school to become a PA because I love medicine and helping people" — Francesca Sessa
"I am a PA because I love patients." — Shellie Parker
"I'm a PA because I love helping others." — Beatrice Godbouldt
"I am PA because listening and helping other is my passion." — Bethel Asres
"I am a PA because I make a difference in patients' lives." — Ian Gordon Cranmer
"I'm a PA because I love helping people (and getting to participate in surgery)!" — Liz Elander
"I love being a PA because it is a profession I can make a difference in peoples' lives. Twenty years and it just gets better." — Dale Ann Kuhen-Petersen
"I am a PA because I enjoy educating and enriching others' lives to live healthier and happier. I learn something new in medicine and my patients give me life lessons in ways they don't even know. I am proud to serve as an Army Reserve PA and as a civilian in ER and plastic surgery. Many are called but few are chosen. Happy PA Week!!!" — Renita White
"I am a PA because there is no greater satisfaction than caring for and healing another person!!!" — Jackie Bugdal
"I became a PA to help less fortunate and because God led me to this profession. I retired last year after 41 years as a PA and it has rewarded me beyond measure." — Craig Sponseller
"I became a PA to make a difference in the lives of my patients and to change the way we do healthcare. I am happy to say I am effectively doing that now only seven years out of PA school." — Jocelyn Cavender
"I became a PA for my love of people. Seeing someone in pain, and being able to actively improve their issues and see their tears turn to smiles is the best way I know to show that love." — Brandon Dodds
"I am a PA because there had to be a better way to treat people. Seventeen years later and still doing my part to treat people with dignity and respect." — Doug Young
"I'm a PA because I wanted to make a difference in other people's lives. Twenty years and counting." — Lisa Pennington
"I'm a PA because I enjoy helping people. PAs rock!!!!!" — Andrea Price
"I became a PA after realizing I can do more than be a medical assistant. I want to be closer to patient's personal care with teaching them how to take care of themselves. I've been a PA since 1984 and made the best decision of my life career!" — Lydia Toy Ong
"I am a PA because I want to make a difference. The most rewarding comment from a patient is 'you saved my life.'" — Marianne McKissick
"I am a PA because I wanted to be more involved in patient care. I was a respiratory therapist for 17 years at a level one trauma center working in ER and the trauma room where I saw amazing doctors do amazing things and felt, why not me. Today, I work with amazing doctors in thoracic surgery where our lung transplant program is quickly becoming one of the busiest in the country. Explore your possibilities and become a PA tomorrow. I did!" — Anthony Bolden
"Because I love making patients better!" — Kelly Robinson
"Because after three-and-a-half years of doing stand-up comedy, meeting Robin Williams, who to continue doing comedy if that is what make you feel fulfilled and happy. I thought about it and knew I was capable of giving back more to others. Now I blend a little comedy into my work to make patient fear the procedures I am doing less scary. At Hahnemann University, we learned to treat the whole patient. Loving what I do since '93." — Cameron Michael Bergin
"I am a PA because God has called me to care for the sick and it's a privilege I enjoy!" — Rebecca Rivera O'Neill
"I'm a PA because I wanted to make a difference in someone's life! I am so privileged to work with so many great people in the ER and every day we make a difference!" — Wilma J. Mealer
"I retired after 28 years as a PA. I did it so I could provide the best care possible to my patients. And I did. The reward of doing good for others was awesome. The thank yous and hugs were the best payment I received. What a great career it was!" — Bryan Espinosa
"I love being a PA! Even with all the long hours there's nothing like it when a patient 'get's it,' becomes healthier, and their life better as a result of my helping them! It's awesome !" — Marisa Wayt
"I have only been a PA for two years!! It has been tough. I love teaching people about their medical problems and helping them feel better. The pleasure in this professional is helping!" — Chatriece Lawson
"I enjoy hands-on interaction with patients, taking the time to find out what's really wrong, and helping my patients get better!" — Robin Elizabeth LaBerge
"Because it is the best friggin' profession EVER! It is so fulfilling making a difference in people's lives." — Leah Villemaire Belchamber
"I love serving my patients stateside and being able to use my career to serve missions globally!" — Shannon Heiling
"I'm a PA-C because I have always been in healthcare. I couldn't think of a better way to help make a difference in others lives than to keep them healthy with preventative care and get them well when they are ill. I have a bond with all my patients in family practice. They are like my extended family." — Sue Boland
"I'm happiest taking care of those that truly need me…" — Sherri Frith
"We have the honor of working as patient advocates!" — Jill Sinclair
"Because I love helping people to feel better and being a valuable member of the medical team." — Armen Aghabegian
What is your favorite part about being a PA? Share your thoughts with us on Twitter
@bartonlocums
!