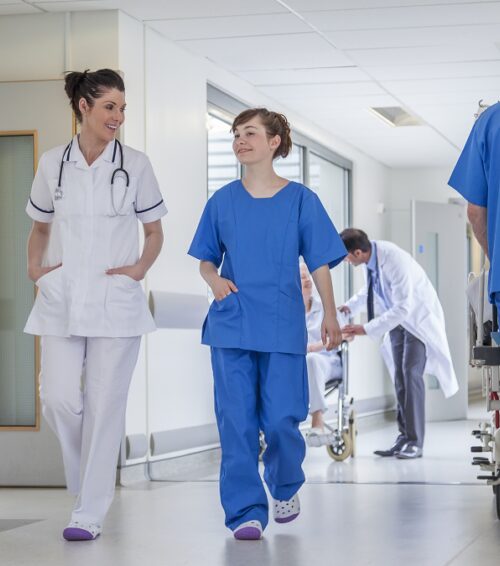 What makes physicians happy? A common response would point to their salaries. Doctors are among the best-paid professionals in the U.S., so money must play a major role in their satisfaction, right?
Well, kind of. There's no doubt that adequate compensation is important, but it would be wrong to assume it's what's most important.
Salary Data Reveals Surprising Trends
According to the sixth annual Medscape Physician Compensation Report, published in April 2016, the top three highest-earning specialties were orthopedists ($443,000), cardiologists ($410,000), and dermatologists ($381,000). Both orthopedists and cardiologists retained their No. 1 and No. 2 spots from last year. The report noted that the numbers are elevated by each field's surgical subspecialists, who typically earn far more than their generalist peers.
On the opposite end of the scale were family physicians ($207,000), endocrinologists ($206,000), and pediatricians ($204,000). These were unchanged from the previous year.
Supply and demand continues to dictate the disbursement of physician compensation regionally. The North Central and Southeast regions report the highest earnings — $296,000 and $287,000, respectively — while average compensation is lowest in the Mid-Atlantic ($268,000) and Northeast ($266,000). This is surprising given the decades-long problem of physician shortages in rural or poor areas, but the data shows that state and federal policies encouraging improved physician access have seen some success.
"While government programs certainly influence compensation, it is largely socioeconomics and competition that drive compensation on a macro scale. We are seeing the compensation gap between rural and urban areas diminish," Travis Singleton, a physician consulting specialist, told Medscape.
In short, the average salary is generally lower in areas where doctors are more abundant, but not by much.
It's About the Money …
Doctors are sometimes criticized for thinking first and foremost about the paycheck, but that's an unfair assessment. Medscape's report joins other, similar studies in making it clear that physicians can't and don't rely solely on compensation for their job satisfaction.
In 2013, a study from NerdWallet found that less than half of all physicians would pick a career in medicine if they could have a do-over. Similarly, less than half reported being satisfied with their chosen specialty. Gastroenterologists and neurologists were among those happiest in their work (58 percent and 60 percent, respectively, would make the same specialty choice again), while only 28 percent of family physicians and 19 percent of internists felt the same.
In the mere three years since, things have changed dramatically. More on that shortly.
Christina Lamontagne, vice president of health at NerdWallet, stated that there were a number of reasons for dissatisfaction. Foreboding mountains of paperwork only grew taller with the dawn of the Affordable Care Act, making administrative tasks (which take up about one-quarter of a physician's day) that much more difficult.
Soaring education costs have saddled med school graduates with $170,000 in debt, on average, according to CBS News. Debt like this usually takes decades to pay off in full, and it accrues interest the whole time. By the time they've fully repaid their debt, physicians have often shelled out $400,000 or more.
Basically, when it comes to achieving high physician satisfaction, there's a long road to travel. A high salary alone isn't enough to make it worthwhile.
Consider one of the most important takeaways from Medscape's report: Physicians with lower salaries were among the most likely to make the same career choice again. These included 73 percent of family physicians and 71 percent of internists — the very same positions at the bottom of that list just three short years ago. Meanwhile, less than half of some of the best-compensated specialists, including plastic surgeons and radiologists, said they would follow the same path.
Pair this revelation with the finding that more physicians are choosing medical facility employment — despite its smaller salaries — over private practice. In particular, younger physicians and women (72 percent compared to 59 percent of men) are going this route. This means these doctors are voluntarily choosing workplaces that pay lower average salaries.
… But It's Not All About the Money
So, if high compensation isn't what makes physicians get out of bed in the morning, what is? Unsurprisingly, it's the patients. Red tape, heavy workloads, constant regulatory changes, and other bureaucratic headaches do not derail the sheer gratification found in treating people.
"Despite the pressures, doctors remain passionate about patient care," said Dr. Michael Smith, medical director and chief medical editor at WebMD.
In this year's compensation report, 34 percent of physicians cited their relationships with their patients as the most rewarding part of their profession. Thirty-two percent said being good at their job — that is, seeing their patients get better — was what brought satisfaction to their work. Some cited the rewards of educating students and residents, while others cherished their research.
Still, compassion remains the heart and soul of being a doctor. A RAND Corporation study found that when physicians saw themselves as providing outstanding care, there was a related boost to professional satisfaction. It also found that the growing burden of rules and regulations impaired that contentment.
Although facilities have no say in government-level regulations, maintaining a well-staffed hospital or practice can improve overall physician and patient satisfaction by giving providers more time to interact with the people who need their attention. Locum physicians can help in this regard. These providers offer immediate expertise and assistance, which is perfect for those times when regular, full-time staff members have reached their limits.
Providers, tell us: What about your work — whether full-time or locums — helps keep you happy? Tweet us
@bartonlocums
.
In addition, take our poll: