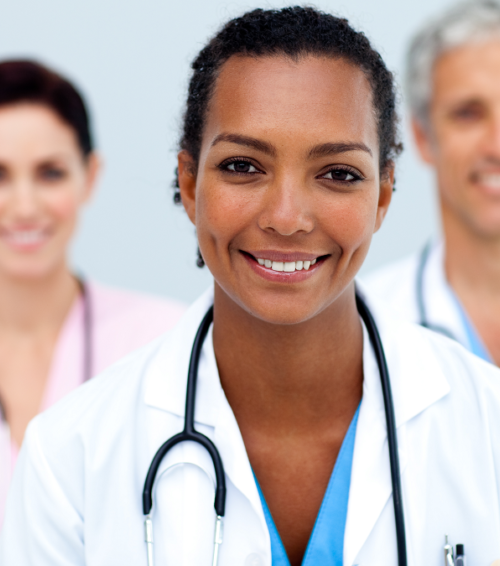 The lack of ethnic diversity among medical students and physicians, and the importance of matching the ethnicities of providers with their patients, has been a popular topic in recent years. Not as many people, however, are aware of a similar lack of diversity in the physician assistant (PA) profession. What can be done by way of improving cultural diversity?
According to the National Commission on Certification of Physician Assistants (NCCPA) 2014 Statistical Profile of Certified Physician Assistants, an extremely detailed portrait of the PA profession, 66.6 percent of PAs are female, while only 33.4 percent are male. By race, 86.8 percent of PAs are white, 5.1 percent Asian, 3.9 percent black, 0.5 percent American Indian, and 0.4 percent Native Hawaiian/Pacific Islander. In short, as a profession, PAs are overwhelmingly white women.
Figures such as these have caused consternation among those in the profession. Dawn Morton-Rias, Ed.D., PA-C, president and CEO of NCCPA, noted in an interview with HealthLeaders Media that these statistics are "disturbing across the board. Certainly as America becomes more diversified, we want to have a much more diverse profession as well. We are certainly interested in partnering with educational institutions and others to promote diversity within the profession."
More emotional reactions have been elicited by others, such as Rich Bottner, PA-C, who writes, "Racial inequality continues to tear at the moral fabric of our country. That inequality exists in every aspect of our nation. Sadly, this holds true in patient care and the demographics of the clinicians who practice it."
What's Being Done?
Now that the lack of diversity among PAs has been acknowledged and analyzed, many organizations are coming together to help recruit and retain students from a wide variety of cultural and ethnic backgrounds. These efforts are in hopes to populate the profession with providers that better reflect the backgrounds of U.S. patients.
According to the National Association of Advisors for the Health Professions (NAAHP), the Physician Assistant Education Association (PAEA) is working on improving cultural diversity on many different levels. First, the PAEA offers education on a variety of topics pertinent to all PAs, providing them with the skills necessary to give culturally competent care. This effort is led in large part by the PAEA's Committee on Ethnic and Cultural Diversity (CECD). The organization offers a trove of teaching modules and other educational resources dealing with the different aspects of diversity in healthcare. Its publication, the Journal of Physician Assistant Education, has a section dedicated to cultural perspectives and continuously publishes new ideas and innovations surrounding diversification in healthcare. The committee is also involved in a number of projects focused on recruiting and retaining minority students and faculty on campuses across the country.
The American Association of Physician Assistants (AAPA) has also declared its commitment to increasing racial and ethnic diversity in the profession. Teaming up with PAEA, the two organizations have created Project Access, a program "designed to inspire and motivate underrepresented minority youths to pursue a career as a physician assistant. The program also addresses the social and economic barriers faced by our minority, K-12 through college."
Although more still needs to be done to improve cultural diversity, these are certainly good steps toward achieving this goal.
Why Diversity Is Important
There have been many efforts to increase diversity among PAs so that they better reflect the populations they serve. Some may question why these efforts are needed and why increased diversity matters, but there are, in fact, several arguments in favor. Here are two:
1. It Improves Healthcare Delivery
According to the NAAHP, the 2004 Institute of Medicine (IOM) report, "The Nation's Compelling Interest: Ensuring Diversity in the Health Professions" offers the best arguments in favor of efforts to promote diversity in healthcare. The report advocates for improving cultural diversity for reasons such as the fact that healthcare professionals from minority backgrounds are more likely to serve in minority and/or underprivileged communities — communities in which they are needed most.
The IOM report also notes that having a diverse healthcare workforce can help break down some of the linguistic and cultural barriers that stand between providers and some of the most vulnerable community members. This argument in support of increased diversity isn't just based on anecdotal evidence; studies have found that minority patients report higher rates of satisfaction when they receive care from minority providers.
This IOM research is further supported by outside studies. The Commonwealth Fund's rationale for increasing diversity among healthcare providers is that it helps decrease racial and ethnic disparities inherent in the current system. By conducting studies on the differences seen in race-concordant and race-discordant relationships between doctors and patients, the Fund found that when providers share the same racial background as their patients, it can lead to higher patient satisfaction and even improved patient outcomes.
2. It Improves Provider Competence
There is also evidence to show that diversity can help healthcare providers. In one Journal of the American Medical Association (JAMA) study, a survey of students graduating from allopathic medical schools across the country invited graduates to assess themselves on how prepared they felt to serve patients from cultural and ethnic backgrounds different from their own. It found that, overwhelmingly, white physicians from schools with higher levels of ethnic diversity among their student populations felt much more confident about their cultural competency than those graduating from less diverse campuses.
Issues of race and ethnicity are never easy to discuss — not just because of their complexity, but because of the emotional responses they can incite as well. However, these discussions and efforts to increase diversity among healthcare providers should continue. As the physician shortage worsens, PAs are increasingly finding themselves working in the underprivileged and isolated communities that would benefit most from a more diverse provider pool. As such, PAs are starting to close the racial and ethnic disparities in healthcare, but they can't do it alone.
Are you a healthcare provider interested in helping serve underserved communities? Try locum tenens! To learn more about locum tenens providers and their role in combating the physician shortage, contact us today.