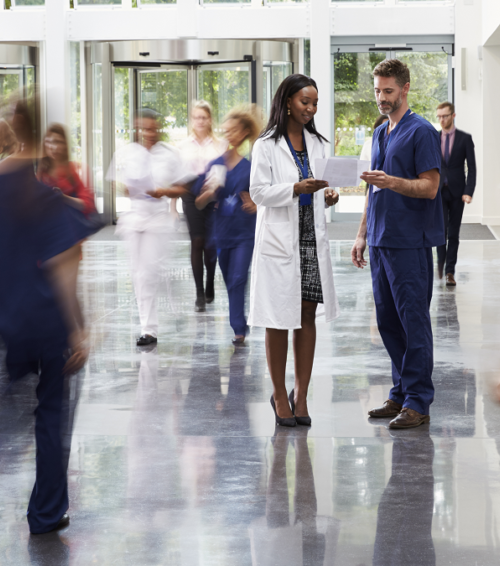 If you thought the physician shortage was going to improve, we have some bad news. According to new data from the Association of American Medical Colleges (AAMC), the United States is expected to experience a shortage of 40,800 to 104,900 doctors by 2030. Previous estimates only applied through year 2025, but this year's projections were extended through 2030 to account for the time needed to train physicians beginning medical school in 2017.
The study incorporated a wide range of scenarios, such as the increased use of advance-practice clinicians like nurse practitioners and physician assistants, reform to payment and delivery systems, and the potential for older physicians to delay retirement. Regardless of these possible shifts, "the study estimates a shortfall of between 7,300 and 43,100 primary-care physicians," with an expected shortfall of 33,500 and 61,800 physicians in nonprimary-care specialties.
While these findings remain fairly consistent with 2015 and 2016 projections, patient demand is still expected to increase, especially for surgical specialists. In addition, the amount of new physicians in primary care and other specialties are not keeping pace with the aging population.
Healthcare organizations will find it increasingly difficult to recruit and retain quality physicians as demand increases for the limited supply of physicians. As we explain in our guide to the physician shortage, this will negatively affect quality and continuity of care, work-life balance for existing staff, and the organization's capacity to see patients.
"As our patient population continues to grow and age, we must begin to train more doctors if we wish to meet the healthcare needs of all Americans," says AAMC President and CEO Darrell G. Kirch, MD. "By 2030, the U.S. population of Americans aged 65 and older will grow by 55 percent, which makes the projected shortage especially troubling. As patients get older, they need two to three times as many services, mostly in specialty care, which is where the shortages are particularly severe."
One issue is that new doctors are limited by the number of Medicare-sponsored residency slots available to graduating medical students. This number has been capped since 1997, meaning we could soon be in a situation where there are not enough residency slots for all medical school graduates. As a result, the AAMC is calling for increased "federal support for an additional 3,000 new residency positions per year over the next five years."
"We urge Congress to approve a modest increase in federal support for new doctors," Kirch continues. "Expanded federal support, along with all medical schools and teaching hospitals working to enhance education and improve care delivery, would be a measured approach to solving what could be a dangerous healthcare crisis."
Another way to help alleviate the physician shortage is by approaching care delivery in innovative ways. A proven, time-tested innovation strategy is to seize control of your workforce management by bringing on locum tenens physicians and clinicians to support full-time staff.
For further details, read the AAMC's press release and our white paper, "Get the Facts: The Physician Shortage."
Want to know more about how bringing on locum tenens physicians and clinicians will improve your patient care (and your bottom line)? Talk with a Barton Associates representative today.