Happy National Locum Tenens Week! As a part of our festivities, we're sharing stories from healthcare providers regarding their locum tenens experiences.
Dr. Dan S., a locum tenens dentist from Montana, has been working since he opened his private practice in 1983. Over the course of his career, whether practicing on his own or in locums assignments, Dan has experienced both the challenges and rewards of providing dental care.
Back in 2007, Dan still had a private practice — and somebody wanted to buy it. After he sold it, he saw an ad for locum tenens work on the back of The Journal of the American Dental Association. He called and ended up going for a site visit. "They had little kids in there that they were pulling teeth on … because they had to, they were in pain, and they couldn't cooperate," he said. "And that's how I got passionate about it."
In honor of National Locum Tenens Week, Dan was kind enough to tell us more about what life as a locum tenens dentist entails. Here's what he had to say. (Story continues below image.)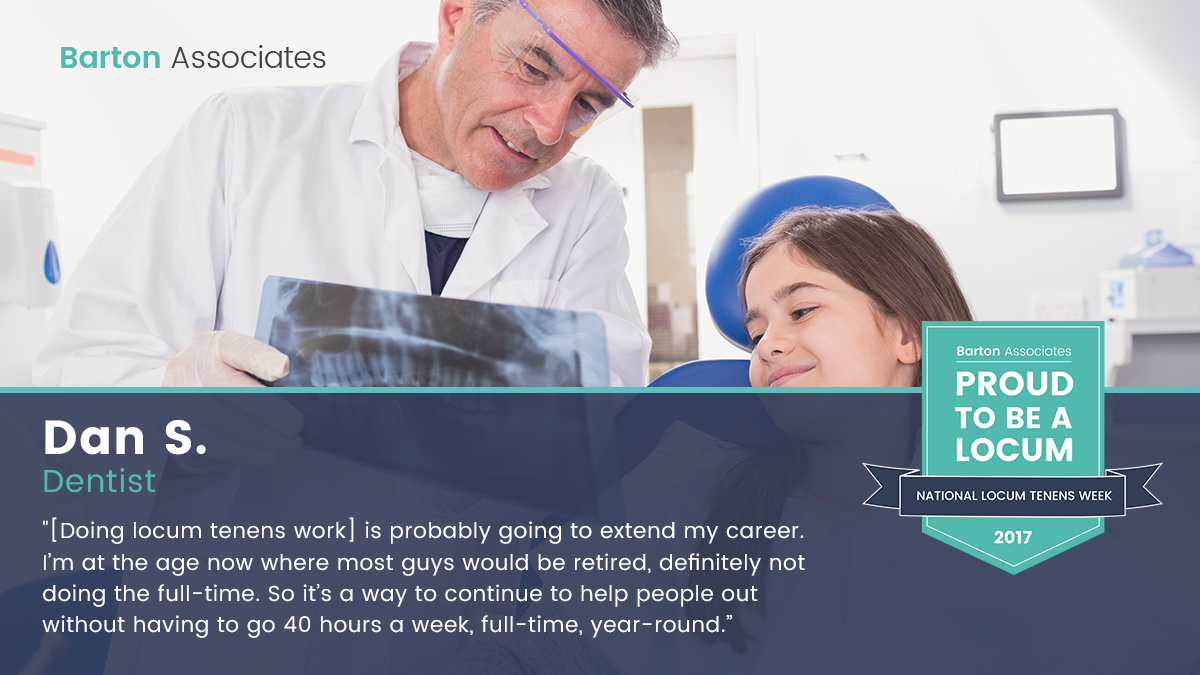 Locum Tenens Lets Dan Focus on Patients
As predicted, no two locum tenens jobs or experiences are alike. Dan spent a couple of years in Alaska, where he alternated between working in a big clinic and flying out to villages. "They have really a lot of decays, especially the kids," he said. "I went up there to see if I couldn't get the administration focused on dental health for children, and I really worked hard at it. … They had a lot on their plate and that wasn't the number one priority up there."
Dan's most recent locum tenens assignment was at a community clinic in Wisconsin. "I was just filling in, so you go in and patients are already scheduled," he explained. "What I did like about it was that they did have set appointment times: one hour. So you go in and you get as much done as you can for the patient and do a good job and take the time to do the job right."
Doing Locums Work Can Help Extend Your Career
When we asked Dan if doing locums work had changed his life, he replied that it would definitely be worth considering for anyone hoping to have a long career in healthcare:
"I'm at the age now where most guys would be retired, definitely not doing the full-time. So it's a way to continue to help people out without having to go 40 hours a week, full-time, year-round."
Great Staff Make a Job Memorable
For Dan, getting along with staff gives him something to look forward to when he starts a new locum tenens job. When we asked him about a memory that stood out, he said, "The favorite memory was basically working with them. … The staff was so good, it was fun to go to work every day actually. It was really a good place to work. They worked together, it was teamwork."
You Are Not the Provider Who Came Before You
When you're starting at a new position, your co-workers and patients may need to be reminded of this. Dan urges new locums to make their intentions clear from the beginning to avoid any future confusion or conflict:
"The problem usually is, you're coming into a previous administration and everybody's used to 'Bob.' And now you're not 'Bob.' So that is the big barrier, because the people you're working with are good people. They want to help other people.

"To have a long career, you have got to have some kind of meeting and say, 'Hey, look, this is Dave now, it's not Bob, and he's going to do things totally different. Totally different. Nothing will even resemble what Bob did.' And bring that right out in front so people are on board and learning right from the get-go."
Dentists Often Work With Patients Who Expect the Worst
For dentistry especially, Dan said, patients are quick to assume they have something to fear when they arrive at the clinic. The best way to address this? By taking a proactive approach with nervous patients:
"Apparently, everyone's afraid of going to the dentist. I used to just ignore it, thinking, 'Well, they'll figure it out, because I'm not going to hurt them.' The thing that I do now is I bring it up, and I say, 'Hey, are you nervous? How do you feel?' And that starts [the conversation]. Then you can pinpoint what [the patient is] nervous about, and then you can talk about that … you talk it over ahead of time. And then they're in a much better mental frame of mind to process [the experience]. That helps a lot. It's a very simple thing. And they say, 'This guy knows what I'm talking about, and he's going to do something about it.'"
Poor Dental Health Is More Widespread Than You Might Think
Dan found his passion for dentistry through his love for helping others. Improving dental health, he suggests, still has a long way to go for a large population of patients:
"[Doing locum tenens work] just made me realize how widespread poor dental health is. A lot of people … and it's cultural … people grow up, and their parents have dentures and their grandparents have dentures. They've been told their whole life that that's what teeth are for: You use them for a little while, and then they start hurting, and then you have dentures. That's still out there.

"Everybody knows about blood pressure now because of all the ads on TV. People don't know about dental health. They don't know you can keep teeth. It's a big mystery, because the one place they find out [about dental health] is the dental office, and each dental office has different opinions. So it's like it's a big secret.
We asked Dan why he thought this was, and he cited education. "The parents take care of the kids, and they give the kids all the sugar, and it just goes from there," he said. "The American Dental Association or somebody should get on TV and put ads out. Especially about children's dental health. Focus on children's dental health and everything will fall into place after that."
Healthcare Is a Work in Progress
Dan looks forward to continue doing what he loves: providing care for patients in need and advocating for more widespread health education. His passion for healthcare is always a work in progress. "I still talk about things like I'm talking about them right now to try to make things better," he said. "That's what I'm always working on."
If you're ready to get started in your own locum tenens dentistry career, click here.