Welcome to the first-ever National Locum Tenens Week! By now, you should have received an email from our president and COO, Rob Indresano. If not, here's the important part:
"Everyone at Barton Associates is thrilled to have a week's worth of opportunities to celebrate our providers' hard work and share their stories of making the world a better place. Their ongoing contributions allow communities to be better staffed and better served through a challenging nationwide physician shortage.

So, locum tenens providers, from all of us at Barton: Thank you. Your mission to provide high-quality patient care is changing the healthcare world for the better. We are honored to be able to help you bring healthcare to patients and facilities across the nation."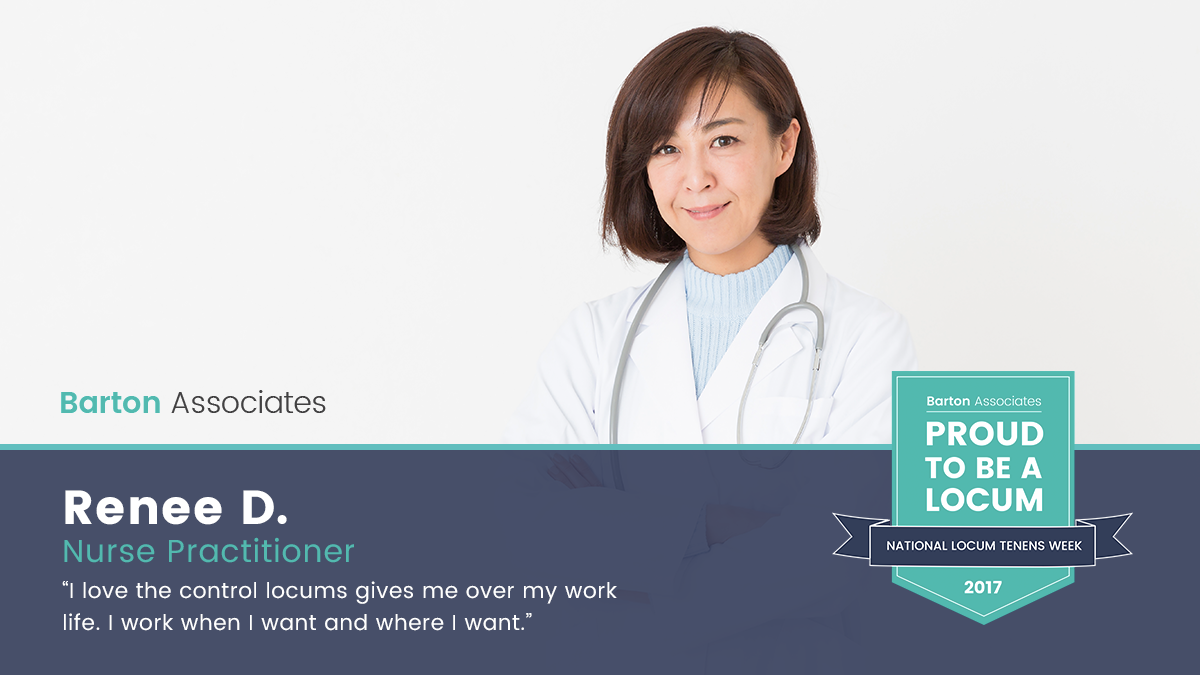 Last month, we asked our provider base to send us a few sentences about locum tenens experiences that have affected them, whether that means sharing a funny story, an unforgettable experience, or a situation that truly changed their or a patient's life.
Here are some of our favorites:
"[My best locum tenens experience was] working at Yosemite for two weeks and having an office with deer frolicking in front of my window. I worked until 3 p.m. and had time to hike and bike. I was doing physicals on healthy rangers! What a perfect job!" —Barbara G., Locum Tenens Physician, California
"I worked for a small traveling group to screen the eye status of school children. During a session at one school, I found evidence of cranial pathology. In short, that discovery led to life-sparing surgery, saving his life." —Gerald H., Locum Tenens Ophthalmologist, Arizona
"My most memorable locum tenens experience was during Hurricane Matthew in April of 2017. … This was a one-day assignment and I drove in the opposite direction toward the hospital as the majority of the populace was in the process of evacuating. My anxiety level increased when multiple alerts were sent to my cellphone to 'seek shelter immediately because a hurricane is imminent.' … I was prepared to get my hands dirty as multiple victims were expected. … It was not until approximately 5 a.m. that the projected path took an unexpected turn northward and away from our location. Obviously, immediate relief was experienced by the entire trauma team, as we had waited all night in anticipation of a massive storm. During the course of sharing this experience with the hospital staff, I forged new as well as closer relationships with my fellow members of the trauma team, which have lasted to this day." —Thomas Z., Locum Tenens Physician, Florida
"I enjoyed all my locum assignments. Staff was always grateful to have the help and welcomed me eagerly. Some positions that stand out were the homeless shelters and the dedicated folks who ran them. … I love the control locums gives me over my work life. I work when I want and where I want." —Renee D., Locum Tenens Nurse Practitioner, Minnesota
"I go back to locum tenens with Barton each time after permanent positions because of the passion and diversity that I am able to experience as a locum tenens provider. I am able to go into areas where my services are needed and do the craft that I love. Being a locums provider gives me the flexibility to stay active in the art of psychiatry while practicing the science of being an advanced-practice clinician. I have been able to make an impact from as far up as Buffalo to down near Tallahassee, Florida — while meeting the most amazing people along the way! I'm able to help people in need, when most days it doesn't even feel like work! That's what I love about nursing and being a psych NP! It's like a work vacation!" —Danielle K., Locum Tenens Nurse Practitioner, Florida (Read Danielle's full story.)
Which locum tenens experiences are you celebrating during this first-ever National Locum Tenens Week? Tell us about it in the comments, or send us your story here for a chance to be featured on our blog.