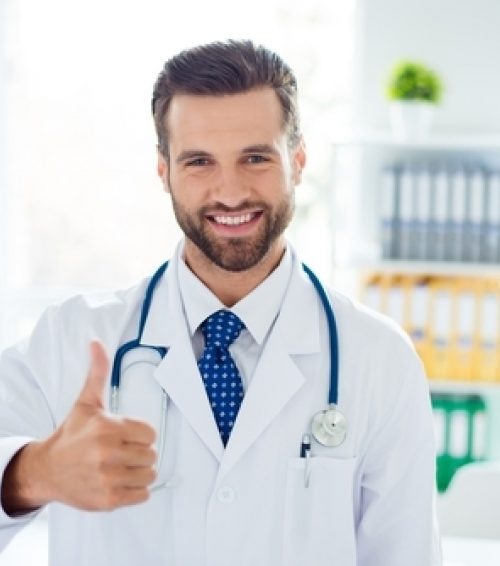 As we prepare to celebrate Doctor's Day 2020, we wanted to highlight an initiative in its fifth year, celebrating doctors for a week leading up to Doctor's Day. Below you will find more information about National Physicians Week.
This March will mark the fifth annual National Physicians Week; a seven-day celebration in honor of doctors that aims to highlight their hard work, dedication, and the differences they make in the lives of others day in and day out throughout the year. The idea for this week was conceived by Dr. Jackson of Physicians Working Together, in replacement of "Doctor's Day," as an extended acknowledgment of the amazing work performed by physicians all over the country.
National Physicians Week is an opportunity for physicians to recognize and celebrate their colleagues and peers. It's a chance for patients to reflect on and show gratitude for the careful and personalized care they've been provided. It's a time for hospitals and other employers of physicians to show appreciation to their dedicated and passionate teams. It's seven days dedicated to honoring these amazing individuals—literal angels among us. Because not all heroes wear capes.
The problem? Far too many hospitals and other employers are still subscribing to the dated "Doctor's Day" or ignoring the proclamation altogether. That needs to change.
Why more than just a day?
The realities of work as a physician mean countless stresses and sacrifices from money to nutrition, to personal lives and sleep. These individuals have given years of their lives towards training, put themselves in (often) enormous amounts of debt, worked insane hours, and stood up to the increasingly demanding expectations of the changing healthcare system in our country. The burnout is real. Yet, they still show up. They're still there when we need them. And for that, they deserve far more than just a day.
Physicians are often the unsung heroes of our society. Their ability to perform the work they do with endurance, skill, and professionalism is unmatched by any other profession. But at the end of the day, physicians are humans too. Yes, the goal of National Physicians Week is to celebrate and honor these extraordinary people, but it's also to raise awareness of the brutal realities of working as a physician in this country and advocate for their struggles.
The acts of recognition, acknowledgment, solidarity, and advocacy meant to be the pillars of National Physicians Week go a long way towards supporting the mental health and well-being of physicians across the country. According to the Physicians Working Together website, a whopping 54 percent of all physicians report at least one symptom of burnout, and nearly a quarter of all physicians work between 61 and 80 hours per week! Across the board pressures put on physicians are leading to a compromised quality of care for patients and negative impacts on doctor well-being. National Physicians Week is part of the movement towards changing that. And I think we can all agree that to do that well we need to dedicate far more than 24 hours.
Where National Physicians Week began
Physicians Working Together (PWT), an advocacy group and support network led by physicians for physicians, started the movement for a National Physicians Week in 2016 as an extended celebration and acknowledgment of physicians everywhere. The founder, Dr. Kim Jackson, first started the group on social media as a way for physicians and future physicians to network, vent, connect, and come together in opposition to the changes in the healthcare system and breakdown of the patient-physician relationship seen in the profession today.
Due to these changes, doctors are increasingly less connected and far more stressed, yet, like Dr. Jackson said in an interview with Medium about what she's learned since starting the group, "I guess the biggest thing I've learned is how disconnected we are but how much we crave connection." She goes on to say that, "It's just that we are very frustrated with a lot of things that are going on — bureaucracy and insurance and a lot of other things, i.e. patients not really understanding what we go through to get here or how hard we have to fight for them long after they have left the office. However, at the end of the day, we want that connection — with each other and with our patients."
Dr. Jackson and other physicians involved with the National Physicians Week movement had the goal to add more meaning to the idea of "National Doctor's Day". A day that has been an official holiday since 1991, but can be traced back to March 30th, 1933. This first Doctor's Day was observed in Georgia as a way to recognize and honor doctors. Traditionally, red carnations are the flower given to doctors in celebration of this day and left on the graves of deceased physicians.
How to celebrate National Physician Week
Hospitals, practices and other facilities that employ physicians across the country play a vital role in the success of National Physician Week and the empowerment it can provide physicians. By planning events and showing recognition in celebration of the physicians on their staff, they can positively impact the healthcare system and patient-physician relationships of today. It's up to them to remember this is a WEEK and not just a day!
There are lots of ways to celebrate physicians throughout this important week, and many of the following suggestions and ideas can be implemented quickly and appeal to a variety of budgets.
Inspire patients to create thank you notes for the physicians in your facility by providing materials like note cards, stickers, and pens. Plan to hand out the thank you cards throughout National Physician Week
Host a physician awards ceremony where each and every physician on your team is celebrated for their unique talents and accomplishments with a printed certificate or award
Provide physicians with free coffee and other refreshments throughout the week or a daily continental breakfast spread (if your facility is 24 hours, be sure to consider other shifts, too!)
Have a culminating meal or happy hour to end the week to give physicians a chance to relax, talk and bond over this week-long celebration. If budget is an issue, consider a potluck, if not, go big! Your physicians deserve it
Encourage physicians to write or create and have their voices heard by submitting content to hello@physicianoutlook.com. The general topic is: 2020 The Vision for the Physician-Patient Relationship. In celebration of National Physician Week, we plan to publish all physician submissions on our website and the "best of" will appear in our print and digital magazine
Take it a step further and show support to your physicians' creative endeavors and the bigger movement of advocacy in action by taking out a print or digital ad in honor of your team in an upcoming issue of Physician Outlook
Support your physicians' health and well-being by providing coupons or vouchers for healthy meal delivery services, local exercise clubs or yoga studios, or at-home fitness programs. Offer in-house mini massages, meditation sessions, or other forms of "relaxation stations" throughout the week
Give your physicians a meaningful gift to show your gratitude that they will love and actual use as opposed to the usual giveaway suspects (I'm looking at your cinch sacks)
Acknowledge the kick-off of National Physician Week with a red carnation for each physician at your facility. This has been the traditional symbol of National Doctor's Day since its beginning in 1933
Create a digital thank you to the physicians on your team that can be shared on your website and promoted on social media in support of the National Physician Week movement
Spreading the word: National Physicians Week 2020
This year, from March 25 – 31 let's all join together in celebration and acknowledgment of the physicians in our lives. Find some time to say thank you, empower and remind physicians why they do the work they do. Because the life of every individual has been touched in some way or another by the work of a physician. No matter the time of day, symptom, or walk of life a physician will always be there for you. In the words of PWT, "Physicians devote their lives to give you more time. Be sure to thank them for theirs."
Spread the word about this week-long celebration and be a part of the movement! Use social media hashtags #NationalPhysiciansWeek, #physiciansworkingtogether, #physiciansonfire, #NPW2020, #PWTNPW2020
Want to learn more about locum tenens with Barton Associates? Fill out the form and one of our representatives will reach out to you!