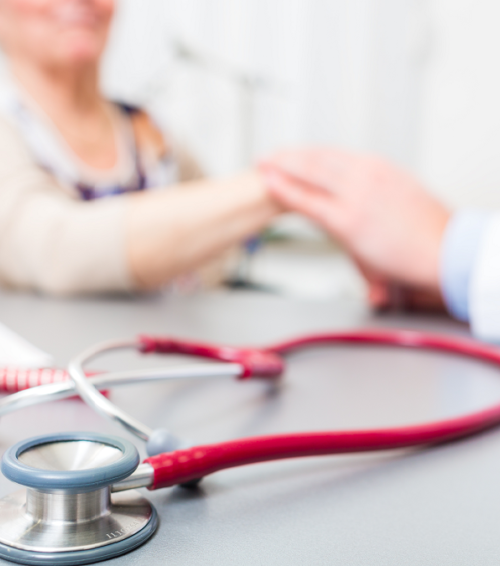 Pain management in the era of the opioid epidemic can be one of the most difficult and complex aspects of patient care, especially when it comes to the chronic, noncancer pain that comes along with conditions such as rheumatoid arthritis and fibromyalgia. The need for healthcare professionals who specialize in this kind of care is growing — and both nurse practitioners and physician assistants across the United States are increasingly stepping in to fill this important need, which is especially acute in areas where healthcare professionals are scarce.
Chronic Pain in America: How Big Is the Problem?
According to Middle Tennessee State University:
Chronic pain affects around 50 million Americans, and around one-third of adults will experience it at some point in their lives.
The pain comes from diagnoses such as joint disease, back pain, and fibromyalgia.
It is the leading cause of disability in the United States.
The medical costs for treating chronic pain total approximately $100 billion annually.
Chronic pain is a major medical issue with a large economic and human cost — and one that NPs and PAs are actively combating.
NPs' and PAs' Roles Are Expanding
Jennifer Schneider, MD, notes that many pain management clinics, inundated with patients who need ongoing assessment and treatment for chronic, noncancer pain, are beginning to hire both PAs and NPs in larger numbers.
Their roles often include the initial patient assessment/workup, diagnostic testing, collaborating with the physician to formulate a plan of care, and writing prescriptions. It is PAs and NPs who often provide vitally important follow-up visits and monitor patients on a regular basis. This allows for ongoing evaluation, and is something, Dr. Schneider notes, that many primary-care physicians are increasingly reluctant to do.
The Rheumatologist says that not only is the number of these healthcare professionals increasing, but their scopes of practice are also expanding. Laws are being loosened across the U.S., allowing both NPs and PAs to practice to their fullest extent. Depending on the patient, an NP or PA may use over-the-counter pain medication (such as an NSAID) in combination with prescription narcotic or nonnarcotic painkillers, topical medications, anticonvulsant drugs, or procedures such as musculoskeletal ultrasound.
Technology Improves Efficacy of Pain Management
Technology, too, is making pain management easier for NPs, PAs, and physicians. Pain Doctor says that wearable technologies such as Quell, which is strapped on like a watch or clipped onto clothing, can help patients manage their pain and send important information to their healthcare provider. This has the added benefit of essentially increasing access to their pain management specialist.
Another technology helping PAs and NPs form ongoing relationships with patients is telehealth, where virtual visits help these healthcare professionals evaluate the patient's care plan and make adjustments when necessary. This, in combination with other aforementioned changes in the healthcare landscape, might just be what is needed for the millions of Americans who face the challenge of chronic pain in their daily lives
NPs and PAs Are Training Specifically to Fight the Opioid Epidemic
We touched on prescriptions earlier, but it's worth noting that NPs and PAs are also gaining additional prescriptive authority. Not only does this help individuals with long-term chronic pain, but it's also a necessary response to the growing epidemic surrounding opioid painkillers and addiction in the U.S.
In 2015, 20.5 million Americans aged 12 or older had a substance use disorder. Of that group, 2 million cases involved prescription painkillers, and nearly 600,000 involved heroin. The problem has become so prevalent that drug overdose has become the leading cause of all accidental death in the United States.
In response this growing epidemic, former President Obama opened the door for more people to receive treatment by expanding NP and PA scope of practice regarding prescription medications that combat opioid dependence. Section 303 of the Comprehensive Addiction and Recovery Act (CARA) gives eligible NPs and PAs a five-year window during which they can prescribe buprenorphine (suboxone) to treat individuals with chronic pain and, as a result, help patients who have become dependent on opioid-based pain medication.
To be eligible to prescribe buprenorphine, PAs and NPs must complete a 24-hour training course designed to ensure they are versed in the proper prescription of such substances. This training covers topics such as opioid maintenance and detoxification, clinical use of all FDA-approved drugs for medication-assisted treatment, patient assessment, treatment planning, psychosocial services, staff roles, and diversion control.
After they complete the course, providers in states with prescriptive authority will be able to prescribe buprenorphine to up 30 patients beginning in early 2017. The Department of Health and Human Services (HHS) has also stated its intent to allow PAs and NPs who have reached their 30-patient limit to apply for a 100-patient waiver.
PAs and NPs Will Take the Lead
Chronic pain and its possible ramifications are a hot-button issue right now — and for good reason. Ninety-four percent of respondents in a 2014 survey of people in treatment for opioid addiction said they chose heroin because prescription opioids were "far more expensive and harder to obtain." Furthermore, in 2012, 259 million prescriptions were written for opioid medications, which is more than enough for every person in the U.S. to have their own personal bottle.
It's clear many people across the country live with unbearable pain. However, given the number of prescriptions written each year, a percentage of these patients will become addicted. As the United States grapples with the opioid epidemic, expect NPs and PAs to begin taking the lead when it comes to pain relief and helping people who suffer with opioid addiction.