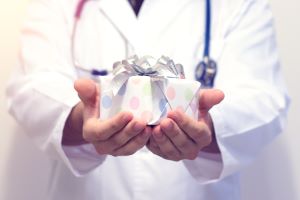 Stumped on finding the perfect gifts for healthcare workers in your life? Look no further!
Health care workers have some of the most demanding, and oftentimes thankless, jobs, and we're sure we're not the first to say that they've earned some well-deserved appreciation this holiday season!
Just like shopping for dads is notoriously difficult, shopping for someone in a specific profession can also be a challenge when you don't know the first thing about their day-to-day, especially when we're talking about healthcare professionals working long hours. You may understand the gist of what the healthcare worker in your life does for work, but without being in their shoes, how do you find a thoughtful gift that makes their long shifts a little easier, and shows them that you care?
If you have no clue what to get your medical worker friends and family this holiday season, Barton Associates has you covered! We work with locum healthcare providers every day, and we like to think we know a thing or two about the perfect gifts for nurse practitioners, CRNAs, physicians, physician assistants, and dentists. That's why we've curated a list of unique gift ideas for healthcare workers that your hard-working loved ones will cherish every day!
Hand Creams
What's the first thing any healthcare worker does when they step into the exam room, and the last thing they do before stepping out? If you guessed sanitize their hands, you'd be right! Because hand sanitizers are generally made up of at the very least 60% alcohol in order to kill germs, constant application of hand sanitizer is extremely drying for the skin, causing rough, cracking, and irritated skin. This is especially true in the winter, when the cold temperatures and harsh winds serve to further aggravate dry skin.
This means that the healthcare worker in your life may need more than a little bit of moisture for their hands. While the fruity, flowery, and clean scents that most commercial moisturizers may smell great, they're often not strong enough to handle severely dried out skin. On the other hand, though many of the heavy-duty hand creams can handle tough jobs, they're often too thick and greasy to be used throughout the day.
That's why our hand cream recommendation is Gloves in a Bottle shielding lotion. This product works differently from most lotions because in addition to penetrating and nourishing the skin when applied, it dries out to form a barrier on top of the skin to lock all of that moisture in. While it may lack a pleasant aroma, Gloves in a Bottle is fast absorbing, non-greasy, hypoallergenic, dermatologist prescribed, and lasts through multiple washes!
Foot Massage
Most people know that medical professionals are on their feet and running around their healthcare facilities all day, but have a hard time understanding the actual pain and irritation that comes with this day-to-day reality. Because healthcare facility floors are generally made out of concrete for sanitation purposes, they increase the impact of your feet hitting the floor, which, for healthcare providers walking on this hard surface every day, can mean more compression in their joints.
While we can't think of a gift that can alleviate this problem for healthcare workers in a long-term sense, we do know that after a long day of work on their feet rushing around a facility, a nice, deep foot massage would definitely be much appreciated by the healthcare provider in your life.
All you have to do is purchase a gift card to their favorite massage therapy location, or one you know of that is near you! We recommend finding a foot spa location with real foot massage professionals who know their techniques and reflexology, and apply it well, like Foot Spa & Massage in Massachusetts!
Fun Badge Reel
A badge reel, otherwise known as an ID badge, is worn by every healthcare provider for identification, but one little known medical professional problem is that badge reels tend to disappear as often as the collection of Bic lighters in your junk drawer.
Since ID badges are an everyday necessity for healthcare workers, yet they get lost left and right, why not gift your loved one a badge reel that they'll be more inclined to take care of? That's right, we're talking about unique, personalized nurse practitioner, physician, CRNA, and physician assistant ID badges!
Not only will sporting a fun badge reel bring a little bit more smiles into their workplace, but it'll add a personal touch to your gift! With tons of custom badge reel makers and sellers on Etsy, the possibilities are endless, from names or photos of pets, to custom shapes based on specialty, but our personal favorites include healthcare humor, like this funny take on ER nursing. They also come in many different mediums and materials including, but not limited to, wood, resin, and metal.
Tumbler Water Bottle
A large part of staying up and alert through long hours as a healthcare worker is making sure your body is getting the food and water it needs to give you the energy you need to get through the shift. Unfortunately, just like many non-healthcare workers who need to function through our shifts, medical professionals can often fall into the bad habit of consuming almost solely coffee or other caffeinated beverages throughout the day instead of the water they need.
Help out the healthcare worker in your life to kick this nasty habit by gifting them their new favorite tumbler water bottle from Stanley! The 40oz Quencher H2.0 Flowstate Tumbler is the perfect travel buddy for locum tenens providers with its advanced FlowState lid featuring a rotating cover with three positions. That makes this product easy to chuck in your bag for when you're on the go, and just as easy to take out and enjoy a nice, refreshing sip of water.
This 40 oz tumbler not only has enough space to hold all the water a healthcare professional may need for the day, but it also features vacuum insulation to keep their water ice-cold all (or night) long, which means more conveniently refreshing sips, and less refills!
These healthcare provider essentials will have your loved one covered through all their longest shifts, and are sure to put a smile on their face when they see the thought you've put into making their holidays bright!
Ready to explore a traveling healthcare career as a locum? Check out our open jobs, or fill out our contact form to get in touch today!