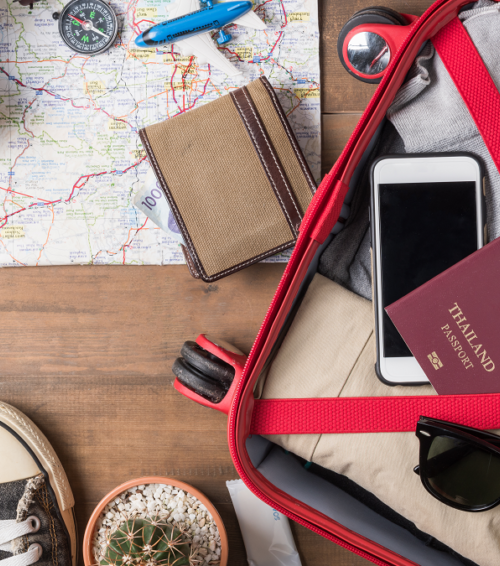 What do you need when you go out of town for a locum tenens job? I've been thinking about this and accumulating some ideas while I am on the road. We all know how to travel, so I'm not going to say anything as mundane as pack extra socks or a toothbrush.
However, when you travel for a locum tenens job, you do need to consider geography. And by that, I mean local weather conditions and changes. A coat that works in Georgia may leave you shivering in Illinois, even in October or April. So if you are headed to a cold climate, be prepared to layer, and more so if you have to drive in potentially adverse conditions.
Weather is mainly an issue for those of us who go to more "out of the way" locales. If you fly to the city and work in the city, it obviously matters much less. This past winter, I always traveled with my heavy coat and boots, water resistant and warm. They were clunky in the airport, but perfect when stepping out into the Indiana snow. A hat, gloves, and scarf are also wonderful items, especially when that morning walk to the car is in nine degree weather.
I usually take workout clothes, though I'm often too tired to bother at the end of a 12- or 24-hour shift. Still, it never hurts, and I do sleep better when I've worked out a bit. So pack those running shoes, shorts, and shirt. If you're going to warm climates, or even cold ones where there is an indoor pool, swimwear is a nice idea. You can't beat a nap around the pool, basking in the sun.
Clothing aside, I do have a few other suggestions. When traveling away from home, make sure you have whatever medical references you feel comfortable using. I use smartphone versions of Epocrates and the Emergency Medicine Residents' Association Antibiotic Guide. I also have a small, laminated card from www.VedellsMD.com that has resuscitation drug doses and is very useful in a pinch. It works without a battery and comes in many sizes and levels of content. It's a bit of a security blanket for me.
Take something to read for pleasure as well. I don't have an e-reader yet. I'm still a child of the printing press, and I enjoy the feel and smell of a book in hand. If you aren't a leisure reader, at least take something to watch on your own computer. Movies are easy enough to download. Or perhaps you might listen to a podcast. The point is that you'll have downtime. It may be on the airplane, in the airport, in the hotel, or it may pop up on some blessedly slow night in the ER. Whenever it strikes, enjoy the calm and take in some relaxation.
Now, to my own specifics. I'm careful to take reading glasses and sunglasses. I also try to keep a pocket-knife or multi-tool in my travel bag. It's always handy for something, and I frequently find myself cutting up food in the ER break room or opening a difficult package using my knife.
Furthermore, I have committed wall and car chargers for travel so I don't land in another city with a dead phone, unable to call for help or directions. Keep items like this in a prepared travel bag, along with some candy or other snack, tea-bags or instant coffee, sugar, and a travel cup. Locums is time away from home, so try to make it as comfortable as you can. This bag should go to the hospital with you, especially on overnight shifts. That's the time when I feel most weary and vulnerable. My personal tea mug, filled with English Breakfast tea, and a bit of dark chocolate, manages to lift my spirits pretty quickly when I feel tired or overwhelmed.
You may want to travel with a special pillow or blanket or, if you're like me, some items your children give you to remember them (as if I could forget). Pictures of your spouse and children also go a long way toward reminding you that you work to provide for them.
Everybody is different. We all travel differently as well. Remember to take not only what you need, but also what you want; in reasonable, packable quantities. Over time, you'll learn to travel efficiently and do it with all of your necessary gear stowed in the right place, in the right way. And you'll learn to do it like the lean, mean doctoring machine you are…or you hope to be.
Do you have any tips for traveling on assignment? Tweet us @bartonlocums!