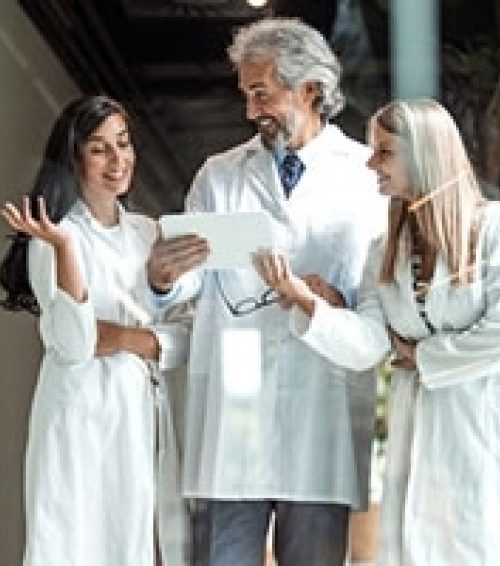 In the United States, there are two degrees that allow a physician to practice medicine: Doctor of Osteopathic Medicine (DO) or Doctor of Medicine (MD). There are a few differences between the two in terms of what type of medical school each attends and what type of medicine they practice, but both must complete the same medical school requirements and complete requirements for licensing.
What is a DO?
According to the American Osteopathic Association (AOA), a Doctor of Osteopathic Medicine (DO) is a fully licensed physician who practices in all areas of medicine. DOs take a whole-person approach to treatment and patient care; they partner with their patients and focus on health promotion and disease prevention to help them achieve a high level of wellness, according to the American Association of Colleges of Osteopathic Medicine (AACOM).
DOs attend four years of medical school, can practice in any specialty, and can prescribe medication to patients. They must pass state licensing exams and can be licensed to practice in all 50 states. DOs receive special training in the musculoskeletal system, which includes bones, muscles, tendons, ligaments, and soft tissues. They also receive additional training in osteopathic manual medicine, which is a hands-on, non-invasive set of skills that is used to treat all of the body's systems.
According to the AOA, DOs make up approximately 11% of the American physician population; the physician workforce now includes more than 114,000 osteopathic physicians, with one in four medical students choosing to attend an osteopathic medical school. The majority of DOs practice in primary care.
What is an MD?
Like a DO, a Doctor of Medicine (MD) must first obtain a bachelor's degree and pass the Medical College Admission Test (MCAT). After completing four years of medical school, an MD must obtain medical education through internships and residencies. They must also pass the United States Medical Licensing Examination (USMLE); DOs must take the Comprehensive Medical Licensing Examination (COMLEX), but they can choose to take the USMLE as well.
Generally, MDs are allopathic physicians, meaning they focus more on diagnosing and treating disease. This can be done via clinical examinations, blood tests, and other screening or diagnostic procedures. MDs may also focus more on treating specific conditions with medication or surgery.
Like DOs, many MDs choose to practice in primary care, but they may also choose to specialize in fields such as pediatrics. According to the Association of American Medical Colleges (AAMC), there were 620,520 active MDs in the United States as of 2019, with family medicine/general practice and internal medicine having the highest number of MDs (68,997 and 65,002, respectively).
Which Path to Choose?
Keeping in mind that both a DO and an MD have similar requirements and are equally qualified to practice medicine, deciding between the two depends on which approach to care appeals to you more. Neither is better than the other; an MD just happens to be more common.
If you would prefer to take a more holistic approach to treating patients that emphasizes the mind-body-spirit connection, a DO may be the right choice for you. If you prefer to use a more "modern" and clinical approach, you may want to choose an MD. Whichever one you choose, just remember that the main goal of each is to help your patients get the best care possible.
Ready to begin your locum tenens career with Barton Associates? Take a look at our open jobs or fill out the form and one of our representatives will reach out to you!