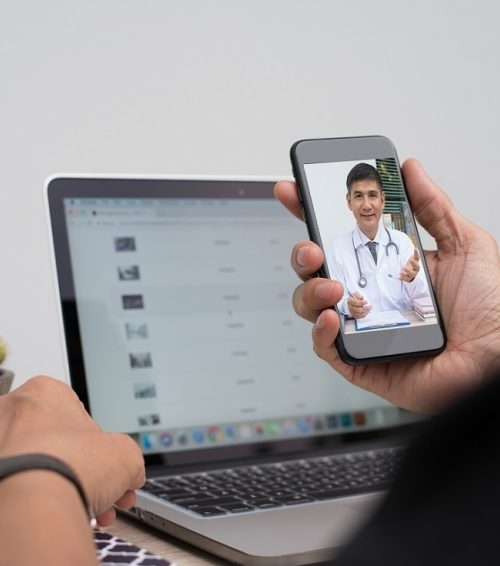 As a physician who started practicing telemedicine a few years ago, I was excited but had questions and wasn't sure where to turn. Other than reading a few online articles about telemedicine, I found it difficult to find personal information from a clinician's perspective. Therefore, I would love to share with you some of my experience to help you be more informed if you are considering doing telemedicine work.
According to the American Academy of Family Physicians (AAFP), "telemedicine is the practice of medicine using technology to deliver care at a distance. A physician in one location uses a telecommunications infrastructure to deliver care to a patient at a distant site".
My introduction to this realm was right after residency and communicating with an intensivist in the ICU who provided assessment and advice to the staff remotely via video, at the patient's bedside. Telemedicine is a growing field now expanded to the ambulatory setting, helping to increase access and convenience for patients. As a clinician practicing telemedicine, you will be talking to your patients via the phone or a video visit. Some telemedicine companies have developed their own secure online portal which you will use to document and/or communicate with patients. All the clinician needs is a dependable laptop with internet service and webcam and/or a telephone.
Why Telemedicine?
As a clinician, telemedicine can provide an increased level of schedule flexibility. At the time, I enjoyed the healthcare diversity of what I was doing and the opportunity to work at several clinics and also do telemedicine from home part-time, worked well for me. Telemedicine can be a great opportunity for physicians in various stages of their career, including the newly graduated resident who wants to explore career settings, for the established practitioner who wants to supplement their income or the clinician who is planning to retire and wants to phase out of her/his practice and perhaps work from home instead.
Who Does Telemedicine?
Telemedicine is big across the primary care setting with internists, family medicine physicians, pediatricians and psychiatrists being able to assess and treat patients remotely. Telemedicine has many advantages and can be a strong adjunct to the traditional health care system. Given the shortage of primary care providers and the great need to increase access to quality and affordable medical care, telemedicine can be an effective mode of health care delivery, particularly for acute non-life-threatening medical issues. Many health insurance companies now offer telemedicine as a covered benefit to their subscribers. From intensive care units to the delivery of acute medical care and now even being implemented as a monitoring outpatient service for certain patients with chronic comorbidities, telemedicine can be a valuable modality within our healthcare system.
Before working in telemedicine, I thought about how would the physician-patient relationship be established outside of a traditional clinical setting. I wondered how to best facilitate a bond with a new patient online. Would patients feel open enough to communicate their symptoms? I was used to sometimes comforting patients by gently placing my hand on their arm to help them during a difficult time. It wasn't uncommon for some of my patients to give me a hug goodbye at the end of the appointment. How could that closeness be achieved via an online visit, I thought.
Well, after getting used to being oriented with the telemedicine portal, and figuring out how the charting system worked, some of my worries were alleviated. With approximately 15 minutes to see each patient, chart the encounter and potentially order a prescription medication, I learned to be efficient in order to maximize my time spent with each patient. My worries about establishing a bond with patients soon melted away. Here, I was seeing individuals during a vulnerable point in their life – many would be in their home, perhaps still in their pajamas, or sitting up in bed feeling too unwell to leave their home to see their doctor (sometimes the last thing you want to do when you're sick is to get yourself ready, head out to the doctor's office and wait in the waiting room).
I've treated patients calling in from their place of employment and even gave medical advice to one individual literally running between terminals at an airport trying to catch a flight.
With telemedicine, you bring medical care to patients, and the overwhelming majority of patients I have seen, truly appreciated this service. Many did not have health insurance or a primary care provider, so they greatly appreciated the easy access and relative affordability.
I found that developing a bond immediately was crucial. Rightfully so, some patients were nervous about seeing an unknown doctor online and I felt it was my duty to try and make them feel as comfortable as possible from the beginning of the appointment. Many times patients just had questions they needed answered, or they were seeking reassurance or further direction about symptoms they were experiencing. With each encounter, I felt happy that I was able to bring healthcare to someone in need in a mode that was most convenient to them.
Stay tuned for my upcoming article which will cover topics to review when considering taking a job in telemedicine including evaluating a company's clinical workflow, scope of practice, schedule setup, and more!
Want to learn more about locum tenens with Barton Associates? Fill out the form and one of our representatives will reach out to you!