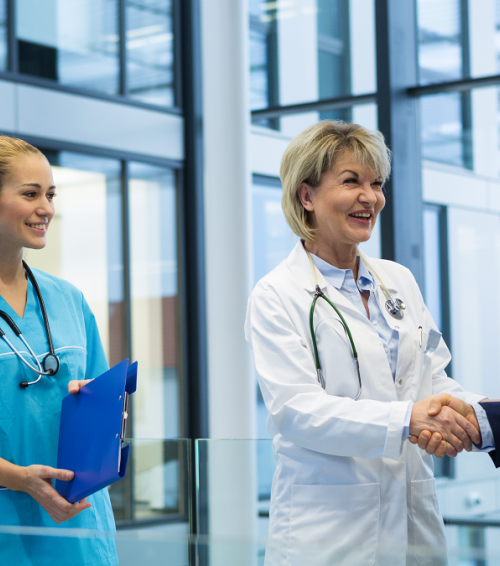 Whether your facility is experienced with staffing locum tenens providers or brand new to contract medical staffing, it's important to find the best medical professional for your specific needs. It may seem like a daunting task — but with the right approach and the help of a staffing agency, facilities across the country have found that the locum search can be made seamless. Here are three tips for facilitating a smooth process for everyone involved:
1. Provide Specific Information About Your Opening
When working with a locum tenens staffing agency, you'll want to discuss all the important details about your opening. Consider the basics: When and where is the provider needed at your facility? Which certifications, special skills, and training should the provider have? With whom will the provider be interviewing and working on a day-to-day basis?
You should also cover all the basic elements of the job description: Information such as patient volume, day-to-day schedule, and procedures the provider will need to perform is essential to ensure candidates are well-prepared for their assignment. Often, having access to small details — such as how an inpatient unit handles weekend call — has a direct impact on the speed at which locums tenens candidates are presented to staffing managers.
Each job opening has potential providers who could be a great fit. By being specific early in the process, you can help the chances of finding great candidates sooner.
2. Be Flexible (When Possible)
If there's any flexibility in the position you're looking to fill, let your account manager know! Flexibility means an agency can send even more qualified providers for your staffing manager's consideration. Perhaps instead of one full-time provider, you're able to consider two part-time providers. Or maybe the procedures your patients need can be performed by a certified nurse practitioner (NP) or physician assistant (PA).
Of course, state laws vary. But in a great working relationship, staffing professionals can help determine different ways to fill your needs and work through the options with you. Through a worsening nationwide physician shortage, advanced-practice clinicians are stepping up to help hospitals, practices, and companies across the U.S. maintain patient care and incoming revenue. Could you hire one for your open job? Consult your account manager and take a look at Barton Associates' scope-of-practice wheels for NPs and PAs for a sneak peek at relevant laws in each state.
3. Remember Communication Is Key
Just like unexpected needs can arise quickly at your facility, a provider's schedule can change within a matter of days. Updating your account manager on staffing decisions is helpful for everyone involved, and maintains a level of professionalism and respect for candidates' time.
Even once CVs have been read, candidates have been interviewed, and the right provider has accepted the position, communication plays an important role going forward. The provider must be credentialed and logistics must be worked out before his or her first day on the job.
At this point, the provider is looking forward to caring for your patients — and with an open line of communication, the support of a staffing agency, and the experience they bring from previous work, they'll get started on the right note.
Ready to speak with an account manager about your open job? Contact Barton Associates

today!