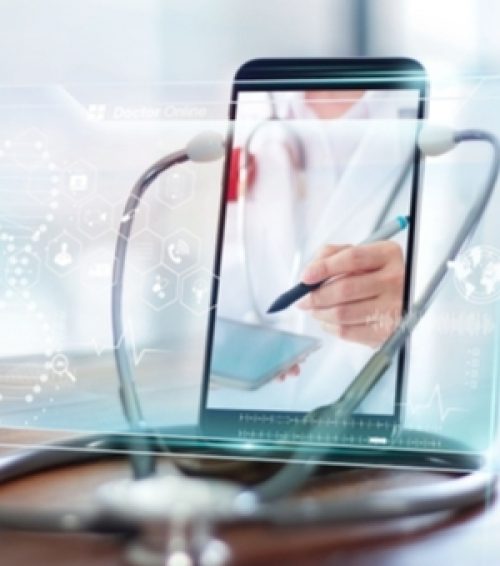 For the past few years, virtual health has been heralded as the next technological innovation that will cause disruption in the delivery of care. However, its adoption wasn't quite widespread up until last year. The global health emergency caused by COVID-19 is pushing against structural barriers that initially had slowed health investment in integrated virtual health solutions.
According to a 2020 report by FCC, widespread use of virtual consultations and remote patient monitoring can result in a cost saving of $305 billion annually.
Given the magnitude and pace of ongoing disruptions to care delivery, progressive health organizations could consider using the next few months to materially scale broader virtual health offerings to create real competitive advantage.
However, it is also vital that providers don't move completely off-track with in-person care while placing greater efforts toward moving their practice behind the screen. Constantly trying to boost your clinical efficiency is equally important when targeting growth.
In this piece, we've formulated a strategy that's going to be instrumental for healthcare providers in balancing these two perspectives.
1) Use Remote Patient Monitoring for Chronic Disease Management
Earlier this year, the Association of American Medical Colleges released it's 2020 report on the projected physician shortage in the United States. In its findings, the AAMC projects a total shortage of between 54,100 and 139,000 physicians by 2033.
In such times, remote patient monitoring (RPM) can prove to be one of the most effective tools available for chronic disease management, especially for older adults — particularly those suffering from heart failure, diabetes, and chronic obstructive pulmonary disease (COPD).
As part of the more comprehensive concept of telehealth, RPM enables clinicians to provide consultation to patients from the comfort of their homes through the use of specific technologies – no matter where they may be in the world.
These include both patient self-interaction technologies (such as mobile health apps and wearable devices) and clinician-to-patient technologies (such as condition-monitoring devices and platforms).
In 2014, the University of Mississippi Medical Center (UMMC) joined forces with a network of national and local health technology leaders to create the Mississippi Diabetes Telehealth Network.
With a robust RPM program serving as its foundation, the UMMC's network has ranked up a series of extraordinary achievements. Right within its very first year of implementation among 100 patients, the Mississippi Diabetes Telehealth Network managed to achieve:
Zero rehospitalizations or emergency room visits
7% average A1C reduction
A monthly cost savings of more than $28,000
Later that year, administrators were quick to announce an expansion of the platform to accommodate the treatment of other chronic conditions within it. A number of federal policymakers also showed interest in using it as a model for a national telehealth network that would further expand RPM access into remote and rural communities.
Those expansion attempts also met with similar success within no time; UMMC Center for Telehealth executive director Michael Adcock told the Heartland Institute in 2018 that the expanded RPM program "has been shown to be highly efficacious in treating a wide array of medical conditions right from congestive heart failure, diabetes, hypertension, COPD, asthma, and many others."
2) Look to EHR Integration for Better Clinical Decision Making
The ideal telehealth experience should be much like a virtual visit in the physician's office, and not equivalent to FaceTiming with a close acquaintance. Providers always need to be on the lookout for ways to adopt and innovate in telehealth if they wish to stay ahead of the curve.
That is to say, Dr. Dillon Miller, medical director of Blue Ridge Medical Group, wanted to use a tool for his facility that was specific to the healthcare industry and catered to the flow of a regular clinic visit. Tools like Skype, Zoom, FaceTime or other consumer industry video chat platforms aren't necessarily well-suited for medical care.
In a recent interview with EHRIntelligence, Dr. Miller said, "You want something that is embedded within the EHR system that's not much different than checking in a patient as if they were showing up at the office. With athenahealth's telehealth solution, it's very easy for the front office to get the patient checked in and it's simple for my nurse to interact."
"It was more intuitive than when we were trying to utilize other video modalities such as Skype, Zoom, or FaceTime, which are really not designed to be utilized in a clinic space. When we started using this solution, it made our day much easier than before."
"The telehealth tool being embedded into the EHR makes it very user friendly," he continued. "Because it's very easy for my staff to use, it also makes it easy for patients to have consistency on both ends. And the fact that it's web-based, means patients do not have to login to a specific app for a visit. They get a text message or email, click a link, and it's connected."
Integrating EHR (electronic health record) systems with your telehealth platform can boost your clinical efficiency in more than one way. It can increase interoperability, streamline appointment scheduling at your end and enhance the overall patient experience.
3) Leverage Mobile Apps for Ameliorating Workflows
"The use of smartphones will soon be ubiquitous in clinical environments. This technology offers the potential to improve clinical communications, enhance learning, and improve patient care". – Fernando A. Angarita, MD.
Mobile health (mHealth) are bringing about major improvements in the ways the healthcare system functions. This is one of the many reasons mHealth initiatives have seen exponential growth in recent years and are often spearheaded by physicians.
The different types of mHealth apps available today that can help ameliorate the workflows of healthcare providers can be broadly classified into six categories:
With these apps, digital versions of print medical references for disease diagnosis can be made available readily at the physician's fingertips with a search toolbar to help improve the regulation of diagnosis. These apps can also help clinicians prescribe lab tests based on symptoms, therefore mitigating the cost of care by decreasing the number of tests that could have been avoided in the first place.
These apps normally include the names of drugs, indications, their dosages, drug-drug interactions, cost, pharmacology, their identifying features and contradictions. Drug reference apps can be easily available and extremely useful evidence-based resources at the very point of care, for instance, during ED visits or routine hospital rounds.
The use of this type of mHealth apps in a clinical care setting facilitates quick exchange of crucial information and can help mitigate the risk of medical errors.
A medical or clinical calculator app can be used to calculate a number of clinical indices and scores such as body mass index, body surface area, coronary heart disease risk, etc.
Medical Teaching and Education
Digital versions of journals, interactive anatomy tools, medical books, medical calculators, medical references, and drug references on a mobile app furnish accommodating learning opportunities for medical trainees. For instance, an mHealth app for trainee doctors can provide an abundance of information at the point of care when attending physicians aren't around.
Hospital Information Systems
mHealth apps for Hospital Information Systems, such as electronic health records, electronic medical records, and picture archiving and communication systems, provide the pliability of retrieving important patient information securely from anywhere at any given time. This also includes apps for administrative tasks such as the management of patient information, medication prescribing, and billing.
Lastly, while interest in and demand for virtual care are certainly high at present, there's no question that the healthcare industry has only begun to scratch the surface of how it can leverage technology to optimize their workflows.
Advancements in healthcare technology will enable providers to have an even more significant impact on the industry as a whole going forward.
In-patient care is what can be discerned as the basis of healthcare, and it is the inevitable means by which many patient interactions will be conducted after the pandemic subsides too. However, one thing is certain: telehealth has shown the healthcare industry that a face-to-face encounter isn't the only way to deliver care.
Want to learn more about locum tenens with Barton Associates? Fill out the form and one of our representatives will reach out to you!