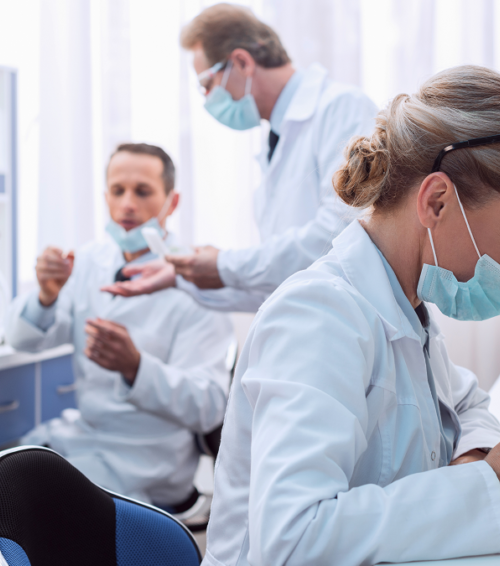 Nurse practitioners have a wide variety of employment options, both clinical and nonclinical. One of the most exciting nonclinical opportunities is the role of researcher. Nurse practitioner researchers work across myriad domains including academia, policy, and technology.
A good researcher possesses strong clinical skills, characteristics of leadership and teamwork, and a solid professional network of peers. Locum tenens assignments can position an ambitious nurse practitioner for a career in research by providing invaluable experience in these areas.
This article tells a little bit of my story as a nurse practitioner and researcher at Microsoft and discusses three ways locum tenens work provides a solid foundation for a future career in research:
1. It Strengthens Clinical Skills
To be a good researcher, you must be, first and foremost, a good clinician. Locum tenens assignments expose you to a variety of fascinating settings, which ultimately provides systems-level insight and understanding that can be applied in research careers.
How does a clinic in a small town operate? What are the needs of the staff and patients? How does that differ from the needs of a hospital in a big city? While on a temporary assignment, you can discover the answers to all these questions and more!
In my own career as a design researcher at Microsoft, the scope and methodology of my clinical background has assisted me time and time again, allowing me to further my research efforts and better understand my clients and peers.
2. It Builds Key Characteristics
A good researcher must possess key characteristics of leadership, professionalism, communication, and teamwork. Locum tenens assignments build these skills through exposure to various disciplines.
At Microsoft, I work with so many people from so many different backgrounds, including product managers, business analysts, designers, and developers. My experiences navigating relationships in the healthcare industry built up the invaluable characteristics of leadership and teamwork and positioned me for success in my research career.
Through temporary work placements, you can cultivate a diverse skill set that will assist you in any research field, no matter your focus.
3. It Offers Networking Experiences
Networking is essential for a successful career in any industry, and the research field is no different. Nurse practitioners who take advantage of temporary assignments gain a tremendous asset in the relationships they're able to build and cultivate across the country.
Professional networks provide resources for a researcher in the form of potential job options, collaboration opportunities, and specialist consultations. On top of all that, you could also build lasting friendships that continue through your career and beyond!
In my current role as a designer researcher at Microsoft, my background as a nurse practitioner has been invaluable. I'm very thankful for the education, clinical skills, personal characteristics, and relationships I've gained throughout my career, and I believe locum tenens work is an excellent way to gain those experiences.
Research is a broad and far-reaching field, and you never know how the insights and connections you gain as a locum tenens clinician can benefit your research efforts.
How do you think locum tenens work prepares you for research roles? Are you interested in locum tenens positions? Check out Barton Associates' open locum tenens jobs

!