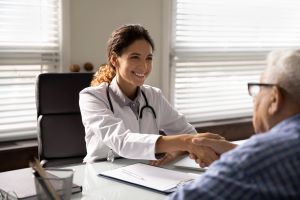 Is your doctor bedside manner promoting patient health?
A doctor's bedside manner is the way in which they interact with patients, from their attitude to their body language. While medical schools may teach the significance of maintaining good bedside manner for the purpose of improving the overall patient experience, it's more important than you may think when it comes to patient outcomes as well.
Studies show that doctors with good bedside manner build more positive doctor-patient relationships, which, statistically, improves patient outcomes and has dramatic effects on hard health outcomes such as recovery from hypertension, diabetes, asthma, obesity, osteoarthritis pain, and pulmonary infections. Overall, the findings indicate that when a medical professional makes patients feel more comfortable, they are more likely to provide more details, ask a lot of questions, and follow their treatment plan better than they otherwise would if their physician has poor bedside manner.
In recent years, however, other studies have shown that many physicians seem to have put the importance of positive bedside manner on the back burner. Some professionals wonder whether older doctors have just forgotten the unit on bedside manner from their schools of medicine. Others say that new medical students just aren't getting enough training in this area at their medical schools, since the most experienced physicians who can set an example have increasingly moved into non patient-centered sciences like laboratory work.
Whichever way the cards fall, positive bedside manner is beneficial for patient outcomes, as well as overall patient well-being; making it of the utmost importance for medical providers to remember to bring the empathy back into their patient interactions.
If you're curious about how you can improve your doctor bedside manner, we've broken down the top 3 tips to implement more patient centered care into your work, and enhance patient outcomes too!
Make a Good First Impression
The importance of making a good first impression is overlooked far too often. Your first impression sets the scene for the entire remainder of your interaction, especially with a new patient, and you only have one chance to make it positive. Nevertheless, there are a few tips that doctors can incorporate into their new patient evaluation routine to make a good first impression and set a positive tone.
Ensuring that you know the patient's name and the correct way to pronounce it is a top recommended way to show respect. If you don't know how to pronounce the patient's name, it doesn't hurt to simply ask. It's also advisable to address patients by their surname, unless they specify that they prefer that you use their first name, or you already have a positive rapport established with them.
If a patient brings any family members into the appointment with them, be sure to address them as well with eye contact and a simple greeting, or perhaps even a handshake; the patient likely wouldn't have brought them along if they didn't want their loved ones involved.
Be an Active Listener
In the ever-busy world of physicians, sometimes, it can be easy to have a diagnosis ready to fire before your patient has even finished talking. However, not practicing active listening with your patients can inhibit you from hearing the full story, and picking up on small clues that may lead you to more comprehensive conclusions.
Instead of focusing on getting your patient in and out with a diagnosis as fast as you can, take the time to really focus on what they have to say. Oftentimes, patients may beat around the bush of their true issues and symptoms because they are embarrassed. When you practice active listening, you can better pick up on what they may be getting at, or take note of things you may need to ask further questions about. This way, you are not only making sure that you get to the real root of the problem, but you can also direct and redirect the conversation if they start to get off topic.
Overall, think of every patient encounter like an interview, and use those active listening skills to really digest the information you're given, form questions, and dig deeper so you can paint a complete picture of the problem.
Offer Validation
As anyone should, patients want to be taken seriously by their medical providers, even when they're wrong. Though physicians clearly have the medical expertise to know when a patient is wrong about a suspicion or diagnosis, more often than not your patient isn't trying to undermine your knowledge, but instead they are simply seeking peace of mind.
Moreover, if your patient asks you to run tests, even if you feel it is unnecessary, it is good bedside manner to simply run the tests. The goal is not only to find a diagnosis and treat the patient, but to validate your patient by easing their concerns and being transparent with them about their health.
By validating your patient's concerns, you also give yourself room to explore every possibility. Sometimes, chronic headaches point to more than just overstimulation, and when you validate a patient's concern and run some tests, you may just stumble upon something unexpected. And, worse comes to worst, you run some tests and provide proof to your suspicious patient that they're in the clear, building trust and a positive doctor-patient relationship in the process.
 Positive bedside manner makes candidates for locum jobs more attractive to employers! Ready to start your locum journey, check out our open physician jobs today!