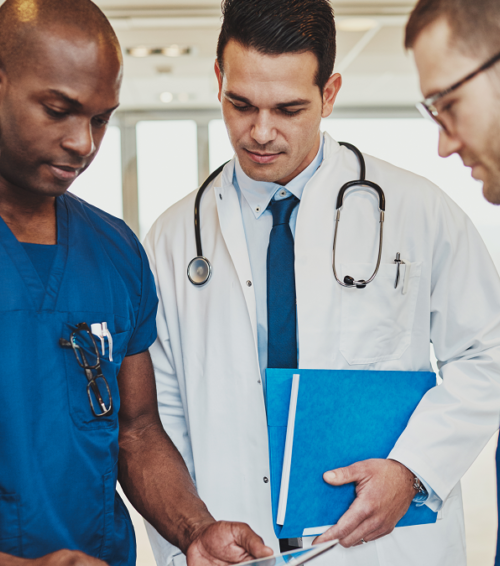 Like "consumerization" and "data-driven decision making," the term "team-based care" can be used as both a buzzword and a forward-looking take on an important healthcare trend. Described by the American Medical Association as "a strategic redistribution of work among members of a practice team," the concept has drawn considerable attention from providers and employing organizations.
Though transitioning can pose a steep challenge (one influential paper on the matter cites the need for "profound changes in the culture and organization of care"), adherents have long praised the model's ability to effect improvement in critical areas: care quality, better outcomes, and increased patient satisfaction, for just three examples.
With strengths like these, it is not hard to imagine team-based care gaining more traction. Another large and growing trend, the use of locum tenens clinicians, naturally lends itself to the movement. However your organization structures its teams and uses team-based care, consider the following advantages of locum tenens staffing the next time challenges arise:
1. It Keeps Teams Intact
Because team-based care settings rely on a preplanned division of labor and build their distribution from a complex lot of factors (team member accreditation, organizational structure, and patient preference, among others), both permanent and temporary absences can severely disrupt team function. In the best case, members must absorb the remainder of available work, a suboptimal outcome even if the team has personnel qualified to carry out the tasks.
In this sense, locum tenens provides a logical way to maintain structure during absences. Vacations and LoAs become easier to schedule because a qualified professional can be "slotted in" with very little notice. Similarly, organizations facing unplanned or permanent departures (from employee attrition or disciplinary issues, for example) can use a locum to bridge the gap while they search for temporary help.
2. It Provides Necessary Skills
In other cases, departures can cause team function to cease entirely. Diagnosis and prescribing are just two examples of general tasks only certain personnel can fulfill. By the same token, loss of certain specializations can render a team temporarily useless. A sports health team that loses a podiatrist may struggle to function, for instance, just as a rehabilitation group lacking an addiction recovery specialist would.
Here, the depth of a locum tenens agency's talent pool is a direct measure of its value to the client organization. By offering a broad selection of qualifications, licenses, and specialties, the agency can always ensure that team function continues when absence inevitably occurs — and bring peace of mind to stakeholders, who breathe easier knowing qualified personnel are available at a moment's notice.
3. It Offers Intangible Experience
Of course, dropping a new member into the delicate ecosystem of a health team has its own inherent risks. New members (including those with significant experience on paper) may need time to acclimate and may struggle to overcome habits and other practices ingrained by their previous workplace(s). The same can be said for current employees transplanted into a team as a temporary measure: Without diverse working experience and the ability to adapt to a new set of norms, the team still risks being thrown off-balance.
Bringing a locum on mitigates this risk in several ways. With their experience across a variety of practice settings and locations, locum tenens clinicians are prepared for teamwork by default. Alongside the experience and problem-solving skills they bring to every job, locums are inherently skilled at grasping new systems and working methods. In all, these are the exact strengths an organization needs when inserting a new member to a team. Throw in the ability to rapidly deploy personnel, and the locum agency quickly becomes one of the most valued partners at a facility's disposal.
4. It Helps Improve Processes
The same general skills and specific experiences that make locum clinicians invaluable for team function also give them strong insight to what works and what doesn't. In a team-based care setting, this knowledge may be used to refine workflows and redistribute tasks, among other important remedial measures.
To wit, listening to a locum's input (or, better, soliciting it) may not be your primary reason for seeking temporary help, but taking advantage of it while it's there has potential to positively impact your operations far past the clinician's exit date. Don't lose out on a valuable opportunity to improve the immediate team and your larger team-based operations.
Embracing Healthcare's Team-Based Future
As a buzzword, there's little doubt "team-based care" is overused in meeting rooms and slideshows. As a model, however, its potential is immense whether organizations fully embrace the concept or pick and choose the aspects that work best for them. With adoption rates and subsequent praise increasing every day, expect locum tenens services to provide a valuable front line of defense against events that would otherwise disrupt team function — just as they have in traditional health settings for decades.
How has a team-based model helped your organization? Are you ready to employ locum tenens services to shore up weaknesses? Speak with a Barton Associates account manager today!