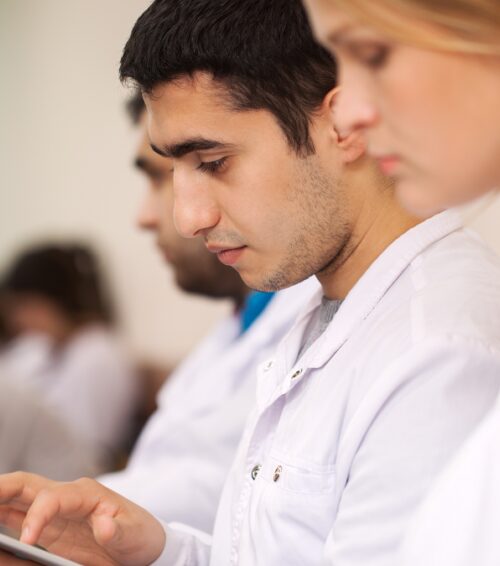 Starting a new locum tenens position is exciting. However, if it's your first experience with locum tenens jobs, it can also be a little nerve-racking. First, it can be helpful to utilize the resources provided through your locums company. Beyond that, it's important to learn from experienced locum tenens providers who have been through the process before.
As a locum who works in ambulatory primary care settings, I'd like to share four basic tips to help you get on track:
1. Ask About Orientation
Find out if a staff member will be available on your first day to give you a tour of the facilities. You'll want to know some basics such as where to park, if you'll be assigned an office to do your charting, the exam room layout, where and with whom your medical assistant will be working, bathroom and break room locations, and other particulars of the facility. Remember: Communication is key!
Before you begin your first assignment, also become familiar with the site's electronic health records (EHR) system. If the EHR system is new to you, make sure you'll receive training, preferably before your first shift. If that is not an option, request to have a trained IT professional available to you on your first day. Ask if you can set up your schedule as a ramp-up process so that you start off seeing fewer patients in the beginning. This will help you get better acquainted with the EHR system.
2. Find Out Your Scope of Practice
Before you start, you'll want to know exactly what your role will be in the clinic. Will you be expected to do urgent care or walk-in appointments, or will you be establishing a patient panel? Will you be scheduled to do any procedures or teach medical students and residents? Will you be expected to supervise advanced-practice clinicians such as nurse practitioners?
One of the wonderful benefits of working locum tenens jobs is that you can choose what you'd like to do! But you should still get a sense of the general clinic flow — ask for basic training in clinical protocols such as how to place specialty referrals, medication refills, and more.
3. Stay Organized
Because locum tenens employment consists of temporary full- or part-time work, schedules are flexible. Some clinic sites may offer added freedom, allowing you to customize your own schedule. With this in mind, it will be critical to stay organized. Keep track of your work hours and when to submit your timesheets for payment. Maintain records of any job-related expenses and save receipts, because you may be able to deduct them at the end of the tax year.
In terms of staying organized clinically, be aware of your expected responsibilities. Understand the facility's clinical workflow, keeping in mind that continuity of quality care for your patients is key. For instance, if you're a part-time or per diem employee ordering lab work for a patient, who will follow up on the results? If you place a referral for a patient, will the subsequent reports go to you or to the patient's primary care physician?
4. Check in Regularly
You may be assigned a clinician lead or medical director to report to. Follow up with that person, as they can be a helpful guide through the beginning of your assignment. Some institutions may even have a formalized process that provides chart reviews and feedback. If so, use this opportunity to learn how the system works and get the answers to any questions you have. If your work site conducts departmental meetings, take the time to go. It might be a great opportunity to meet and get to know your colleagues and staff. Even if your assignment is temporary, your presence and feedback will likely be appreciated, as it shows your initiative and willingness to work collaboratively with everyone.
One of the many benefits of working as an independent contractor and working locum tenens jobs is the flexibility of work schedule and clinical practice. With some planning beforehand, you can get off to a good start at your first assignment.
What advice do you have for a smooth transition to locum tenens work?
If you're ready to get started, check out our open locum tenens jobs today!