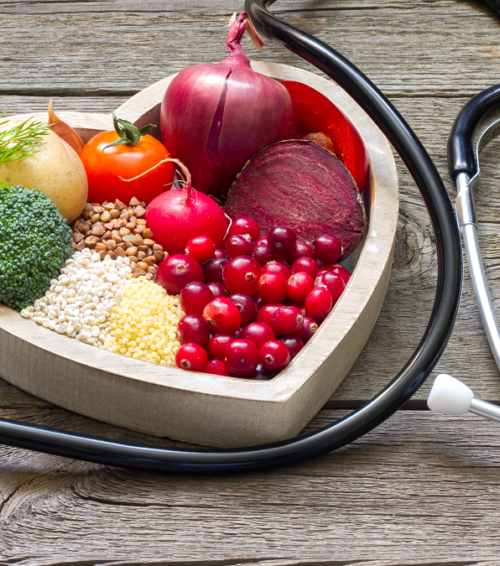 It can be hard to maintain a healthy lifestyle when you're frequently traveling as a locum tenens provider. This is especially true when making food choices, as a fast-paced medical career can easily lead you toward convenient but unhealthful options such as fast food.
So, what are the best tactics to eating healthy while traveling? Here are our suggestions:
1. Choose Balanced Meals
Before you can start figuring out ways to eat healthfully while traveling on locum tenens assignments, it's important to have an understanding of what healthy, balanced eating looks like.
An easy way to visualize healthy eating is to use the Plate Method: fill half your plate with veggies, one-quarter with lean protein, and the last one-quarter with whole grains and starchy foods. By using this method you can quickly and easily assess what kind of foods you should be eating while on the road to ensure that you're getting around the amount of daily macronutrients and micronutrients you need.
2. Shop Grocery Stores
Looking into housing accommodations that include a kitchen or kitchenette can be a great way to ensure you're eating minimally processed foods. Even if you don't have access to a kitchen, the grocery store still has a lot to offer in the way of healthy, on-the-go food options.
You can easily get in your fruit and vegetable servings by picking up a variety of fruits and vegetables such as apples, oranges, bananas, grapes, carrots, celery, cucumbers, and so much more. Most grocery stores also have an assortment of pre-cut fruit and vegetables, giving you access to produce that usually needs peeling and chopping before it's ready to eat. Typically, supermarkets will also have a variety of prepared foods such as salads, soups, sandwiches, and prepared dishes that can be eaten right away or only need to be microwaved.
3. Dine Out Smart
Eating out will inevitably happen while you're on assignment, but there are still strategies to make healthy choices in these situations. When choosing what to eat at a restaurant, it's important to go back to the idea of balanced eating: While it will be harder to envision the Plate Method, it can still stand as a good reminder of the kinds of foods you should order. Grilled, broiled, or baked proteins are the healthiest routes to go; remember to complement them with a hefty side of vegetables and whole grains.
4. Know When to Choose Processed
While this is rare advice you'll receive from a dietitian, sometimes choosing processed foods is better than nothing. For example, if the only fruit or vegetable option available is a bottled smoothie or juice, choosing either of those is better than none for any given meal or snack. Or, if packaged nuts and beef jerky are the only protein sources handy between shifts by all means, take them, you need that energy to perform your best. If a processed and packaged product is the only food option you have in a pinch, it's better to eat it than to not eat at all.
While eating healthy while traveling on locum tenens assignments can sometimes be a challenge, following these principles will help you better achieve that goal. Remember, the grocery store is your friend while on the road, regardless of whether you have access to a kitchen. Keep the Plate Method in mind when choosing meals, snacks, and while dining out. And sometimes, choosing processed foods is better than not eating at all when working strenuous hours. Happy eating!