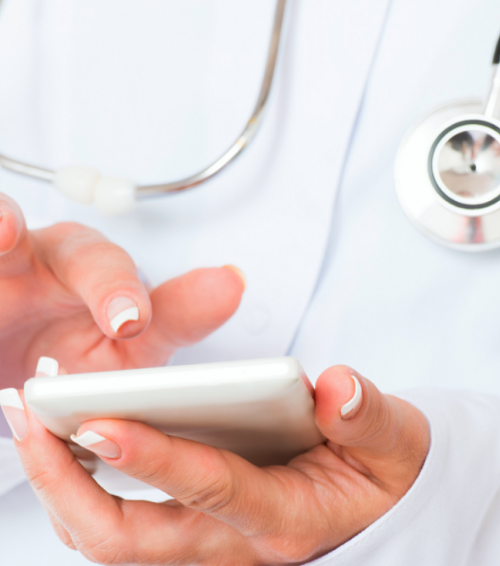 Technology has brought major changes to the healthcare field. Scheduling, drug research, and continuing education, among other aspects, have all been affected by the rise of the internet and smartphones.
In fact, according to Pew Research Center, 64 percent of American adults now own a smartphone, up from 35 percent in 2011. With 1.6 million apps in Apple's App Store (according to Statista), it seems as though there's an app for everyone — and clinicians are no exception.
An UpToDate survey found that individual doctors and healthcare institutions are implementing mobile strategies and working to bring iPads and smartphones into the workplace as tools for clinicians. The survey also found that 77 percent of doctors use a smartphone during practice, and 70 percent use mobile devices for clinical decision support. A number of these apps are revolutionizing how physicians and other medical professionals work.
Here are five to try:
1. ClinicalKey: A Search Engine for Providers
Price: The app is free, but subscription costs vary.
Available on iOS and Android.
Elsevier created ClinicalKey in 2012 with doctors in mind. The company consulted 2,000 physicians all over the world to ensure the experience was perfect for them.
Essentially, ClinicalKey functions as a Google for providers. You can search for diagnoses, conditions, drugs, and more. The app lets you browse 600 clinical journals and 1,000 medical reference books, so the latest research is right at your fingertips.
2. Lexicomp: Trusted Drug Information
Price: The app is free, but subscription costs vary.
Available on iOS and Android.
How do you stay updated on the latest drugs and keep track of side effects? Lexicomp provides the most recent and trusted drug information, and makes it easy to integrate that info into your daily workflow. It also offers fast answers to medication questions at any time, whether you're a doctor, pharmacist, or other healthcare professional.
3. NurseGrid: Scheduling Made Easy
Price: Free.
Available on iOS and Android.
Many software solutions cater to institutions rather than practitioners, but NurseGrid turns this idea on its head. This app was founded by nurses and tech entrepreneurs who wanted to create a scheduling tool that met the specific needs of nurses and nursing departments.
NurseGrid allows individual nurses to communicate their calendar in an app on their smartphones, making it easy for their managers to access essential scheduling information. It also allows nurses to easily add months of shifts, and it integrates with other calendars so that nurses have access to their schedules wherever they are.
4. Micromedex: A Drug Reference Guide
Price: The app is free, but a required subscription costs $2.99 per year.
Available on iOS and Android.
Like Lexicomp, Microdemex provides the latest drug information in the form of a reference guide. It works without an internet connection and covers common needs such as adult and pediatric dosing, drug interactions, and side effects (which are divided based on their seriousness).
5. UpToDate: The Latest Essential Intel
Price: The app is free, but subscription costs vary.
Available on iOS and Android.
UpToDate is a comprehensive resource for doctors and is trusted worldwide by healthcare professionals. It makes it easy for clinicians to make decisions when they're giving care. You can subscribe as an individual or an institution, and the app even allows you to earn CME credits.
For ClinicalKey, Lexicomp, Micromedex, and UpToDate, check with your employer before you buy a subscription — if they already have access, you can likely use these apps for free.
If you're a healthcare provider, which apps do you use? Tweet us
@bartonlocums
!