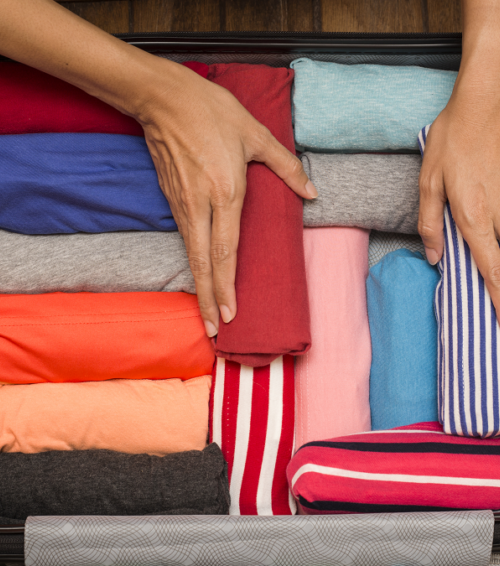 As a locum tenens healthcare professional, you not only have to excel at providing care in different roles, but you also have to be ready for the logistics of travel — getting acclimated to new places, making new friends, and of course, packing all you need into a small suitcase.
In a traditional healthcare provider role, you might not find yourself on a plane very often. However, when you build a full- or part-time career with locum tenens, you may find yourself flying across the country from one assignment to the next, or regularly flying home for weekend visits. While your locum tenens agency will pay your checked-bag fees, many locum tenens providers opt to use only a carry-on suitcase for convenience when they travel.
Carry-on bags are big enough for almost all trips. When you bring one, you won't have to wait at baggage claim or worry about your luggage getting lost. Your bag will most certainly be lighter, making it easier to cruise through an airport or climb a set of hotel stairs. But fitting everything you need into that small suitcase can sometimes be a struggle, especially if you tend to overpack.
Here are our top five tips to packing a carry-on for traveling healthcare providers:
1. Start With the Right Bag
It may sound obvious, but selecting the right carry-on bag can make a huge difference in your travel experience. If you're hauling a heavy duffel bag, you'll probably find your shoulder aches after a long day of traveling. If you use a rolling suitcase, you will want to invest in one with heavy-duty wheels.
Ultimately, everyone has their own preferences and will like different bags. No matter who you are or where you are traveling, investing in a high-quality suitcase will make it easier. Here are four options recommended by travel experts:
2. Have Travel Items Ready to Go
There are many items that you always need when you travel. Instead of scrambling around your house looking for them each time, create a travel kit that is ready to go when you are. Your kit can include:
Neck pillow.
Travel-sized toiletries and cosmetics (shampoo and conditioner, soap, sunscreen, razor, etc.).
Toothbrush and toothpaste.
Medication.
Extra contact lenses and solution.
Additional underwear.
Charging cords.
Small electronics (hair dryer, travel iron, etc.).
This kit will make it easy to pack fast. No matter where you're going, you can just grab it and go. Just be sure to follow current airline regulations regarding packing liquids and electronics, because everything you bring in your carry-on will be checked by security.
3. Color Coordinate Your Wardrobe
Rather than trying to pack ten perfectly coordinated outfits, pack with a color palette in mind so every clothing item can be mixed and matched. This way, you can wear each shirt with whichever bottoms you bring, creating a multitude of outfits.
Most people who pack along with a color palette like neutral colors such as white, gray, beige, navy, and black. These colors work well with each other, making it easy to ensure that everything will match. It's also a good idea to bring a pair of jeans, because you can wear them with almost anything.
4. Limit Your Shoes
Although you likely own many pairs of shoes, you probably don't wear as many as you think. Experts recommend bringing no more than three pairs of shoes when you travel.
Shoes add unnecessary bulk and weight to your carry-on, and often don't end up getting worn. We recommend packing a pair of comfortable shoes that can be worn to work, sneakers for keeping up with your workouts, and a pair of dress shoes for more special occasions.
5. Less Is More
Most of us are guilty of overpacking and jamming everything we can into our suitcases. We worry about access to a laundry machine, the weather, and whether we'll find ourselves in a position where we just need a fancy pair of shoes.
The truth? You probably won't need the pair of pumps you wore once and never again or the extra outfit or two. When packing, less is always more. It's easy to overpack, but people who frequently travel know they often don't use many of the items they stuff into their suitcases. Just remember that if you forget something, it's not the end of the world. In most places across the U.S., even on rural assignments, It's easy to buy a replacement of whatever you left behind.
Check out our locum tenens travel page, and when you're ready to see the country, contact us and prepare to pack your bag!