As 2016 disappears in the rearview mirror, we at Barton Associates are taking out our crystal balls in an attempt to divine what the next year will bring for the healthcare staffing industry. These predictions use a combination Barton's extensive internal data and the trends we see shaping the industry to give our clients and providers our best guess of what the healthcare staffing landscape will look like in 2017. And we did this last year, too.
Without further ado, here's what we think you'll see in the healthcare staffing industry over the next 12 months.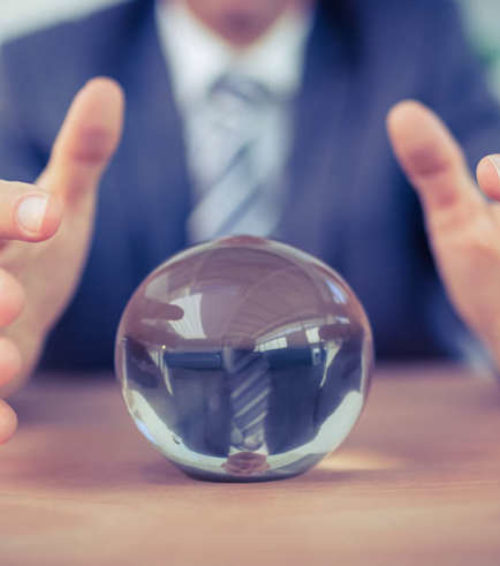 1. Locum Tenens Will Continue to Grow
Last year was big for the locum tenens industry, with projected double-digit growth spurned onward by the increased number of newly insured Americans and the ever-deepening physician shortage. The year 2017 is poised to continue that trend, albeit with a lower projected growth rate of 8 percent.
This growth has largely been driven by increased demand for healthcare services brought forth by the Affordable Care Act (ACA). The Congressional Budget Office estimates another 2 million individuals will gain access to health insurance in 2017, so why the lower growth rate? When the ACA was signed into law in March 2010, many healthcare facilities were overrun by increased demand from those who previously lacked health insurance. It's been six (nearly seven) years since the ACA's implementation, and hospitals and other facilities have had adequate time to respond to the increased patient volumes they've been experiencing.
That being said, with the results of the recent U.S. presidential election, there could be some serious changes in store for the ACA moving forward.
2. You'll See NPs and PAs in Increasingly Diverse Practice Settings
Year after year, Barton Associates predicts we'll see an increase in demand for talented NPs and PAs. We believe this year will continue that trend, but we also have a slightly different prediction.
In 2017, expect to see more NPs and PAs practicing in diverse settings. With the rise of corporate clinics, an increase in demand for independent medical exams, and a larger number of organizations offering home-health services, there's never been a better time to be an NP or PA.
This dramatic expansion in alternative care-delivery methods would be impossible without NPs and PAs filling the coverage gaps caused by the physician shortage. With the U.S. facing an estimated shortage of 90,000 physicians by 2020, this growth in practice settings has created many new employment opportunities for NPs and PAs.
This bodes well for the locum tenens industry, because companies staffing these new facilities look to locum tenens clinicians to open new facilities, ramp up new service lines, and fill short- and long-term staffing vacancies.
3. The Physician Shortage Will Hit Primary Care Hardest
If you follow the Barton Blog or our coverage on Clinician Today, you're well aware there's a serious shortage of physicians and mental health professionals in the United States — and it's only expected to get worse. While there are too few providers in many specialties, primary care stands to be hit harder than most. The ACA offers health insurance to an estimated 20 million Americans, and while affordable access to health insurance for those who need it is a good thing, it puts increased strain on an already stretched system.
People who were previously uninsured may have gone months or years without receiving primary-care services, so when they gain access to healthcare, a doctor's office is often their first stop. And if these individuals need to see specialists for their ailments, they typically must be referred there by their primary-care provider. As a result, the average wait time for a primary-care appointment in the U.S. stands at a staggering 18.5 days. In areas most affected by shortages, this can reach as as high as 60 days.
We all must take action today to prevent a potentially disastrous shortage tomorrow. Facilities feeling the pinch can look to inventive staffing solutions, such as locum tenens, to fill the gap.
4. Telemedicine Will Remain Hot
With patients already feeling the effects of the physician shortage, it's no surprise that evolving telemedicine technology is poised to help close the gap, which is worst in rural areas. These underserved locations lack both family-care clinicians and highly trained specialists, opening the door for telemedicine to provide this necessary access.
In the past, telemedicine technology was limited to dermatology, psychiatry, and other smaller-use cases because clinicians only had access to what they could see and hear through their telemedicine platform. Today, the uses of telemedicine are far more broad. Thanks to the recent boom in remote monitoring devices, today's healthcare professionals are using telemedicine in cardiology and diabetes care, and to diagnose and treat strokes faster. These uses greatly improve patient outcomes.
With new applications for telemedicine and increased access in rural areas, expect there to be more telemedicine opportunities in 2017. Looking to get your telemedicine career started? Contact a Barton representative today.
5. EHR Experience Will Be Increasingly Valuable
If you're a physician or other advanced-practice clinician working at a facility with an EMR platform, there's a decent chance you're not totally satisfied. According to a 2015 study conducted by Healthcare IT News, many EHR platforms weren't passing muster with the physicians who use them every day. EHR implementations are often costly, headache-inducing endeavors leading some hospitals to abandon their implementations midway through; one healthcare facility spent $1.7 million before scrapping their plans.
This dissatisfaction creates a great opportunity for EHR-savvy physicians, NPs, and PAs to leverage their skills to advance their careers. ICD-10 coding mistakes cost facilities millions of dollars in reimbursement per year, so it's become increasingly important to hire candidates with strong EHR skills.
If your facility is struggling to attract candidates with rock-solid EMR skills, look to power users such as locum tenens NPs and PAs to right the proverbial ship.
What do you think 2017 will hold? Tweet at us @bartonlocums. We'd love to know your thoughts.