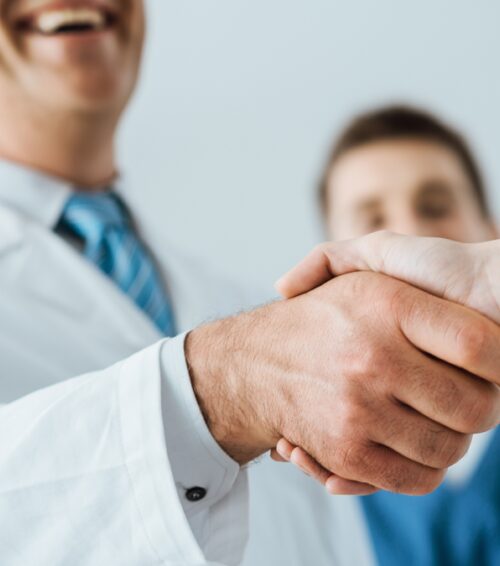 In healthcare, building relationships is a key component of successfully providing care. And just like it is essential for providers to build relationships with their patients, it is crucial for recruiters to build relationships with their locum tenens providers. Strong recruiter-provider connections lead to smoother job searches, easier transitions into new jobs, and a better fit at the positions you're most interested in.
We sat down with David Leach, Barton Associates' senior account manager of sales and recruiting, to learn more about these relationships from a recruiting perspective.
Here are his thoughts on what makes a great locum tenens candidate:
1. You Make Yourself Available
Recruiters understand their providers are busy people. Letting yours know the best times to contact you will ensure they're always able to reach you with an opportunity they think you'd be interested in.
"We know if we shoot [the provider] a text or call them between noon and one, when we know we can talk to them about this opportunity, credentialing documents we have to gather from them, or legal documents we need to obtain, we're able to communicate more on the same page."
2. You Communicate Openly
When you're looking for your next job, being as open as possible about your interests, preferences, and needs goes a long way. Knowing what you like helps your recruiter identify the right positions to call you with, saving both of you time and energy.
"Before we get their CV or we do an interview, we have no idea … we could call them on 150 jobs right now. We really need to know their specialty, at least some target, the type of setting they want to work in, length of assignment they're looking for, some skills that they're looking for in a job. That way we can ballpark it a little bit, rather than just throwing a dart in the ocean and hoping for the best."
3. You Can Be Flexible
It's no secret that providers love locum tenens assignments for their flexibility. At the same time, the greater the flexibility you are able to offer, the wider the span of positions your recruiter will be able to match you with.
"There are … people that [we] call in South Carolina, and they're available within the next week or two weeks, and they hop on a plane, get a connecting flight in Georgia, and then next thing you know, they're in Wyoming working for us. That's one of the best qualities we can look for, obviously that flexibility. But then if you're really trying to get into it, the more licenses they have, the more marketable they are, the more likely we are to land jobs that are in their scope."
4. You Ask Questions
The best communication is a two-way street, especially between you and your recruiter. The more you're able to ask before your assignment begins, the more answers your recruiter will be able to give, and the better prepared you'll be to arrive and provide great care.
"Ask any questions that are on [your] mind, ask about the process … [engage] in the process, not just take it as a job. … Some of my best doctors that I used to work with would ask me: 'What's driving the need at the facility, where is the facility?' I think it's just having open communication with us is the biggest thing."
5. You Work With Your Recruiter
When it comes down to it, the better you and your recruiter are able to work together, the more efficient the process becomes. For Leach:
"The perfect candidate is someone who books their schedule out two to three months in advance and has multiple licenses, and understands that a lot of times when they're going into locums, it's because there's an event that's happened. Sometimes they might be on multiple EMR systems, or the clinic might be a little short-staffed, or support staff might be a little low. They've got to be able to go in and handle that.

"[When I think of 'the perfect candidate,] I think about two doctors that I used to work with. I could call them if they gave me their availability, and they didn't need to know much more. … I knew what they would take and what they wouldn't take to the point where I didn't even have to talk to them about the job."
How have you ensured great experiences with your recruiter? Share your thoughts and tips with us on Twitter, and explore our provider resources for more information.