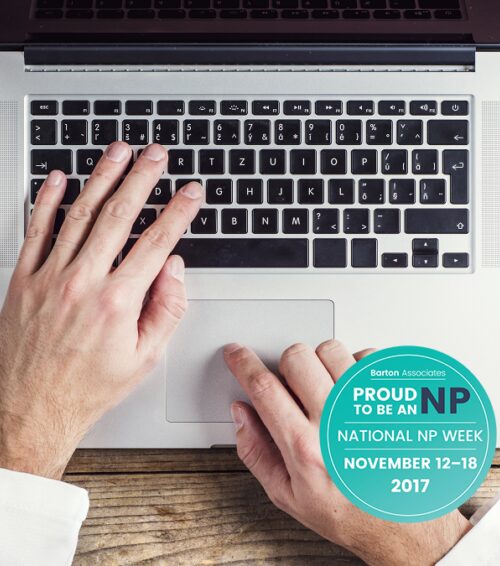 It's National NP Week! Thank you to nurse practitioners across the profession for your hard work and dedication to healthcare. We here at Barton Associates are celebrating with you by publishing NP-focused content all week long!
After more than 50 years of providing care across a variety of specialties, nurse practitioners (NPs) have the experienced background to practice in any traditional healthcare environment and setting. At the same time, there are increasing options for medical professionals to apply their skills in new and different contexts, and NPs are taking the opportunity to pursue them beyond the walls of hospitals, practices, and clinics.
Are you curious about nontraditional healthcare roles? Here are a few of the alternative NP jobs some of your colleagues have already pursued:
1. Become an Expert Legal Witness
An NP's extensive training, background, and experience across a variety of practice settings make them the perfect candidate to become an expert legal witness. In this role, an NP helps lawyers decipher medical terminology they don't understand, reviews documents, and — on a voluntary basis — testifies at depositions and trials.
If becoming an expert legal witness doesn't sound like your thing, providers are taking on a variety of alternative NP jobs in the legal industry. In fact, law firms often use locums for medical billing litigation, independent medical examinations (IMEs), pharmaceutical lawsuits, forensic work, worker's compensation and return-to-work exams, and other needs.
2. Practice Telemedicine
Another alternative NP job could take the form of telemedicine: a platform for NPs to work remotely and provide care that is convenient to their patients. Because NPs often practice in rural and other underserved communities across the country, telemedicine could be a crucial skill to add to their resume. Getting familiar with proper telehealth etiquette, rules and regulations, cost, and ethics will also be critical for any NP working in a telemedicine role.
3. Take Part in Employee Wellness Programs
Corporate clinics provide on-site care at companies taking part in employee wellness initiatives across the U.S. These companies often utilize locum tenens staffing solutions. Alternative NP jobs in employee wellness task the locum with treating acute illnesses and injuries, managing chronic diseases, and providing preventive services to help employees avoid missing work for off-site doctor's appointments.
4. Provide Care in Correctional Facilities
Have you ever considered "going to jail"? Many of your NP colleagues already have — and recognize this alternative role as a great way to care for an underserved population, benefit your community, be a positive role model, and avoid dealing with insurance companies.
Correctional facilities across the U.S. are using locum tenens staffing solutions to accommodate staffing shortages, conduct specialized searches, and meet other needs that are unique to the correctional environment.
5. Look for Writing Opportunities
Many NPs are applying their advanced knowledge of medicine to write for medical journals, websites, and even their own blogs. NPs in this nontraditional healthcare role might use their writing as a platform to discuss ethics, advice, hot-button issues, and a variety of other healthcare topics. Do you enjoy writing? Would you be interested in applying your medical expertise through a new medium? This alternative NP job might be a good path for you!
Nontraditional healthcare roles are not only viable options, but also fulfilling career paths! With so many to choose from, which one might you pursue?
We hope you've had a wonderful National NP Week! Thanks for celebrating with us. Have you missed any of our NP-focused content? Be sure to check it out

!