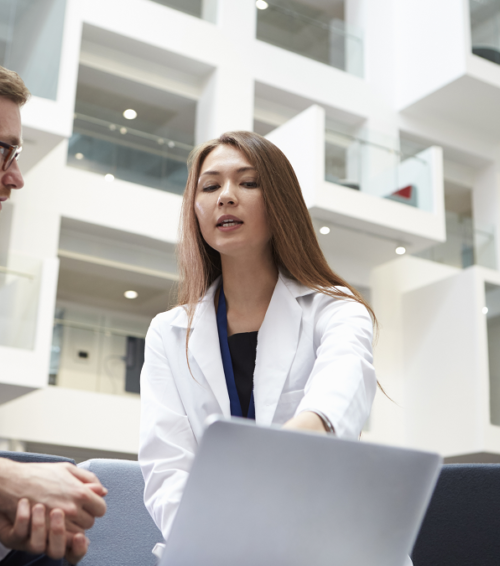 Starting a new locum tenens assignment is exciting, but not knowing what to expect can sometimes be a little anxiety-provoking. As a locum tenens hirer, you can help smooth the transition for the entering locum. Here are five ideas you can implement to help locums feel welcomed on their first day at work:
1. Orientation
To ensure your new locum gets off to a good start, arrange an orientation before their first shift begins. Having a point person introduce the locum tenens provider to the front staff, medical assistants, and other members of the clinical team can help facilitate more efficient and productive teamwork.
Orientation should include a tour of the facilities. Having an on-site staff member give me a tour the morning of my first shift helped me feel welcomed — I also appreciated knowing where the pot of coffee was kept! The tour should include where the provider will be working, the exam rooms and where supplies are kept, the charting area, and where the support staff are situated. Locum tenens providers should also be made aware of where emergency protocols and supplies (i.e. defibrillator, crash cart, etc) and safety supplies (i.e. fire extinguisher, etc) are kept. If you have an on-site lab or pharmacy, bring the locum tenens provider there and introduce them to the staff. And don't forget to point out where the restrooms, staff kitchen, and/or cafeteria are located!
2. Clinical Resources
One organization I worked for gave its new providers a comprehensive binder containing information about coding, clinical and administrative workflows (i.e. how to place referrals), electronic health records (EHR) tips, and a comprehensive list of medical and mental health resources. Consider compiling a booklet of resources for oncoming providers.
At the very least, provide a one-sheeter of important phone numbers for various medical departments, information technology (IT), the lab department, the pharmacy, etc. That way, the locum can reach out if they have questions or need further assistance.
3. Tech Support
If your facility utilizes an EHR system, take the time to train the incoming locum tenens provider. At the very least, this should include instruction on logging in/off, completing a chart note, ordering labs, imaging, and medications, placing specialty referrals, accessing inbox messages and/or emails, and searching and retrieving pertinent medical information within the chart. Consider having a super-user clinician work side-by-side with the locum tenens provider for the first few days so if questions arise, they can be dealt with as quickly as possible. At one assignment of mine, I was already familiar with the EHR used, but I appreciated a quick refresher provided by a staff member that first morning.
4. Introductions
Invite your locum tenens provider to departmental meetings. This can be a great way for the new provider to meet everyone and can serve as a great exchange for continual communication. At meetings, the locum tenens provider can learn who's who, stay abreast of any upcoming administrative and/or clinical changes, and develop working relationships with colleagues. Attending monthly meetings helped me better understand the culture of the group I was working with and appreciate the needs of our medical community.
Perhaps your facility offers live continuing medical education (CME) courses — extend an invitation to your locum tenens provider. It's a great way for them to meet their colleagues and earn CME credits simultaneously.
5. Flexibility
There are many ways you can welcome locum tenens providers to your site. Last but not least, offer schedule flexibility. As a healthcare organization, you have a clinical need to be filled, but you can still get creative with scheduling. For example, consider providing locums with the shift schedule as early as possible so they can pick what works for them. Finally, consider creating a quick and easy tool for obtaining feedback that can be given to departing providers so you can assess what's working well and where improvements can be made before onboarding the next locum.
Do you have any suggestions on how to welcome new locum tenens providers? Share your tips in the comments below. Ready to hire a locum? Speak with a Barton Associates account manager

today!