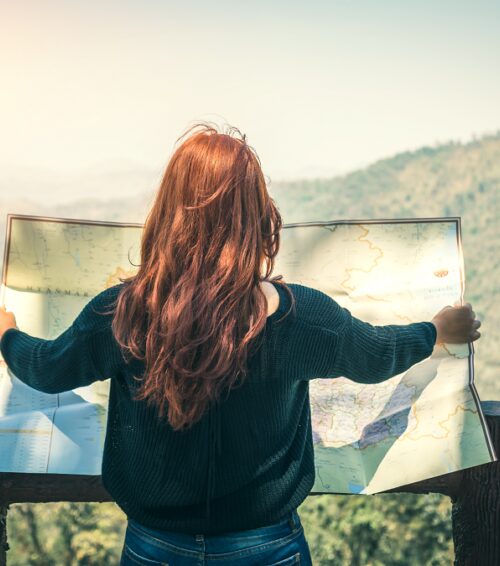 At first inspection, traveling locum tenens positions seem to be a double-edged sword: You could find yourself working in a major metro area, or maybe a hidden gem city in the middle of nowhere — but what if you don't? Maybe the most exciting thing to do is to see is the city's prized twine ball collection or treat yourself to a second drive-thru burrito.
The potential for boredom while on a locum tenens assignment is there, but if you're willing to put the effort in, you can easily avoid it. A quick internet search and browse on some review-based apps could help keep you entertained when you're not on the clock. Here are our travel tips for finding fun in every town your locum journey takes you to.
1. Follow Your Phone
You probably already know that your phone is the perfect tool to find entertainment nearby. You've likely read about apps that can make traveling a little easier and mundane. But, if you haven't tried out any of these entertainment-focused, location-aware apps, you're definitely missing out on local happenings.
With their ability to pinpoint your location, apps such as Yelp, Zomato, and AroundMe will help you find all the hidden hole-in-the-walls and secret music venues, wherever you are.
2. Ask Your Colleagues
Sometimes the most direct approach is the best approach. Simply asking, "What do people do for fun around here?" can work wonders wherever you find yourself on assignment.
In big hubs such as New York City or Los Angeles, you may be met with blank stares and glances toward the gigantic, thriving city around you. Either way, these places are foreign to you and asking for some advice, especially travel tips from the people living in there, is one of the best ways to get recommendations. There are few better sources for things that'll keep you occupied than a like-minded, like-careered individual. And maybe, they'll want to join you!
3. Check With Your Concierge
Before there were smartphone apps and online review sites, there were hotel concierges. And just like with those apps, if you're not taking advantage of the concierge at your hotel, then you're missing out on a valuable source of information on local goings-on and must-visits.
If the place you're staying doesn't have a concierge or help desk, they may offer a printed or online list of local amenities, still giving you the benefit of a locally-knowledgeable source.
4. GOYBAWA
In actual words, Get Off Your Butt and Walk Around.
This applies to both staying holed up in your hotel room or driving from predetermined point to point: Walking is a far better way to interact with your surroundings than viewing it from behind a windshield.
Take advantage of assignments in smaller localities by walking around the area. You'll be able to get in some exercise while exploring the town you're working in; a quick walk may be all you need to find your next source of entertainment.
5. Embrace the Local Culture
Simply opening your mind to new experiences will help guarantee you find something worthwhile. Sure, you may visit your local farmer's market weekly, but what's it hurt to pop by one in a town you've never visited before? Never eaten at a hibachi grill? Perhaps it's time to make a change.
Your humble author once attended a rodeo and an amateur professional wrestling event — two things I never dreamed of doing back home — while on a weeklong work assignment and it made the trip almost as fun as an actual vacation; follow the same guiding principle and you're bound to notch a few new experiences into your belt.
6. Get Some Travel-Friendly Hobbies
Working in healthcare doesn't always make acquiring new hobbies easy, particularly if it requires a substantial time commitment to get good at. Even then, it may be worth making the attempt if you find yourself frequently bored while on a locum assignment. Photography, biking and hiking are great ways to entertain yourself while also getting to know the area in which you're working.
Work travel is only as fun as you make it. If you let your downtime be downtime that's all it ever will be. On the other hand, if you make the attempt to make the most of your assignment in a new city, you may never want to leave. And let's face it, anything is better than that second drive-thru burrito.
How do you make your locum assignments fun? Share your tips in the comments, and see our travel page for more resources!