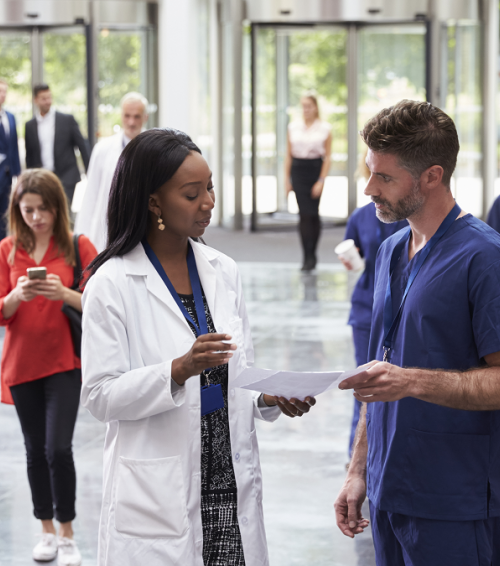 For healthcare facilities across the country, staffing challenges contribute to a wide range of undesirable outcomes: some obvious, some not so much. Is your organization in a pinch? Check out the following reasons facilities just like yours benefits from locum tenens staffing solutions every day:
1. Vacations, LoAs, and Other Short-Term Absences
Without adequate planning, absences like sabbaticals and vacations can put significant strain your organization, its staff, and its patients. While any worthwhile locum tenens service can fill a temporary staffing gap on short notice (see below), advance knowledge gives the agency even more time to search its talent pool for the skills, experience, and qualifications you need.
2. Unplanned Absences
Other shortages — such as illnesses, sudden departures, and disciplinary issues — come out of nowhere, trimming the organization's roster with little to no notice. Fortunately, a good locum tenens service can have help at your doorstep within a day or two, allowing your organization to plan its next move without the added pressures of a staffing gap.
3. Overworked Staff
Burnout is a real problem among medical professionals, with symptoms that diminish professional performance and even the ability to care about one's role or patients. Because overwork is a major factor behind burnout, bringing on a locum is far preferable to piling extra responsibility on remaining staff.
4. Overwhelming Patient Loads
Staff aren't the only ones who suffer from overwork, however. If your schedules are full, you can rest assured that nobody in the immediate healthcare chain is happy. As above, staffing a locum saves patients and practitioners from unnecessary stress while you search for new help or wait for personnel to return.
5. Suboptimal Patient Intake
Yet another undesirable outcome of overwork, the inability to take on the usual rate of new patients can have an impact on the organization's bottom line that lasts for years to come. On the inverse, a temporary talent boost can keep dental, medical, and mental health organizations from declining new patients (or pushing initial consultation dates back so far patients decline service), a benefit that only grows in value as new clients become recurring ones.
6. Busy Times of Year
Consider a sports health clinic that becomes overwhelmed with physicals during back-to-school or a mental health organization that sees increased intake every year around the holidays. There are many situations where a full roster may not be enough to offset the temporary spike in demand.
Finding a highly qualified temp on your own — presuming one is available — is a costly, time-consuming affair, and few organizations can afford to bring in a full-timer year-round to cover a busy month or two. Meanwhile, a locum is only there for the time you require, and their agency employs dedicated staff for licensure, credentialing, and other complex tasks.
7. Consistently Full Emergency Booking Slots
Dentists and GPs, among other health professionals, often keep points of their daily schedules free for same-day urgent visits. Patients who can't be seen in a reasonable amount of time frequently rely on these slots to receive care, thus making each morning a race to be among the day's first callers. In this instance, bringing on a locum means greater capacity to take standard visits or "urgent non-emergencies," either one of which boils down to more patients seen per day.
8. Crowded Waiting Rooms
An organization meeting its current workload may still have unhappy patients if they're spending half the day waiting to be seen. Perhaps worse, few things stress a physician or NP out like moving through a huge volume of patients, only to have a large stack of work waiting for them on the other side. While some organizations would address this by limiting the time personnel have with their patients, staffing a locum while you address the root of the problem (a need for more permanent staff or consideration for busier times of year, for instance) is a better solution.
9. A Rural Setting
Rural facilities have an especially hard time attracting qualified staff, a problem exacerbated by looming medical, dental, and mental health shortages. Because of this, staffing problems that would be a serious concern in urban or suburban areas can become further magnified in a rural setting. With huge pools of talent available to facilities of all types (and locations), locum tenens services democratize the talent acquisition process, giving rural facilities extra time to find personnel without diminishing quality of care in the interim.
Has short staffing (or the health professional shortage) ever presented you with an unexpected outcome? How did you address it? Learn more about bringing on a locum in our "Ultimate Guide to Locum Tenens Staffing."