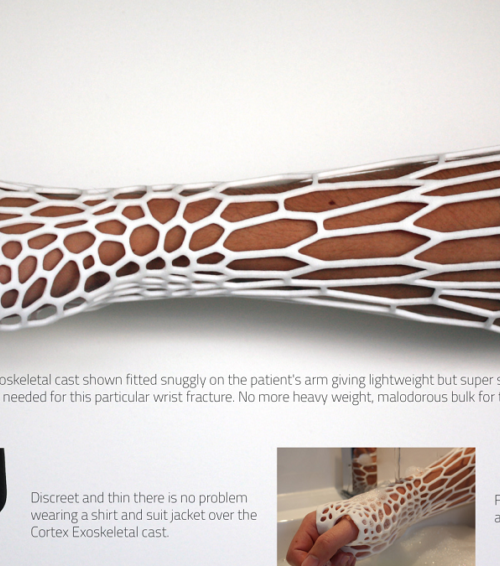 Breaking a bone hurts, but the pain is temporary. The weeks of carrying around a bulky, smelly, and itchy cast can seem like a lifetime. Not to mention if you are unlucky enough to break a bone in the summer, you have to wrap your broken limb in a trash bag if you hope to go for a swim.
Well, Jake Evill, a graduate from the Architecture and Design school at Victoria University of Wellington in New Zealand, has designed Cortex, a cast made of nylon webbing that could replace that burdensome plaster albatross.
Evill's website describes Cortex as an "exoskeleton protecting the internal skeleton." It is created using a three-step process. Step one, the broken limb is X-rayed to identify the location of the fracture. Step two, the arm is scanned by a 3D printer to define the exact size, shape, and dimension of the limb. Finally, the data is fed into a 3D printer and a cast is generated that provides support for the fracture area and fits snug on the limb.
The cast is fully washable and shower friendly, which means broken bone sufferers can go for a dip. It is also less bulky than a traditional cast making it possible to slip into normal clothing. But perhaps most importantly, the webbed design is breathable so those pesky itches can easily be scratched.
The website doesn't include any information about whether the cast design has been used on any real patients, or whether it has been approved by any physicians. Still, the design seems promising. Maybe someday soon, the plaster cast will just be another "when I was your age" story we will tell our kids.
What are your thoughts on Cortex? Tweet us @bartonlocums!