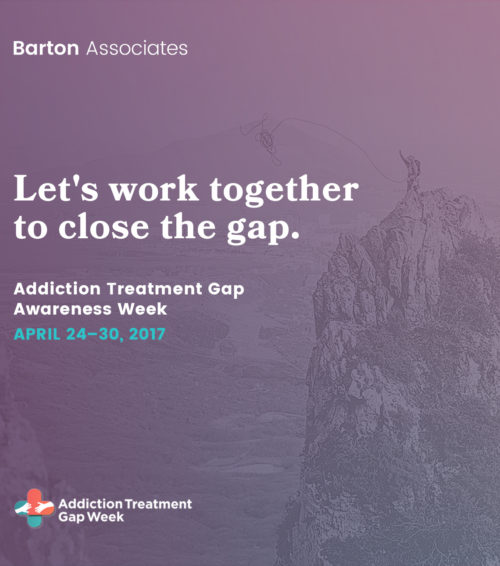 The American Society of Addiction Medicine (ASAM) is currently hosting the first-ever Addiction Treatment Gap Awareness Week, running from April 24 to 30. This week is devoted to shedding light on the significant gap in treatment that exists for individuals suffering from the disease of addiction.
Addiction is something that far too many of us have encountered, whether through a personal struggle with substance abuse or that of a loved one. The statistics illustrating the breadth of this issue are extraordinary: According to an ASAM press release, only one in 10 individuals suffering from a substance use disorder (SUD) is receiving treatment for their condition. There are an estimated 20.5 million Americans with a SUD, meaning more than 18 million people aren't receiving the assistance they need.
Addiction is an all-encompassing problem that has implications that reach far beyond the people who are fighting it. This disease and its consequences cost $100 billion in lost productivity annually, and more people are killed by substance abuse each year than diabetes, Alzheimer's, or breast cancer. Simply put, if addiction were thought of in the same way as these more "conventional" diseases, there would be a more significant outcry.
Addiction medicine was officially recognized as a medical subspecialty by the American Board of Medical Subspecialties (ABMS) in 2016. Physicians are now able to earn an addiction medicine certification by the American Board of Preventive Medicine (ABPM), granting them the ability to treat individuals experiencing chemical dependency. Certifying more physicians in this subspecialty will offer greater access to addiction medicine treatment and help close the gap between resources needed and resources currently available. Currently, ABMS board-certified physicians can qualify to take the addiction medicine licensing exam by meeting practice requirements or completing a residency in addiction medicine.
By working together to increase awareness of this shortage, we can take the first steps toward closing the treatment gap and ensuring individuals suffering from addiction have access to the treatment they need and deserve.
If your facility is struggling to find and retain addiction-medicine physicians, contact a Barton Associates representative who can help you meet your staffing needs.