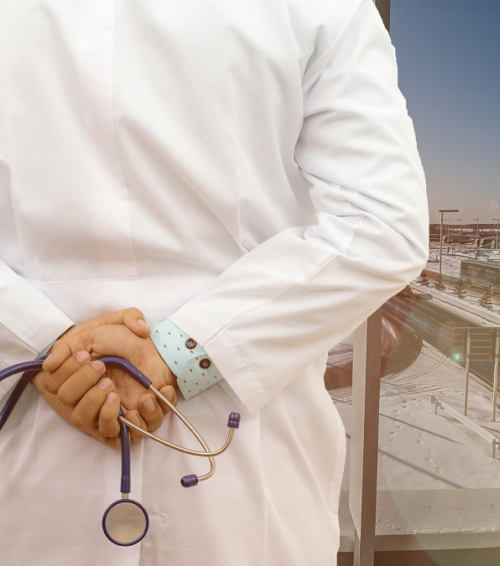 The decision to pursue a locum tenens position is a big one. For some providers, flexibility and variety are exciting and promising. For others, uncertainty and impermanence are concerning. Now that you've decided to go the locum tenens route in your own career, you probably have a lot of questions about the transition into something new, what it will be like, and how you will experience the highs and lows.
We reached out to providers in the field to find out what they wish they'd known as a first-time locum, and what they think you should know. Here's what they said:
You'll Connect With a Great Recruiter
Your recruiter will be your No. 1 resource for any and all questions and concerns you may have about the transition to locum tenens. A great recruiter will make themselves accessible and reliable, and will focus on your experience.
"[My recruiter] resolved issues related to medical practice promptly and to my satisfaction. I appreciate his support and expertise." —Dr. Fakhruddin K.
Do Your Best to Accept the Unfamiliarity of Your Transition
Just as with any new job, your first experiences with locum tenens will be new to you, and with that comes some inevitable uncertainty. Locums say the best way to combat this is to accept the unfamiliarity and maintain confidence in your abilities.
"Be confident that you can do the job. Computer orientation can be the hardest part. Travel and housing can be a bit of an adventure; just be patient. Often the employer is more used to locums than you are to being one!" —Dr. David G.
It's Good to Lean on Barton
Going the locum tenens route allows you to provide the best care possible to patients across the country. Your patients are your priority, so be informed about your responsibilities at the facility and leave the rest to Barton!
"Just see patients and don't worry about other details. Barton will take care of everything else. Much less stress when doing locums work." —Dr. Mitch H.
"Always review the contract closely and make sure your role, rights, and responsibilities are clearly defined. Though Barton is good at this, there are assignments that will try and bend the rules. Use your contract, use Barton, know your rights and role." —Dr. Casey D.
Always Be Flexible
The very nature of locum tenens requires flexibility, especially when you're just starting a new assignment. Remember you're there temporarily, and adapt accordingly.
"Adapt yourself into the environment to which you are assigned. Don't expect it to adapt to you." —Joe, PA
Don't Feel Guilty
While you should adapt to your environment, remember that you're not there to stay. Again, this is the nature of locum tenens, and something you should never feel guilty about at your current hospital, practice, or organization.
"Be prepared for the unhappy patients who feel abandoned by their physician. Don't take it personally. Be prepared for pressure to sign on full time and stay. Be prepared to leave patients and co-workers behind. Know that you care and are giving and doing the best you can but also know you are there to plug a leak, not fill a hole." —Debbie C., NP
Live Up to Your Resume and Be Confident!
Even though you're just starting, you'll be expected to deliver the experience you advertise on your resume. Bring your best, and be confident in your abilities and your performance.
"1) Your experience is key. You must be confident in your skills and live up to your resume. 2) Don't take an assignment just because of pay. 3) One year out from school does not make you experienced. Prior to considering, get another year under your belt. Some assignments are solo, and if not solo, you never know whom you will be working with and may be expected to pull the weight of the department/clinic." —Dianne D., NP
"Being a locums provider isn't easy. Having confidence in your skill, being friendly, and asking a lot of questions is key. As with any job, being polite and recognizing the work being done around you is always professional. Gratitude and compliments go a long way." —Catherine U., NP
Come Prepared
This may go without saying, but it is always crucial in any new position that you arrive ready for whatever it has to throw at you. Know your assignment, know your organization, know what is expected of you, and don't forget the obvious.
"Learn all you can about what your responsibilities will be on the new assignment and the MDs you will be supporting. Find out what to wear and have the gear together. Bring your own stethoscope and references. Bring a notepad and use it. If there are procedures or diagnoses unfamiliar or rusty: review well. Once at the job site, gather resources as you go (phone numbers; passwords to computers, door locks, garages, etc.). It may seem obvious, but treat ALL staff with respect, from the janitor to the medical director." —Lynda B., PA
Every day, Barton Associates lists new locum tenens job openings in a wide variety of medical specialties from facilities and practices throughout the nation. Explore our open career opportunities, sign up for alerts, and access our free job-search service here.