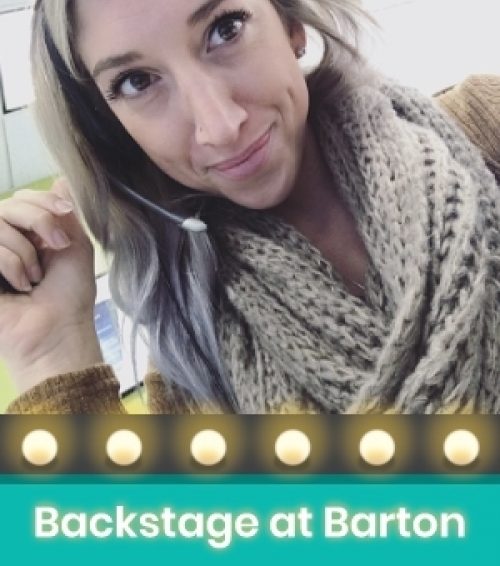 At Barton Associates, we strive to create long-lasting professional relationships with providers and clients. Our Backstage at Barton series gives you a behind the scenes look at the locum tenens experts who work diligently to help you achieve your goals. Check back monthly as we highlight recruiters and account managers who are always willing to go the extra mile for providers and clients.
After graduating from University of Massachusetts Lowell, Erika P. took some time to herself and went backpacking across Europe. With her waitressing and dog walking paycheck funding the trip, she was able to visit beautiful places such as England, Ireland, Australia, Greece, and The Netherlands. Her jobs allowed her to not only pay for the trip, but also gave her the freedom to make her own schedule — like being a locum provider would!
Armed with her degrees in both marketing and psychology, combined with the knowledge she obtained from Europe, she began her journey at Barton Associates. Erika has been an account manager in the clinical services group (CSG) at Barton's headquarters in Peabody, MA for five months and hasn't looked back!
"We all work together, but we're also competitive" she said. "I'm a really competitive person, so it actually drives me to do better and want more for myself."
Erika's philosophy is not to barrage clients with phone calls, but to make them want to continue speaking to her for a second, third, and fourth time. "I don't always get off the phone with everything I need, but I make it so that they (clients) pick up the next time I call," she said. "If all you do is ask questions about their need for locums, they will want you off the phone."
"Oh, I remember you because you talked about your dog."
Erika's personality makes business conversations easier on both herself, and the client. "I've been told that it doesn't feel like work when you're working with me," she said. And that level of personality has certainly paid off for her in a big way since beginning her career.
Erika shared with us a very special story about an interaction she had with a client that accurately displays the importance of building a strong business relationship. "There was a client who was referred to as "the ghost." We know they use locums, but we can't get a hold of them — we just leave a voicemail. But I actually got her," she said.
After countless efforts to get this person on the phone, Erika was close to giving up. She went up to one of the most successful account managers at Barton Associates and told him about how hard she has been trying to reach this person. He said to her "she doesn't exist." This ended up motivating Erika more.
"I went back to my seat and tried one last time," she said. "I sent one last LinkedIn message and I asked her if she wanted me to make sure she is not contacted anymore. I told her that she's known as the ghost around here."
"Then, I saw that she was typing," she said. "I yelled to my bosses and they were both standing behind me as she wrote back and said 'You would do that for me?'"
Ever since, Erika and her client speak to one another every day — joking about how they began working together in the first place. Whether it be via text, email, or phone call, they keep in touch. And, most importantly, she now exclusively works with Erika.
Great work Erika, and thank you for sharing your story with us!
Want to learn more about locum tenens with Barton Associates? Fill out the form and one of our representatives will reach out to you!