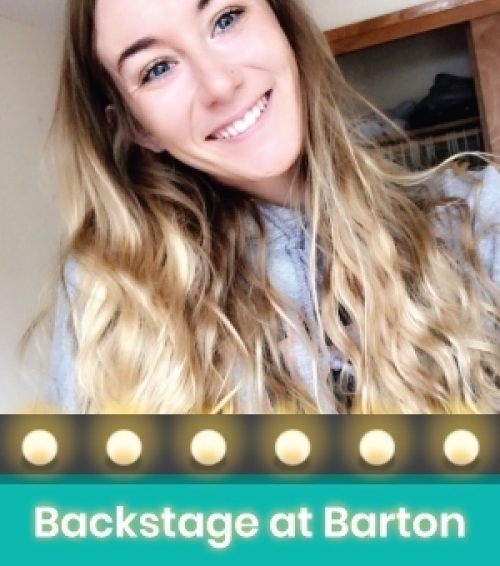 At Barton Associates, we strive to create long-lasting professional relationships with providers and clients. Our Backstage at Barton series gives you a behind the scenes look at the locum tenens experts who work diligently to help you achieve your goals. Check back monthly as we highlight recruiters and account managers who are always willing to go the extra mile for providers and clients.
Hannah N. started her career with Barton Associates in November of 2018 as a clinical services group (CSG) group manager for account management at Barton's Austin, Texas office.
One of Hannah's favorite things about Barton Associates is her coworkers. "I love the people here," she said. "Obviously success is nice, but really it's the people and the leadership team that keeps you motivated."
Hannah received her degree in public health at Oregon State University in Corvallis, Oregon. Before working at Barton Associates, she had a job working at a local gym. One thing Hannah enjoys about her position at Barton in comparison to her previous jobs is the intensity that comes along with her role. "It's different all the time and it's hard. It's not like you come in and do the same thing every single day," she said. "It's always different. It's always changing. You have new challenges and new projects — you never get complacent."
Similar to any other job, there is a learning curve when you first start. "We always say the industry is constantly changing, but it's the same for us too," she said. "All of the training that we have and management training never stops and that's how we keep up. We're always training, learning, and trying to be adaptable." Barton Associates agents never stop learning how to be better resources for their providers/clients.
It's cliché, but communication is key. That stands for your clients, your team, and your leadership team. Being able to communicate on good days and bad days is what's most important.
One of Hannah's fondest memories in her current tenure with Barton is making her first assignment. "When it first happened, just seeing it all come together and seeing all of my hard work paying off, it was amazing," she said. "It also made the relationship with my clients so much stronger because I was able to actually help them out and they were able to see that I am somebody who is a business partner rather than just somebody who's calling them all the time."
In a sales role, it is critical to have the ability to both build and maintain relationships with other people. This is something Hannah understands very well. "I try really hard to listen to what my clients are saying and to understand their needs," she said. "If they're like 'oh hey, call me next week I'm really busy right now', I'm not going to keep calling them and insisting that we need to talk that day, but I also make sure they're aware things take time."
Barton Associates' goal is to help understaffed facilities across the country amid the escalating physician shortage. Hannah is humbled to be a part of the solution. "We're here to help the facility because they're trying to keep their doors open and keep bringing in revenue," she said. "But also, more importantly, I think about patient care — a provider will be there when a patient is in need."
Thank you Hannah for taking the time to speak with us!
Want to learn more about locum tenens with Barton Associates? Fill out the form and one of our representatives will reach out to you!