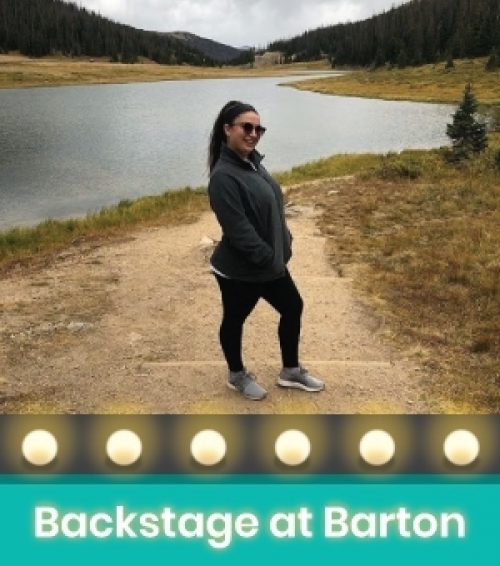 At Barton Associates, we strive to create long-lasting professional relationships with providers and clients. Our Backstage at Barton series gives you a behind the scenes look at the locum tenens experts who work diligently to help you achieve your goals. Check back monthly as we highlight recruiters and account managers who are always willing to go the extra mile for providers and clients.
Chelsea M. has been a psychiatry account manager at Barton Associates' West Palm Beach, Florida office since May of 2018.
Since earning her degree in exercise science with a minor in psychology from Angelo State University in San Angelo, Texas in 2017 and moving to Florida, Chelsea has thrived at Barton Associates. "The whole atmosphere at Barton is to have fun while you're working," she said. "I love that because people always say that you want to build yourself a career, not just go to a job and honestly, that's the vibe that they give off here."
It is Chelsea's responsibility to work with facilities around the country to fill their healthcare provider needs. One memory in particular stands out to her in her current tenure at Barton Associates. "It was when I broke in with my client in Missouri," she said. "It was an account that, unfortunately, had a negative experience with us previously. When it was passed back to me, I had to mend the relationship. I finally broke through with her and now she is my client manager for inpatient psych."
As you could imagine, it is critical to have interpersonal skills for a job that requires daily verbal interaction. For Chelsea, that is no issue. "I like making connections over the phone; I think I'm a pretty personable person," she said. "Making connections is kind of what I thrive off of."
I think the relationship is the most important part of the job. If they (clients) don't like the person on the other end of the phone, they're not going to call us for business. The relationship is the job and I take that very seriously. I think that is what makes Barton, Barton.
In order to develop a strong relationship with her clients, Chelsea has worked hard to develop her own philosophy with some inspiration from another Barton Associates agent. "Our office manager said, 'We're not just here to be reps, we're here to be business partners with our clients.' We're trying to humanize the customer service aspect of it so we're not just another voice on the other end," she said. "We have relationships with our clients to the point where we connect on social media, they know the face behind the voice, and they actually get to see our personalities."
One of the interesting aspects of working for Barton Associates is having the opportunity to learn more about the medical field. "When you're going to the doctor as a patient you don't realize everything that takes place behind the scenes," Chelsea said. "It's cool to get down to the nitty gritty of things and figure out how we can assist facilities that are short-staffed."
Barton Associates strives to be experts in the locum tenens market. In order to provide the best service for her clients, Chelsea has learned to combine her strong work ethic with her kind personality in an effort to make herself stand out from her competitors. "The best thing about working with me is all the hard work I do behind the scenes — I'm obnoxiously organized. My clients may not see what I'm doing, but it will get done. If I don't know the answer to something, I'm not the type of person to pull something out of thin air just to give you an answer," she said.
Chelsea recently hit a significant sales milestone and her career continues to soar to new heights. Thank you for sharing your story and keep up the good work!
Want to learn more about locum tenens with Barton Associates? Fill out the form and one of our representatives will reach out to you!