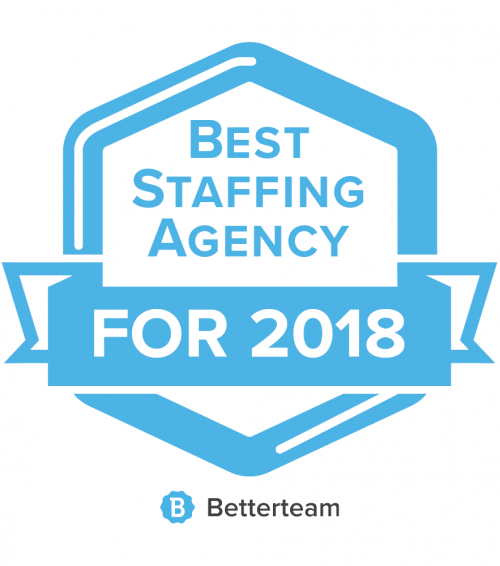 Editor's Note: This blog post was originally published in October 2016. It was updated in February 2019 to reflect Betterteam's most recent top staffing agencies rankings.
In early January 2019, the staffing application Betterteam reviewed more than 3,000 staffing agencies across all industries and found the ones that have the best reviews, are widely recognized for their work and are able to reach big candidate pools.
For the third year in a row, Betterteam has featured Barton Associates in its "Top 75 Best Staffing and Recruitment Agencies" list. Barton ranked 13th in the medical and healthcare staffing category and is the only locum tenens–focused agency to earn the recognition.
We've always said we're the locum tenens experts. It's right in our tagline.
About Barton Associates and Locum Tenens
For more than 18 years, Barton Associates has specialized in providing the healthcare industry with best-in-class locum tenens staffing services for physicians, nurse practitioners, physician assistants, and dentists throughout the United States. It's all we do. With an experienced team of more than 800 recruiters, credentialing and licensing specialists, and travel support associates, Barton Associates coordinates the staffing process from start to finish, making it fast and easy for hospitals, private practices and organizations to find long- or short-term coverage.
"Locum tenens" refers to providers who take on temporary jobs to fill gaps created by staffing shortages such as unexpected absences, vacations, illnesses, providing additional support while a healthcare organization recruits and onboards a permanent provider, and everything in between.
The locum tenens market is expected to grow from $3.9 billion to $6.2 billion in 2022. With an aging population and an expected shortage of more than 100,000 physicians by 2030, the demand for care is at an all-time high. That's where locum tenens staffing comes in.
"Because of the severe shortage of providers in the healthcare industry, we strive to be the company hospitals, private practices, and businesses turn to when they need healthcare talent quickly to ensure coverage and no loss of revenue," says Rob Indresano, Barton Associates' president and COO. "We take our 'time to hire' very seriously, and are focused on speed and efficiency in the staffing process."
In a recent survey, we asked our clients what they like about staffing locum tenens providers through Barton.
"I like the diverse experience Barton's locums can bring to the facility," one said. "They screen the providers. They find providers who are available to fill our needs. They work with us to find an appropriate match," another told us.
Since 2001, Barton Associates have placed hundreds of thousands of qualified providers in facilities all across the country and our territories. What's our secret? We put relationships first. We take the time to understand the challenges that are specific to each one of our clients, however big or small, so we can quickly work to find the most qualified and suitable candidate available for the position.
We thank Betterteam for including us on their list, and we look forward to showing you the reasons behind that recognition.
Want to learn more about locum tenens with Barton Associates? Fill out the form and one of our representatives will reach out to you!