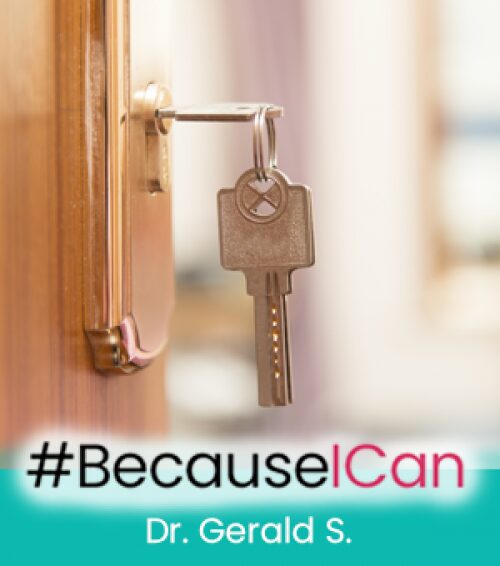 #BecauseICan is a Barton Associates campaign featuring the real lives of locum tenens providers and the reasons that they do locum tenens work. For all of the providers featured, the flexible nature of locum work allows them to live life on their own terms. Whether that means frequent travel, volunteer work, or extra time to pursue a passion, this campaign features great providers who live life on their terms because of all they CAN do with locums.

For these providers, the answer to the question "Why Locum Tenens?" is Because I Can!
In early 2019, when psychiatrist Dr. Gerald S. first discovered locum tenens, he was looking to find local, permanent positions. Despite talking to different recruiters, he kept coming up short. After all, he didn't want to travel too far, and he wasn't looking to move. Eventually, he made the decision to open a private practice close to his family's home in Michigan.
While a private practice would allow him to work close to home, he knew it would also would require substantial time and money, especially when first starting out. With that in mind, he started looking into locum tenens positions to supplement his income during this process.
Dr. Gerald was working with multiple agencies to find something close to home, and it didn't happen right away. However, when an opportunity arose through Barton Associates and his recruiter Alexa, it was the perfect fit.
"I was able to get a locum tenens assignment within about 20 minutes of my house," Dr. Gerald says, reflecting on his current assignment in Michigan.
"The idea was that the contract was three months, and that gave me enough time to set up the practice like I wanted to but didn't lock me into anything long-term."
As many physicians know, setting up a private practice is no easy task, and often requires substantial time and money. For Dr. Gerald, working as a locum has provided him a flexible schedule and a short-term alternative for financial stability.
"It's close, it's helping me progress as a clinician, and also allows me to get an income to get my business going. Not having a job would have depleted my savings quite a bit. So, it has helped out with those kinds of things."
Dr. Gerald says that, because his preferences were somewhat specific, finding this opportunity took some patience. Still, his advice for providers in a similar position is to ask questions, and be sure that they are getting the right fit.
Specifically, Dr. Gerald was transparent about his intentions to start a private practice when he was interviewing for locum tenens positions. The facility Dr. Gerald currently works at happily welcomed him onboard and has been nothing but supportive regarding his upcoming venture:
"I was upfront about my private practice, and they're very supportive about me starting my business. I have actually gotten to a place where they are willing to have me go part-time, after this contract is done. I can stay here part-time, I can choose to help them, all while my business is growing. And actually, they're willing to refer people to me down the road. "
With all that is required to do at the beginning of starting up a private practice, Dr. Gerald is happy that things are moving forward smoothly.
"I have a lease on a space. I'm getting my EHR set up. I am very much getting into the nitty-gritty of trying to get the final stuff going. I'm going to be starting that October 1st, after my contract ends on September 27th."
We wish him the best of luck, and look forward to supporting him through this process!
Want to learn more about locum tenens with Barton Associates? Fill out the form and one of our representatives will reach out to you!