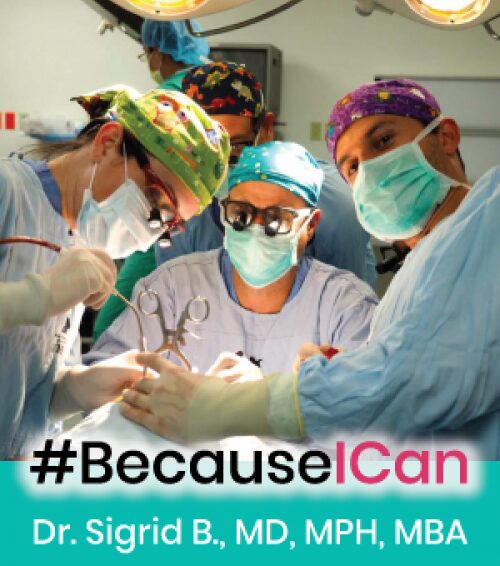 #BecauseICan is a Barton Associates campaign featuring the real lives of locum tenens providers and the reasons that they do locum tenens work. For all of the providers featured, the flexible nature of locum work allows them to live life on their own terms. Whether that means frequent travel, volunteer work, or extra time to pursue a passion, this campaign features great providers who live life on their terms because of all they CAN do with locums.
For these providers, the answer to the question "Why Locum Tenens?" is Because I Can!
Dr. Sigrid B., MD, MPH, MBA was working as a critical care fellow at Boston Children's Hospital on April 15th, 2013, when two homemade pressure cooker bombs detonated near the finish line of the Boston Marathon, killing three and injuring hundreds of others.
Before that day, Sigrid had never run in the Boston Marathon before. Now, she'll be running in it for the third time this coming April, with the team MR8, to honor of Martin Richard, the eight year old boy who lost his life on that tragic day in 2013.
A Motivated Surgeon
Sigrid admits that her training was a bit convoluted — taking place everywhere from Louisiana to Boston to Washington, DC. However, it is clear that she has been motivated by various causes throughout her education and career.
During her undergraduate education, Sigrid began working at a community group in New Orleans that helped with health clinics all over the city.
"That's how I got into the public health background" she said. "Because in a lot of my interactions with the people that I took care of, they kept on saying to me, "if my doctor told me this, I would do it." It ended up parlaying into me applying for medical school after working for three to four years down in New Orleans, Louisiana."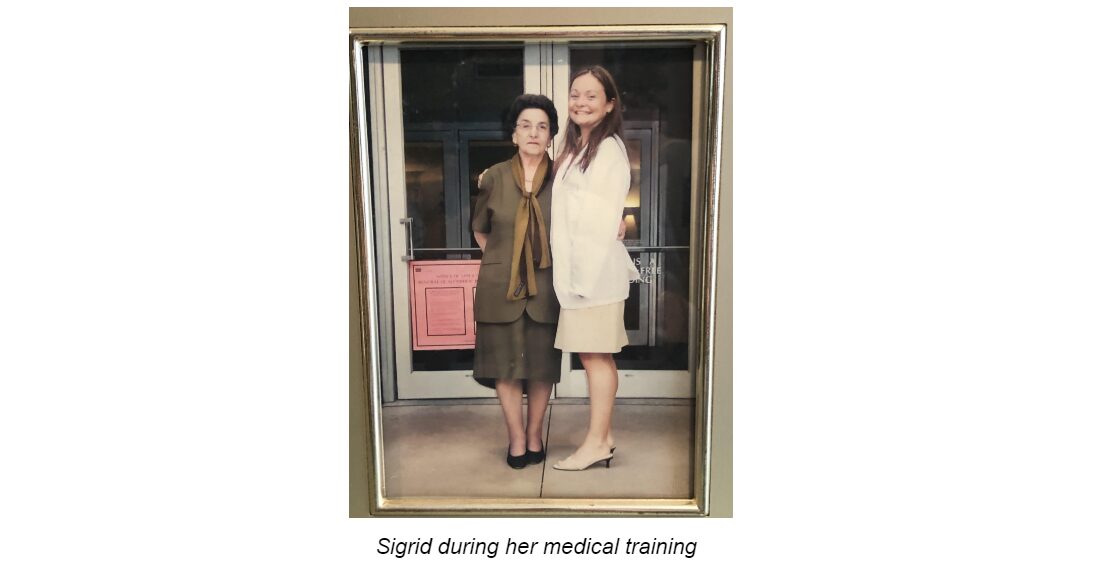 A New Cause
Once she was in medical school, Sigrid found a new cause to devote energy to: raising money for charities related to the Boston Marathon tragedy. She remembers that day in 2013, when someone was sick and she was asked to come in and help cover.
"I ended up being pretty much on call that whole entire week, including that Friday during which they caught the two brothers," she said, not including details on that week, but instead talking about it's lasting effect.
"So based off of that experience and taking care of the children that came to Children's, I began a relationship with not only Boston Children's in supporting their fundraising causes, but also the Martin Richard Foundation," she said. "I ended up running one time for Children's, and then subsequently ran the Boston Marathon for the Martin Richard Foundation. This will be my second time running the Boston marathon for them."
Sigrid said that raising funds was a main motivation for her running.
"One of the reasons why I got back into some more serious running was for these two causes. It gave me the opportunity to be surrounded by a lot of similar people, as well as give back to communities that provided me with amazing opportunities and the ability to train with the highest of the high,"
Sigrid's Work Today
Today, Sigrid is almost three years out of residency and splits her time between being the medical director of an ICU, and doing locum tenens work with general surgery and trauma and acute care surgery. Locum work, she says, has given her the opportunity to train and see various sites across the country, and also to give back to different communities.
"It's kind of been sporadic, because my primary job is essentially one week on, one week off. So I get essentially two weeks [per month] to offer to the locums world. So, I try to build my opportunities and training around that," she said.
One person who is essential in helping Sigrid juggle her work is her Barton recruiter Gabby, who she says has helped ease her into locums work.
"At first it was a little bit overwhelming when I first went into searching about the locums world. It seemed like sometimes you can get lost with the number of people reaching out to you," she said. "But I think one of the nicest things about Barton and Gabby in particular, cause I want to give her a lot of credit, is that I always felt like she was putting my interests first; very aware and pretty protective of my needs, and was working with me."
Eventually, Sigrid reached a point where she wasn't just used to locum tenens, but was able to thrive because of them.
"Locum work has given me the opportunity to essentially be placed in different places, take the lead on projects, and be a voice for that particular team and community, which I think for me allowed me to grow, have a voice, and be much more assertive in the hospital field," she said.
And when the time comes for Sigrid to run in the Boston Marathon this April, her flexible locum scheduling will be quite useful. Right now, Sigrid is currently working with her Barton recruiter, on plans to work around Boston during that time frame.
"We have been trying to kind of put together our 2020 schedules so that the weeks off I can do a combination of more short term, back east locations," she said. "So, I'll be close to the Boston area for the marathon and still be able to use my Massachusetts and IMLC state coverage in order to fill positions, but also giving them not extensive coverage so that I still have the ability to train."
We'll be cheering her on in April!
About the MR8 Boston Marathon team and charity:
The Martin Richard Foundation believes in a more equitable, empowered tomorrow for all people. Our work is focused on young people and organizations that help foster learning, growth and leadership through community engagement. We aim to deepen impact by supporting organizations that empower young people to find purpose in their lives and provide support and opportunities required to build successful futures, meaningful relationships and caring communities. To donate or learn more, visit Sigrid's fundraising page here:https://charity.gofundme.com/mr8bos20/fundraiser/sigridbairdain
Want to learn more about locum tenens with Barton Associates? Fill out the form and one of our representatives will reach out to you!