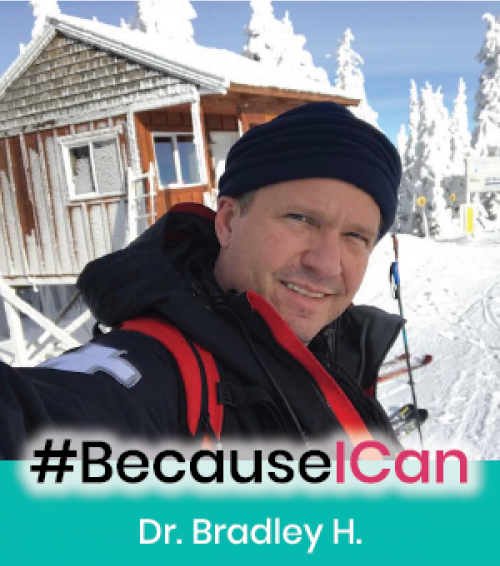 #BecauseICan is a Barton Associates campaign featuring the real lives of locum tenens providers and the reasons that they do locum tenens work. For all of the providers featured, the flexible nature of locum work allows them to live life on their own terms. Whether that means frequent travel, volunteer work, or extra time to pursue a passion, this campaign features great providers who live life on their terms because of all they CAN do with locums.
For these providers, the answer to the question "Why Locum Tenens?" is Because I Can!
Learning About the Flexibility of Locum Tenens
After talking to a coworker at his full-time position, Bradley H., NP decided to try locum tenens for the first time in 2016, realizing it would be a great way to see different parts of the country, while simultaneously deciding on which one state to settle down with his spouse. According to Bradley, he remembers being particularly nervous for one phone call before his first assignment in Washington state:
"The assignment was for the whole month of April, and I only had a few days off. I wanted my spouse and my dogs with me, as this was an opportunity for them to travel around and see Washington while I was working, and to see if this was really a place where we wanted to live."
"I was really nervous about making the first call, thinking 'Do you think the client would mind if I get my rental car two days early?' But the response was great. It was, 'Well, you know you could take more than a couple days to do that!' So we rented the car, drove up and brought the dogs like we wanted to."
Bradley H., NP and his spouse ended up loving Washington state, ultimately deciding to make it their main state of residence. They have since realized that important lesson about the flexibility of locum tenens from his first assignment, and they haven't stopped traveling since. Since 2016, Bradley has traveled to locum tenens assignments in Oregon, Idaho, Washington and Alaska!
More Time to Pursue a Passion
Beyond creating a flexible schedule which allows Bradley and his spouse to explore different geographies, locum tenens has enabled Bradley to start another activity that he loves: volunteering on a ski patrol team at Mt. Spokane.
Bradley was preparing for his ski patrol test when he discovered that the program director was a relative of one of his colleagues from that initial locum assignment. He passed his test, made the team and, in just one year, Bradley promoted from a ski patrol candidate to teaching other ski patrol members.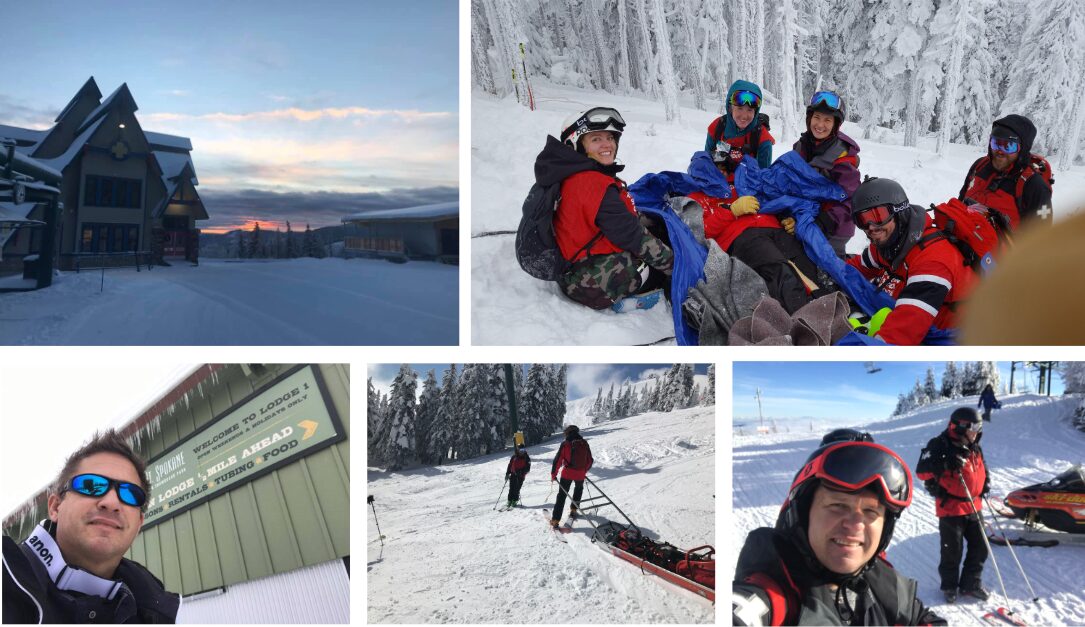 The Mt. Spokane ski patrol is entirely composed of more than 140 volunteers, and it an outside-of-work activity that Bradley loves. It is a time-intensive activity, with regular training dedicated to skier safety and education. According to Bradley, he never would have started it if it weren't for his locum tenens assignment in Washington.
"I would not have been able to do the first year of training if I wasn't on a locum schedule. Because the first year is so intense, [as a locum] I can mold my schedule and the education days are so far out. You know what they are a year advance. Rather than working around a full-time job, I can put my work schedule around my volunteer schedule."
Becoming a member of the ski patrol team was not Bradley's primary goal when he started locum tenens, but has now become a huge part of his life.
"The intention with locums was just to see the Northwest and figure out where we wanted to live. Then, I slowly learned that being a locum can allow me to do more of what I want to do, and be where I want to be."
We couldn't put it any better than that.
About Mt. Spokane Ski Patrol
The Mt. Spokane Ski Patrol is a non-profit 501(c)3 organization committed to skier safety and education, and to providing the finest first aid care possible to the guests of Mt. Spokane Ski & Snowboard Park.
The Mt. Spokane Ski Patrol is one of the largest all-volunteer ski patrols in the country and also one of the first, being formed in 1938. Today more than 140 proud volunteers donate significant time, training, and resources to serve the community as Mt. Spokane Ski Patrollers.
To learn more about Mt. Spokane Ski Patrol, visit their website: www.mssp.org
Want to learn more about locum tenens with Barton Associates? Fill out the form and one of our representatives will reach out to you!