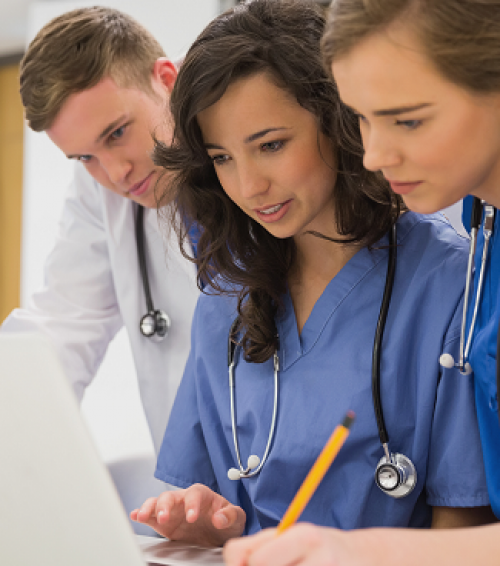 Congratulations! You're graduating from residency and thinking about your next steps. Perhaps you've matched into a fellowship, you're taking some time off, or you're looking for your first job. If you've considered trying locum tenens work to build your resume, gain experience across a variety of practice settings, and earn competitive compensation, consider these four tips:
1. Think About Where You Want to Go
Locum tenens jobs are a great way to explore employment opportunities at different settings and locations across the country. My medical school training consisted of clerkships at local hospitals, outpatient clinics, domestic, and even some international facilities. This was one of the reasons I was drawn to locum tenens — the opportunity for variety was very appealing to me.
Locum tenens allows you to explore workplaces in various geographical settings. Perhaps you're interested in helping an underserved rural community or being in a bustling city. Doing a short stint in one or both may help you to figure it out. Locum tenens is also ideal if you don't want to lock yourself into a long-term commitment at a particular place. Some permanent jobs have a two-year contract; if that contract is terminated early, you may pay a penalty such as owing back a portion of your tail insurance or returning sign-on bonuses.
2. Check Out the Work Environment
Coming fresh out of residency, ensure you'll have the support you need to be successful. Practicing medicine outside of your training environment will be different, and workflows and protocols may vary. You may find yourself having to use a new electronic health record system that you're unfamiliar with.
In general, it's helpful to get comfortable asking your new colleagues for help — whether that's with an administrative duty, a procedure, or pulling someone aside to ask for a second clinical opinion. Being able to bounce off ideas about differential diagnoses and treatment plans can be valuable also. Wherever you choose to work, you want to feel safe in being able to ask for the help that you need.
3. Review Your Employment Contract
If you don't understand what certain clauses mean, ask your employer and consider getting legal help before signing anything. A number of online resources are also available to help you interpret the parts of your contract. Pay special attention to restrictive covenants which may have additional implications in certain work settings, such as telemedicine and hospitalist work. Make sure you understand the clinical, leadership, and administrative expectations of the job, and know what the malpractice and tail insurance coverage clauses entail. Understand your worth and research compensation rates for your specialty and geographical area. Understand that terms within your contract may be negotiable — you won't know until you ask!
4. Consider Your Finances
As a locum tenens provider, you're considered an independent contractor, and you should understand the implications that come with that. You may be responsible for your own benefits such as health insurance, disability insurance, continuing medical education (CME), and more, so you need to financially plan for that. You might also have to set aside a portion of your income for tax purposes. Consult a tax advisor for help.
If you're graduating from residency with medical school debt, paying off your loans may be a top priority. Repayment plans vary from paying the minimum to income-based plans where the more money you earn, the higher the loan amount you pay off. Consider how you'll do so while looking at establishing retirement funds — it's never too early to think about it. Take the initiative and do your research before deciding whether to accept a job position.
Locum tenens is a great way to check out different styles of clinical practice and travel to dream destinations. Review the job position and contract thoroughly, and get expert help where needed. Try to stay organized in regards to the the financial and practical logistics (you'll receive support with the latter if you choose to work with a locum tenens employment agency such as Barton Associates). There are multiple options after residency graduation — consider making locum tenens one of yours!
Contact a Barton Associates recruiter to discuss locum tenens opportunities today!