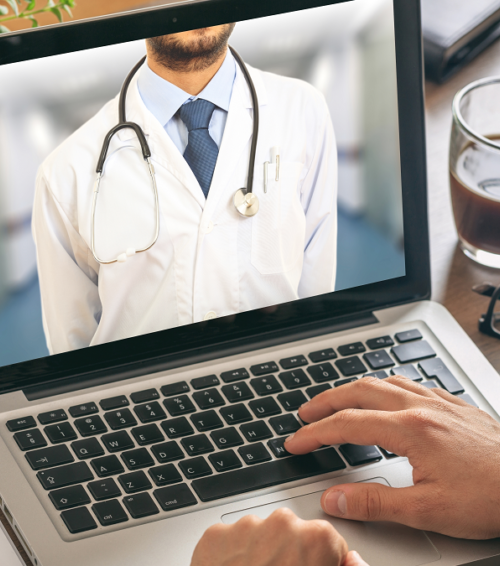 Telemedicine technology is poised to be one of the biggest areas of growth in the healthcare industry, with some experts predicting the remote patient monitoring sector to be worth more than $34 billion by the end of 2020.
Providers, especially psychiatrists and mental health nurse practitioners, are getting the hang of video conferencing technology. Here at Barton Associates, we have seen an increase in demand for locum tenens telepsychiatry jobs and telepsychiatry staffing coverage. Telepsychiatry is a win-win-win situation for psychiatrists, facilities, and patients.
Here are four reasons why:
1. It Offers Flexibility for Providers
Psychiatry is a medical specialty that lends itself well to video conferencing. After all, psychiatrists and psychiatric nurse practitioners generally do not physically examine their patients. High-speed internet connections and high-definition webcams allow psychiatrists to see patients clearly and communicate in real time so they can pick up on subtle nonverbal cues.
Most of the telepsychiatry locum tenens jobs are in the outpatient setting, which is great for mental health physicians and psychiatric nurse practitioners who are looking for moonlighting opportunities or locum tenens jobs. Locum tenens mental health professionals are able to pick up extra shifts each week without leaving the comfort of home. East Coast psychiatrists and mental health nurse practitioners can keep normal business hours from 9 a.m. to 5 p.m. before logging in to see patients via webcam on the West Coast. The same can be true for early risers on the West Coast who can video conference with patients back east before their first office appointment.
Susan M., DNP, a psychiatric nurse practitioner, works telepsychiatry locum tenens jobs in addition to her private-practice work. She has taken telemedicine assignments where she provided prescription management services. Harris said she enjoys the ability to treat a patient who lives miles away from the privacy of her own office, and she will continue to work telemedicine assignments because of their convenience and the availability.
Many psychiatrists and psychiatric nurse practitioners have also integrated telepsychiatry into their own practices. For example, psychiatrists who see patients in multiple facilities have eliminated their commutes and instead meet with patients via a secure web link. Video conferencing also helps psychiatrists and psychiatric nurse practitioners keep regular appointments with patients who may travel for work or live in different locations seasonally.
2. It Gives Facilities an Option for Affordable Coverage
Mental health centers located in rural areas often struggle to maintain adequate staffing levels simply because there are not enough mental health professionals in the area. According to the Texas A&M University's Southwest Rural Health Research Center, 20 percent of nonmetropolitan counties are without mental health services. In 1999, 87 percent of the 1,669 federally designated Mental Health Professional Shortage Areas in the nation were in nonmetropolitan counties.
These facilities often rely on a mix of on-site psychiatrists as well as those available off-site via telepsychiatry to effectively manage demand for psychiatric services. Increasingly, locum tenens psychiatrists are playing a role in fulfilling both on- and off-site roles.
The Burke Center, a mental health center in rural Texas, uses telepsychiatry to make treatment available to patients experiencing a mental health crisis. Within 30 minutes of arrival at Burke Center, the patient is scheduled to see a psychiatrist via videoconferencing regardless of the hour or day of the week.
Even outside of rural areas, many hospitals or emergency departments (EDs) do not have the funds or the patient volume to justify a full-time staff psychiatrist. Those facilities will often use telepsychiatry when a patient presents to the ED with a mental crisis or when an inpatient needs those services. The startup cost for implementing telepsychiatry in a facility is minimal when compared to staffing a full-time equivalent.
3. It Provides Accessible Care for Patients
A report published in World Psychiatry said psychiatric evaluations, medication management, and cognitive behavioral therapies provided via telepsychiatry have "sufficient evidence to be considered fully equivalent to in-person treatment."
Dr. Scott Zeller, vice president of acute psychiatry at Vituity and past president of the American Association for Emergency Psychiatry (AAEP), echoes that sentiment, explaining that the telepsychiatry model works well in the emergency setting. Dr. Zeller says many facilities have actually found patients to be more open and forthcoming than they would in a face-to-face setting.
As video conferencing technology improves and becomes more pervasive in our everyday lives, it is likely that telepsychiatry will also become more common and patients will have greater access to the care they need.
4. Barton Supports Telepsychiatry Locum Tenens
Telepsychiatry is increasingly becoming an attractive option for organizations that use locum tenens psychiatrists. By having a provider connect to the mental health center via a secure web link, facilities can save on expenses such as rent, hotel, airfare, and incidentals. They can also save by using one locum tenens mental health professional to cover multiple facilities.
Don't have a telepsychiatry program at your organization? No problem. Barton Associates can set you up with an affordable, secure telepsychiatry network that is easy to use. If you can turn on a computer, you can do telepsychiatry.
Barton Telehealth, a flexible, multispecialty telemedicine staffing solution, helps locum tenens psychiatrists and psychiatric NPs provide services to organizations and patients across the U.S. Furthermore, Barton's licensing and credentialing team is always available to assist in securing the proper credentials.
Learn more about Barton Telehealth

and get started with telepsychiatry today!