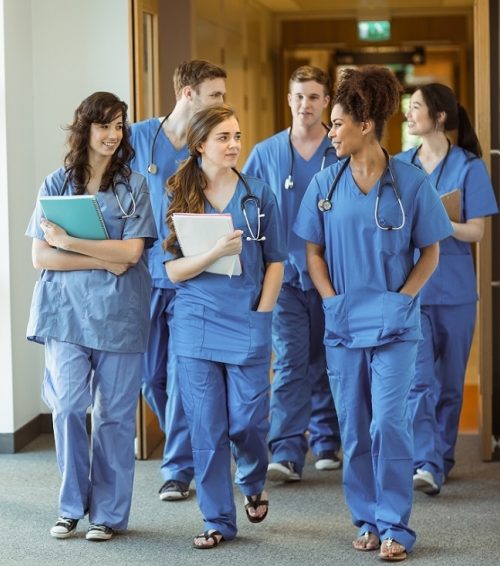 Barton Associates has a network of more than 270,000 locum tenens providers who go on thousands of assignments every year. The outlook for locum tenens career paths is bright, the temporary staffing industry is worth $3.9 billion and only poised to grow further, the perks are well-advertised, and the demand for quality health care will only increase throughout the upcoming years.
And yet, medical and nursing schools do not traditionally introduce locum tenens as a future career option to students.
Students pursuing a medical degree receive regular support while choosing their specialties, but further career counseling depends on specific school programs. New graduates are more likely to discover and consider locum tenens post-residency. Most often, word-of-mouth is the quickest means of learning about locum tenens as a viable career option, typically discussed while networking during their residency programs, participating in job fairs and attending conferences. Having conversations with current locums, former locums or colleagues that have worked alongside locum providers is a great resource, although it is lacking as a formally taught subject.
Dr. Anupam Jena, MD, PhD, the associate professor of Health Care Policy at Harvard Medical School and a physician in the Department of Medicine at Massachusetts General Hospital, has first-hand experience researching the difference between locums and permanent internal medicine physicians.
When the Barton team reached out to Dr. Jena for his perspective, Dr. Jena agreed that is a popular option for residents to "moonlight" in temporary, short-term roles, but not readily consider pursuing them for a full-time, sustainable career path:
"It's common for third-year residents to do some moonlighting as locum tenens staff for teaching hospitals they are already affiliated with."
Benefits of Teaching Students About Locum Tenens
The stress of impending student debt may be lighter if students know they can make solid, steady income as soon as they graduate. Locum tenens assignments almost always pay more than traditional, permanent positions, with the added perks of travel reimbursement and housing allowances, among others. As of January 2019, locum tenens physicians were paid an average of $268,444 while permanent physicians in the same role were paid $202,554 – a substantial difference of approximately 24.5 percent!
Locum tenens jobs allow new graduates to travel the United States (and its territories) while working, which is a prospect many look forward to after being bound to the classroom for so many years. Imagine working the summers in San Francisco and the winters in Miami!
Students will learn locum tenens allows freedom and flexibility in a field known for workforce shortages and onerous bureaucracy, helping providers avoid office politics and overall burnout.
Many questions swirl around in the minds of students when they first learn about locum tenens:
How do providers have the energy and time to add locum tenens as a side job? Are the co-workers they are placed with accepting of locum tenens providers? How do patients respond to temporary providers? Is there work-life balance? How do I get paid?
Nobody can answer such questions as well as doctors, NPs, PAs, CRNAs and dentists who have worked as locum tenens providers during and after their residency. The best way to answer those questions is for medical and nursing schools to invite locum tenens staffing agencies and locum providers to speak to students, perhaps when they are deciding on their residency or first job. Ideally, medical and nursing schools will also have a running roster of alumna who chose this career path and are willing to talk with students about their experience.
Current locum Kris was taught in school to be wary of companies who might not understand PA scope of practice and rules, but jumped right into locum tenens roles and continues them today:
"We were taught to be very wary of locums companies (I graduated in 1999). We needed to be extra diligent on making sure all the rules were followed since not many people in the medical industry understands what PAs can do. With that being said, I chose to work with locums throughout my career. I stayed abreast of my paperwork, license, and SP of record. The experience afforded me travel, specialty experience (ER), and a break from my usual routine. I saw areas of the country I would have never traveled on vacation. My children were able to experience an Indian reservation (Chinle) for a summer, the Black Hills (my daughter would eventually move right down the street) via SD, as well as a month with Grandparents while I worked a town over." -Kris P., PA
At the end of the day, you know what's best for your personal interests and professional goals. Some assignments might prefer more experience, while some are great for new graduates looking to build that varied experience with different settings and patient populations.
Finally, students should also be proactive and explore locum tenens on their own by contacting locum tenens experts, like Barton Associates. Found in 2001, Barton has the experience to answer questions of all kinds by providers contemplating locum tenens at all stages of their training.
Want to learn more about locum tenens with Barton Associates? Fill out the form and one of our representatives will reach out to you!