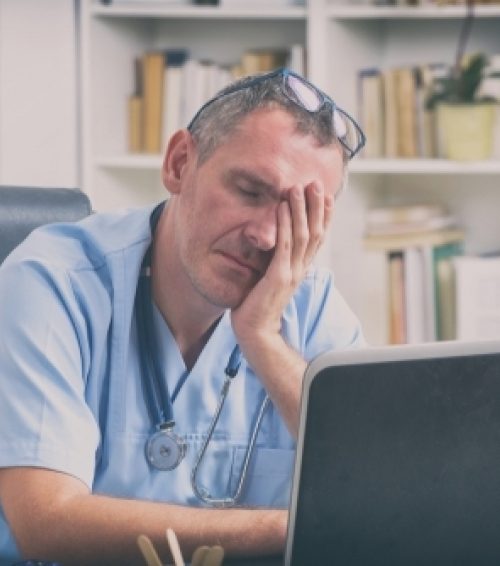 Have you recognized how much energy goes into your actual job in medicine? Think of it like a car engine. With mindful maintenance, it does great. Otherwise, you can end up with a red light on the dash and a car that won't run. Medicine takes priority when we're on duty and our systems must be consistently maintained.
High patient census? Drains the tank.
Difficult medical case? Drains the tank.
Tough family, for any of a hundred reasons? Drains the tank.
Maintaining your equilibrium and sustaining the emotional intelligence to deal with it all whilst exhibiting a calm exterior, no matter what your internal feelings? Drains the tank.
During the week, I work as a hospitalist when I must continually refill the tank, I need my family's help. I cannot, under any circumstances, have significant discord in my personal life that prevents me from being able to be the physician the patient in front of me needs me to be in that moment.
Now, sadly, personal tragedy, death, or life-threatening illness, doesn't follow this, but short-term leave can usually get those in order.
What I'm talking about is arguments or chaos that can tilt your emotions and attitude in the wrong direction, making it impossible to maintain your equilibrium.
That's when it's time for my family to supplement what I can do on my own to fill the tank. Think of it as borrowing money at the pump when you run out of gas. My love languages (Gary Chapman) are "acts of service" and "words of affirmation." So, for me, the best way to buoy my emotional balance are for my family to tell me they love me, they believe in me, they appreciate me, and they know the work I'm doing is important. Then, they do things to reduce my stress like keep the house picked up, don't leave dirty dishes in the sink, run errands, open the mail, make dinner, and have a plethora of choices of fun things to do lasting from an hour to a weekend to help distract me. If I'm out of town working, they do their level best to not have any crises that need my direct involvement. Minor issues? No problem. Bring them on. Big heavy deals? No thanks.
In return, though, after they give me about a day to recover from a week on duty, it's time for me to refill the family tank, that is my family's emotional bank balance. It's critical that I don't stay in "debt" for long.
Ways I've accomplished this include taking over shopping and meal preparation duties, planning fun evenings, accepting that I've got homework duty for at least four of the next six nights, and brainstorming for the next great vacation.
Most importantly, I've identified my family member's love languages. Remembering to pay them back in their love language, not mine, is critical. One's "physical touch" love language reminds me that lots of hugs are needed. Another's "quality time" reminds me to spend individual time with each available family member doing something important to them.
By filling the tank for each family member, we're able to take care of ourselves as I take care of my patients.
Want to learn more about locum tenens with Barton Associates? Fill out the form and one of our representatives will reach out to you!