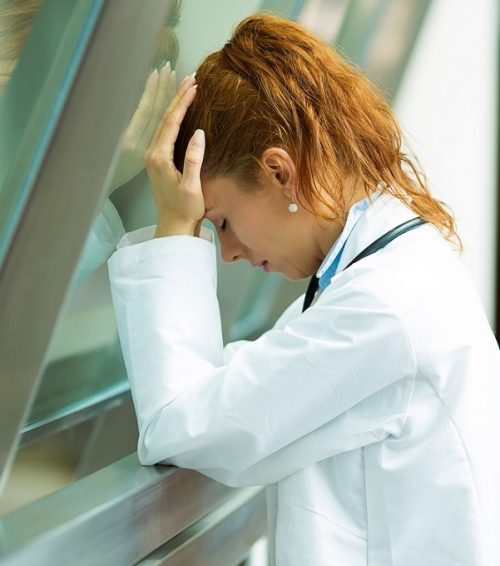 The term "burnout" is used so frequently that it may have lost some of its significance. But if you work in healthcare, the risk of burnout should be taken seriously. It's not just a chronic condition that results from ongoing stress that can affect the health and wellness of your employees. It can also impact patient care, and harm your bottom line. Don't wait until your employees, or your facility, is faced with the effects of burnout. Start by being proactive and take measures today to assess your facility's risk, and take action to reduce, or prevent, your employee's risk for burnout.
Healthcare Staff and Burnout
The health and wellbeing of your employees is essential. This is especially true when you work in healthcare. Your physicians, NPs, PAs, or other healthcare providers have spent years developing their expertise and bedside manner to gain a loyal following and – more importantly – patient trust. Losing these skilled, full-time employees is not in the best interest of your patients, your facility, or your bottom line. The shortage of physicians only confirms that they won't be easily replaced if they leave your organization, whether through career change or retirement.
Burnout can affect your providers' personal health, and the quality of care they're providing. Traditional signs of burnout include persistent anxiety, difficulty concentrating or a decline in work quality, isolation and loss of compassion for patients or coworkers, and an overall feeling of loss and sadness.
Value-based care has pushed the implementation of new technology for data aggregation. Some providers can become overwhelmed with much of this technology. The addition of electronic health records (EHR), e-prescribing, and other digital tools are intended to ease the administrative burden, and create a more effective workflow, but sometimes they end up adding to it. This may result in your providers feeling burdened with additional tasks, and as if they can't take time off.
Burnout and Your Bottom Line
The prevalence of burnout has risen to over 50 percent with some healthcare professionals and has been associated with physicians being twice as likely to leave their facility within two years. The costs of physician turnover and replacement have been noted to range from $250,000 to over $500,000. The costs of recruitment and retention are only the beginning. Often, other costs related to burnout are under recognized, including diminishing bedside manner and overall patient care.
Eventually the effects of burnout may start to show in decreasing patient satisfaction scores. This could impact value-based reimbursement, or cause patients to leave your facility entirely. You might also run the risk of increased medical errors and poor productivity if your permanent staff are feeling overworked and fatigued. You can't afford not to take a closer look at reducing the risk of burnout when you understand the interrelated financial and patient safety risks
Be Proactive to Reduce Burnout
Sometimes it may feel as if you can only react to the challenges that accompany the fast-paced healthcare environment. But there are steps you can take to combat slow burnout with your staff of providers. Implementing measures to address burnout can assist in providing you with a positive return for investing in your employees, helping them to provide quality patient care and produce positive outcomes for themselves, and your patient population. A few ways to begin to address burnout include:
Learn the risk factors for burnout, as well as the symptoms, and educate your employees to identify early signs in themselves and their coworkers to implement early treatment.
Change the workflow, or provide education on technology, if providers are struggling, or if it isn't decreasing administrative time.
Allow your permanent staff to cut back to part-time, take sabbatical leave or plan their vacations through the use of locum tenens, who can ensure that your patient care needs remain covered during their absence.
Communicate with your providers to address concerns and issues with workload, work-life balance, and maintaining meaning in their work before they fall into exhaustion, inefficiencies and burnout.
Invest in prevention by using a pool of locum tenens providers to cover planned and unexpected absences that increase the patient loads for your permanent employees, and would allow for other providers to still take time off work. You owe it to your staff.
These gaps can be as short as one day, or last over a year, and are caused by planned vacations, maternity and sabbatical leaves, or retirements, but they also happen due to unplanned absences, like sudden illness or family emergency. Take the stress off of covering these gaps by partnering with a locum tenens staffing agency, like Barton Associates for physicians, NPs, PAs, dentists and CRNAs – or Barton Healthcare Staffing for your travelling nurse or allied health professional staffing needs.
Life happens. Locum tenens exists because, without an available provider, patients would go unseen and communities suffer. Thanks to the work of locums, patients receive care without missing a beat and hospitals continue to run smoothly.
Planning to Reduce Your Risk
Burnout has been taking a terrible toll on providers and clinicians alike, and the costs associated with burnout impacting physicians are staggering. If you become proactive with addressing burnout it doesn't just protect your bottom line. It can also assist with maintaining your clinician's wellbeing. Don't wait for your employees to be consumed with feelings of being overworked and overwhelmed. Start planning today to ensure you have adequate staffing, and a work environment that strives to reduce burnout, to help maintain your clinicians for the long run.
Want to learn more about locum tenens with Barton Associates? Fill out the form and one of our representatives will reach out to you!