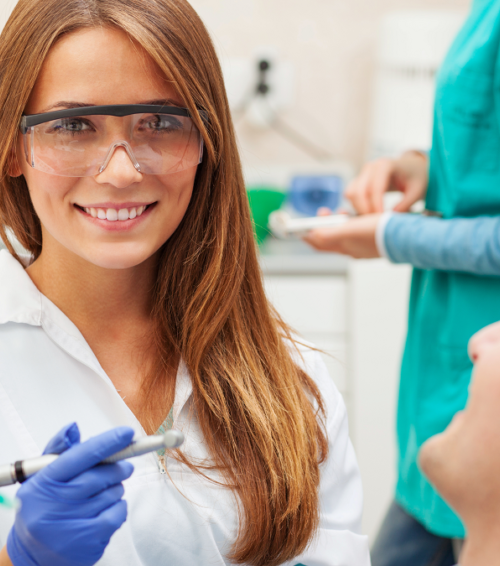 The amount of people in the United States who are not receiving proper dental care is on the rise, with 30 to 35 percent of the population not visiting a dentist at all. With a shortage of approximately 7,208 dentists, demand for adequate access to dental care will increasingly outstrip supply. As Mark Latta, D.M.D., M.S., dean of Creighton University School of Dentistry, has observed, "There's plenty of care that needs to be delivered, and we're going to need dentists to deliver that care."
Barton Associates is eager to work with dentists to help ensure that the many underserved populations in the United States have access to the dental care they need. As a leader in locum tenens, Barton Associates works with private practices, group practices, community health centers, Indian/Tribal health clinics, and many more facilities in our mission to provide access to quality dental care.
We cover a range of dentistry specialties, including general dentistry, endodontics, prosthodontics, orthodontics, periodontics, pediatric dentistry, and oral and maxillofacial surgeons.
Locum tenens is an excellent option for dentists of any age or experience level. For recent graduates of dental school, locum tenens provides an opportunity to gain some experience and to test out different practice settings while helping to pay off those student loans. Experienced dentists who are seeking a change of environment or looking to add more work to their schedule can look to Barton Associates as a resource. We can assist you in your transition, or give you the opportunity to help out nearby facilities while you maintain your own practice.
Locum tenens is also a great option for semi-retired dentists who are looking to stay active and continue seeing patients. After so many years of dedicated service to the community, we can provide the opportunity to continue to deliver care to patients. With locum tenens opportunities through Barton Associates, dentists can create their own schedule and practice without the administrative tasks that are associated with running a practice. We also cover related travel and lodging accommodations, while providing top-quality malpractice insurance and assistance in obtaining new licenses. By working with Barton Associates, you can get back to doing what you love: helping those patients in need of care.
As one of the first representatives in our dentistry department, I have seen the impact we are having in the field of dentistry. My colleagues and I are committed to working efficiently and effectively in order to serve the needs of the dentists, the facilities, and, most importantly, the patients. Whether you are searching for your first job, looking for a change of environment, or just want to stay active in the field, let Barton Associates be your resource in the marketplace.
Take some time to explore the opportunities that Barton Associates has to offer,
and
let us help you
make the next step in your career.