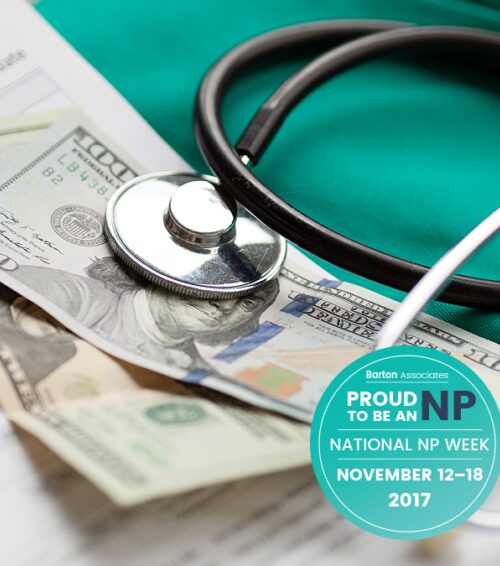 It's National NP Week! Thank you to nurse practitioners across the profession for your hard work and dedication to healthcare. We here at Barton Associates are celebrating with you by publishing NP-focused content all week long!
Sometimes hard work doesn't equate to a big reward. You will likely reach a point in your career wherein you have to maneuver a little bit in order to shake out of a stagnant salary, especially as an NP or physician assistant (PA). Here, we discuss a few things you can do to avoid merely an inflation-adjusted wage.
1. Know Your Value
Be sure to follow and track industry salary trends. The American Association of Nurse Practitioners (AANP) and the American Academy of PAs (AAPA) publish average salary ranges by specialty. According to the AANP 2015 Salary Report, for example, psychiatric nurse practitioners on average earn $132,115 per year, whereas neonatal nurse practitioners earn an average of $123,041 annually. Arm yourself with data and communicate with your managers about your value relative to others with similar education, experience, and geographic residence.
2. Negotiate Your Salary
Always negotiate your salary and remember to never take the first offer. Although there is often anxiety surrounding salary negotiation and a fear that an employer will harbor resentment, Salary.com recently surveyed companies and discovered nearly 85 percent of them expected candidates to negotiate their salaries.
3. Increase Your Education
If you feel your salary stagnating, consider looking at advancing your education or earning an additional certification. Nurse practitioners with master's degrees should consider earning a Doctor of Nursing Practice (DNP) degree, and both nurse practitioners and physician assistants could consider a Doctor of Philosophy (PhD) or Master's in Business Administration (MBA).
Most medical specialities also offer certifications in subspecialities or particular areas of medicine. Psychiatric nurse practitioners can earn certifications in different types of psychotherapy such as cognitive behavioral therapy or psychopharmacology.
4. Look Into Management Positions
As nurse practitioners and physician assistants advance in their careers and gain experience, they may want to consider moving into managerial positions. You might look at positions where you would be managing other people or working more on operational-level initiatives at your hospital or clinic.
Nurse practitioners and physician assistants can advance to serve as chief medical officers. The Cleveland Clinic, for example, recently hired its first chief nursing officer of advanced-practice nursing (ACNO).
5. Change Jobs
If your salary is stagnant, consider changing jobs. Some research suggests that employees who stay at a company longer than two years get paid 50 percent less over their lifetime. When you change jobs, your new employer will typically offer you a higher salary than you earned at your previous job as an incentive to join the team.
6. Consider Additional Jobs
Instead of looking at traditional clinical positions, consider looking into locum tenens or telehealth opportunities. These positions often offer higher compensation and a more flexible schedule, and you can do them full-time or to augment your existing workload. Barton Associates provides ample support in finding and starting your first new locums or telemedicine job.
If you want to learn more about locum tenens and telehealth opportunities, Barton's locum tenens experts are always ready and willing to answer any questions you may have. You can also get started by checking out our resources page!