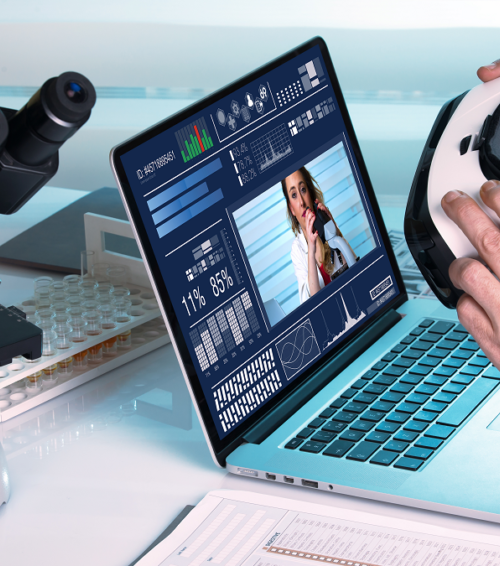 One belief that makes physicians and clinicians hesitant to offer telehealth services is that a remote visit is not equivalent to a face-to-face visit. However, new telemedicine technology is helping virtual visits mimic traditional visits more closely. These innovations can help raise the comfort level of clinicians while also improving the already high quality of care delivered in telehealth visits.
Let's take a look.
Working Through Provider Wariness
Even though telemedicine has opened up job opportunities for clinicians around the country, there are many who are still reluctant to engage in this variety of care delivery. Beth Smolko, PA-C, felt this skepticism because of the training and education she received throughout her career:
"To be honest, I was skeptical about telemedicine. As a preceptor, I've spent most of my career training … on the importance of the physical exam. … Telemedicine seemed antithetical to my beliefs about connecting with patients."
Smolko is not alone. According to Healthcare IT News, one of clinicians' most frequently asked questions about telehealth is, "How do I examine my patients?" Providers performing "televisits" must still have the same assessment skills as those needed for traditional visits, such as taking a thorough patient history and establishing a rapport, and it's vital to realize that the visit's setting does not restrict a provider from doing so. Telehealth services allow clinicians to assess many aspects of the patient's health, including their visible physical symptoms, mental and emotional status, and reported pain levels, among others.
For some clinicians, though, the wariness might persist. As the Wall Street Journal notes, the advent of new tools that improve a clinician's ability to perform a thorough assessment may help providers overcome this problem.
Two Gadgets Making Telehealth Easier
Tyto Care, an Israeli-based company, has developed a digital exam tool that uses a variety of attachments to conduct more thorough in-home examinations. This telemedicine technology tool will "expand the range of conditions that can be remotely diagnosed" by allowing physicians and clinicians to remotely listen to heart rate and rhythm and lung sounds, and view images of a patient's ears, skin, and throat in order to get a more complete assessment.
The MedWand is another development hoping to improve telehealth. With its various attachments, the device gathers a variety of important information about a patient, including blood pressure, blood sugar levels, oxygen levels, and visual information on the ears, nose, and throat. The MedWand allows providers to make more comprehensive and accurate diagnoses based on the nearly complete set of information it can gather.
Practice Makes Perfect
Apart from using these tools, one of the best ways for physicians and clinicians to overcome telehealth wariness is to simply try it and gain experience. Although she was first unsure about virtual visits, Smolko became more comfortable assessing patients via telehealth after some practice:
"After using this approach for more than a year now, I have discovered that the only disconnect when on this type of telemedicine encounter is the same as in any office setting — a human disconnect, not a technological one (e.g., I was having a hurried day, the patient was tired, etc.)."
Healthcare IT News notes that many providers who want to try telemedicine start in areas such as after-hours urgent care, where televisits are used to assess the need for more immediate, in-person care. Many physicians and clinicians also use televisits to help manage medications in patients with chronic conditions, finding that it can dramatically improve patient compliance.
Barton Associates has its own telehealth service, bringing healthcare facilities the same convenience we have always promised via a multispecialty telemedicine staffing solution. Barton Telehealth allows providers to conduct telehealth visits with a user-friendly, private, web-based platform. Nationwide programs like this give clinicians the chance to gain the experience they need in this kind of care delivery system.
New telemedicine technology is helping providers overcome their wariness regarding conducting telehealth visits, but perhaps more important is the overall trend of providers increasing their comfort levels. As care providers embrace telemedicine and more facilities adopt telehealth services, more patients — particularly those in underserved and remote areas — will be able to receive the high-quality care they need and deserve.
Are you ready to make your career work for you? Telemedicine job opportunities

are waiting.